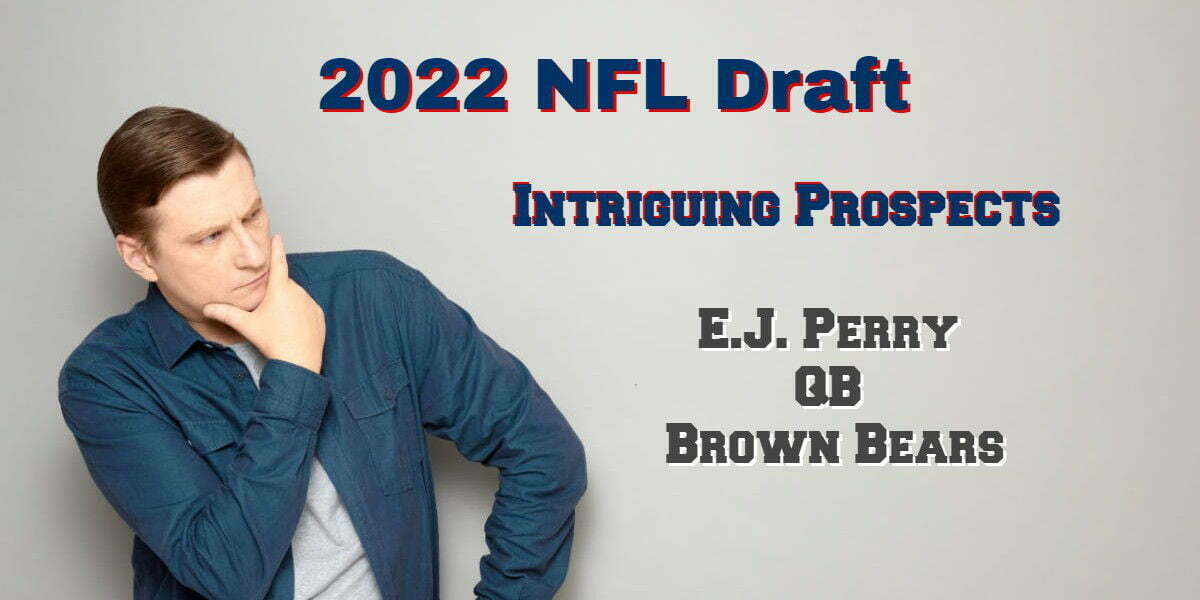 It's not often we talk about Brown University (or the Ivy League at all) with regard to the NFL Draft, however, this year one is attracting a bit of interest – E.J. Perry. He will be hoping to become the first Brown quarterback drafted since Bob Bateman in 1976. For those who love a bit of obscure trivia, he went 187th to the Cincinnati Bengals. Anyway back to
Brown Bears QB E.J.Perry
Perry originally committed to Boston College following a record-setting high school career in his home town of Andover.  His opportunities here were limited although he did come off the bench four times. In 2019 he transferred to Brown and impressed throwing for 2,938 yards and 22 TDs. He also added another 727 yards on the ground and an additional 8 TDs. Overall he was pretty much their entire offense given he was the leading rusher in six of the 10 games they played.
The 2020 season was suspended, however, he carried on where he left off in 2021 with 3033 yards passing. He also rushed for 402 yards, picking up 7 of his 30 TDs in the process. This not surprisingly led to All-Ivy First Team selections in both 2019 & 2021.
Perry was invited to the East-West Shrine Bowl in 2022 where he further enhanced his resume by picking up the Offensive MVP.
Overall this college career amounts to 6,249 yards & 47 touchdowns and 1,199 rushing yards and 16 rushing touchdowns. 5972 of these passing yards came in 20 starts for the Bears!
Combine
Perry was invited to the 2022 Combine where he only took part in five of the disciplines.  Here he collected the highest athleticism score for QBs this year. His figures were:
40-yard dash  4.65 
Vertical Jump 34.5
Broad jump 10ft- 3 Perry led all quarterbacks in the
Three-cone drill 6.85 
20-yard shuffle 4.18 
Athleticism scores for the 2022 quarterback class are official.

Brown University's EJ Perry earned the highest athleticism score among this year's QB class (89), followed by Desmond Ridder (82) and Kenny Pickett (79).#NextGenScores pic.twitter.com/4KyW9A1UAo

— Next Gen Stats (@NextGenStats) March 4, 2022
Highlights
Check out this showreel below…
Brown Bears Bio
Draft Prospects
This is not regarded as a vintage year for Quarterbacks and the ones in dire need will no doubt grab one of the better-known prospects. However, there are a few teams who have placeholders in 2022, (the Colts & Lions spring to mind) and they could be interested in grabbing a project who can carry the clipboard around for a season or two.
His dual-threat and mobility bring the likes of Taysom Hill to mind so he might also slot into a team looking to add a bit of scheme to their offense. Overall we will be very surprised if he goes undrafted and we think he should be off the board by the end of the 6th round.
If he does make a roster he could make history as no ex Brown QB has ever thrown a pass in the NFL.
You can check out our other 2022 NFL Draft Articles here.