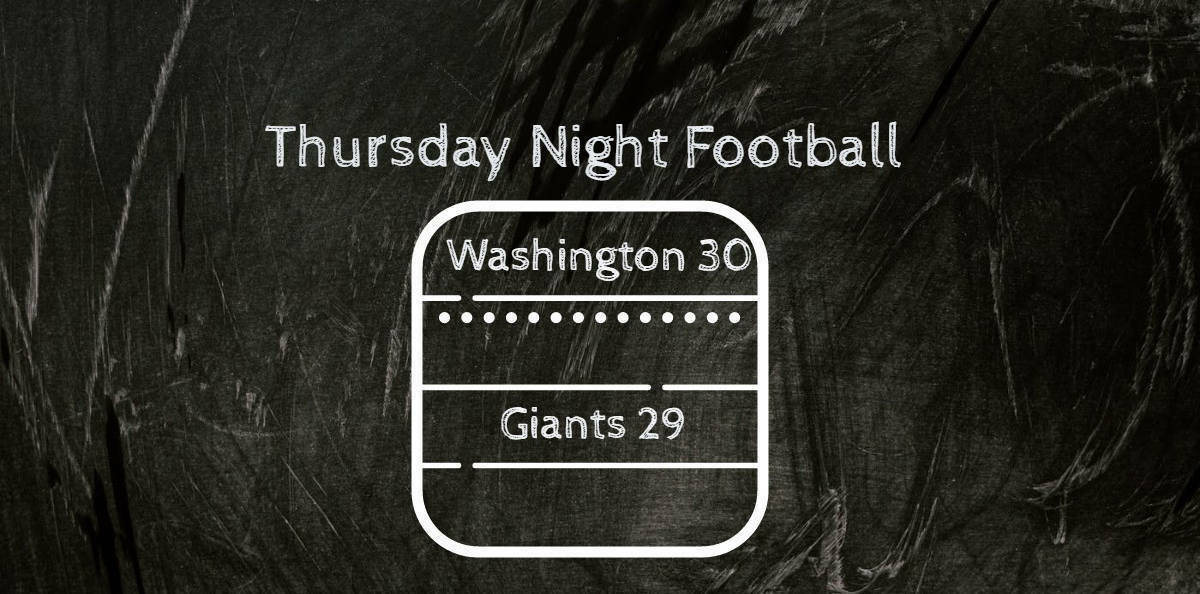 NFL Week Two Thursday Night Game Washington 30 New York Giants 29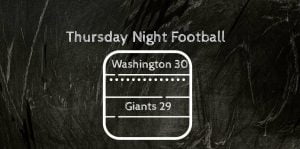 Thursday nights game turned out to be quite a cliffhanger as Washington took the honours in the seasons opening divisional game in the NFC East. To say it came down to the wire is an understatement and the decisive field goal came on an untimed down after time had expired.
However, it really shouldn't have come to this as the Giants had chances to put the game on ice in the fourth quarter. They will look back on Darius Slay's dropped ball. He was so far removed from the nearest defended that you would have thought they were observing Covid social distancing rules. Had he hauled it in it was a stroll in 6 points.  They ended up settling for a field goal to go 6 points up. However, a mere 17 seconds later Washington was back in front.
New York was then gifted a short field by a Heineke interception. But despite starting on the Washington 20 yard line once again  settled for a field goal
Washington then drove down the field but missed the field goal as time expired. However, an offside penalty gave Washington a final attempt and this time they made no mistake.
Takeaways
This was Washingtons 1st win against the giants in their last six meetings and probably their luckiest ever! Ex Giant Landon Collins also finally got a win over his old team.
Daniel Jones did quite a bit of running and not only from the Washington Defense who sacked him 4 times. He had 95 offensive yards on the ground and a TD.
Washington's secondary looked quite good, especially Kendal Fuller who had his best game in a while.
Taylor Heineke might just keep the starter's job, well for this season anyway. He had a steady night throwing for 336 yards and 2 TDs. The interception was on him but he is still averaging 73% + on completions.
Giants star Running back Saquon Barkley had another quiet game. He is averaging 41.5 yards a game so far which is well below pre-injury stats.
Next Up
The Giants entertain the Falcons on the 26th of September and falling to 0-3 even in the NFC East will be hard to overcome.
Washington will be pleased to get this win under their belt as they have a trip to near Neibours Buffalo the same night.
You can check out the rest of the week two games here and we have a recap on week one available too
Game night live scores can be found at ESPN.