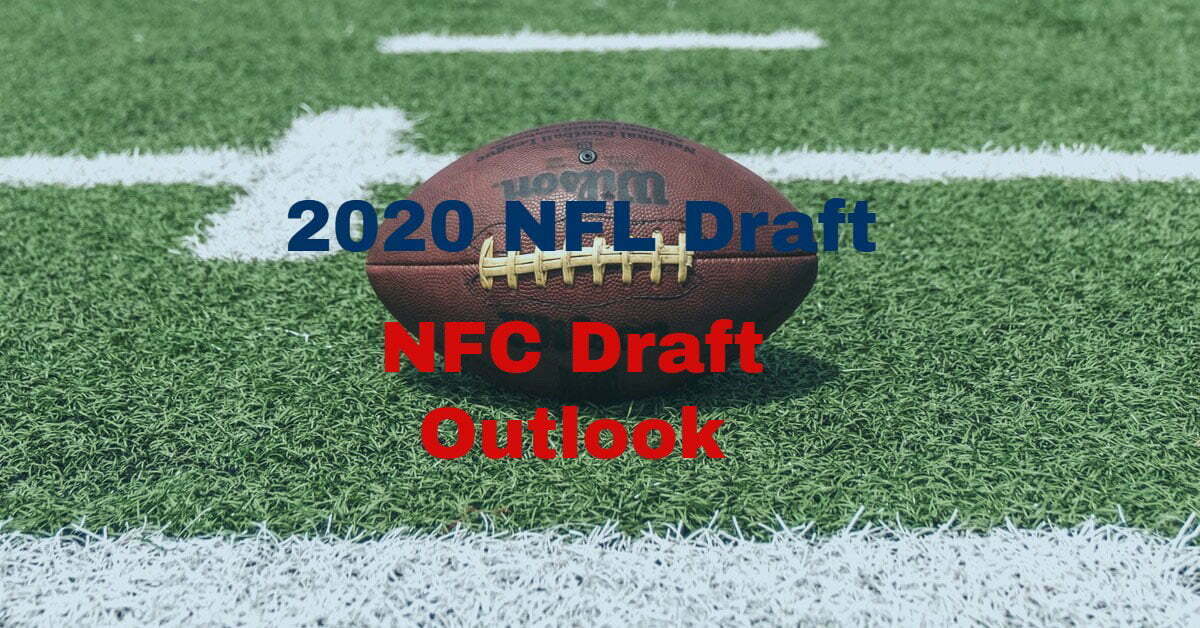 Who Picks where In The NFC North?
The 2020 NFL Draft gets underway in a weeks time on the 23rd April 2020, and although this year all selections will take place virtually via phone and internet due to the pandemic, this does not detract from the excitement of seeing who grabs the cream of this years college talent. Anyway here is the position in the NFC North as it stands.
Chicago Bears
The Bears are not in a good place going into 2020's draft with only two picks in the top half and both mid to late 2nd rounders. They are probably ok at QB currently with Nick Foles joining Mitchell Trubisky, who had the misfortune of playing behind an O-Line which often looked as secure as a pair of Saloon doors. They will need to add at least one new recruit here but with the defense also depleted it may depend on how the board falls as to when they address this. A Corner and a Safety are also on the shopping list and in our mock we have them taking a corner with pick 43 given that the top Tackles will be long gone by then.
Total Draft Picks 7 Numbers 
2nd Round 43
2nd Round 50
4th Round 163
5th Round 196
5th Round 200
6th Round 226
7th Round 233
Detroit Lions
In our opinion, the Lions were a far better team than their 3-12-1 record would indicate and the wheels only really fell off in early December. Losing their franchise QB Matt Stafford didn't help and having lost Darius Slay to the Eagles there is a very high chance that they take a Corner at pick 3 most likely Jeff Okudah. After that, they will probably look to strengthen that OL in the hope of keeping Stafford fit and maybe a defensive lineman.
Total Draft Picks 9 Numbers 
3
35
67
85
109
149
166
182
235
Green Bay Packers
The Packers spent big in free agency on the Defensive side in 2019 and it paid dividends of sorts as they made it to the NFC Championship game. However, even Aaron Rodgers can't make up for the weaknesses on the other side and we expect the majority of this years early picks to go on strengthening the offense. Although a Tight End is probably the overall biggest need we can't see them taking one in round one and the final choice of OL or Wide Receiver might depend on who has slipped down the board. With ten picks they have the firepower to move up a little too if the opportunity is there and similarly may end up trading out of the first if some team fancies trading back in for one of the QBs so getting that 5th year option. Outside of these positions the team is not too bad so they could pick up a few high potential, but not quite ready pieces to add depth.
Total Draft Picks 10 Numbers 
30
62
94
136
175
192
208
209
236
242
Minnesota Vikings
The Vikings are "loaded man" to coin a phrase. They have a very good, if not quite great QB in Kirk Cousins and despite losing a few key players in the offseason remain in win-now mode and with two 1sts and a second they should be able to fill the holes. Picking a Corner with one of their 1st round picks is pretty much a gimme, and we wouldn't be totally shocked if two of their first three picks was for the secondary. Then its WR and Edge Rusher. They have enough spare picks to make a trade up too if the right player slips further than expected.
Total Draft Picks 12
22
25
58
89
105
132
155
201
205
219
249
253
So there we have it a strange situation where the two best teams in the division end up with the most draft picks and the chance to maintain their domination in 2020. Before you go why not check out our mock draft.