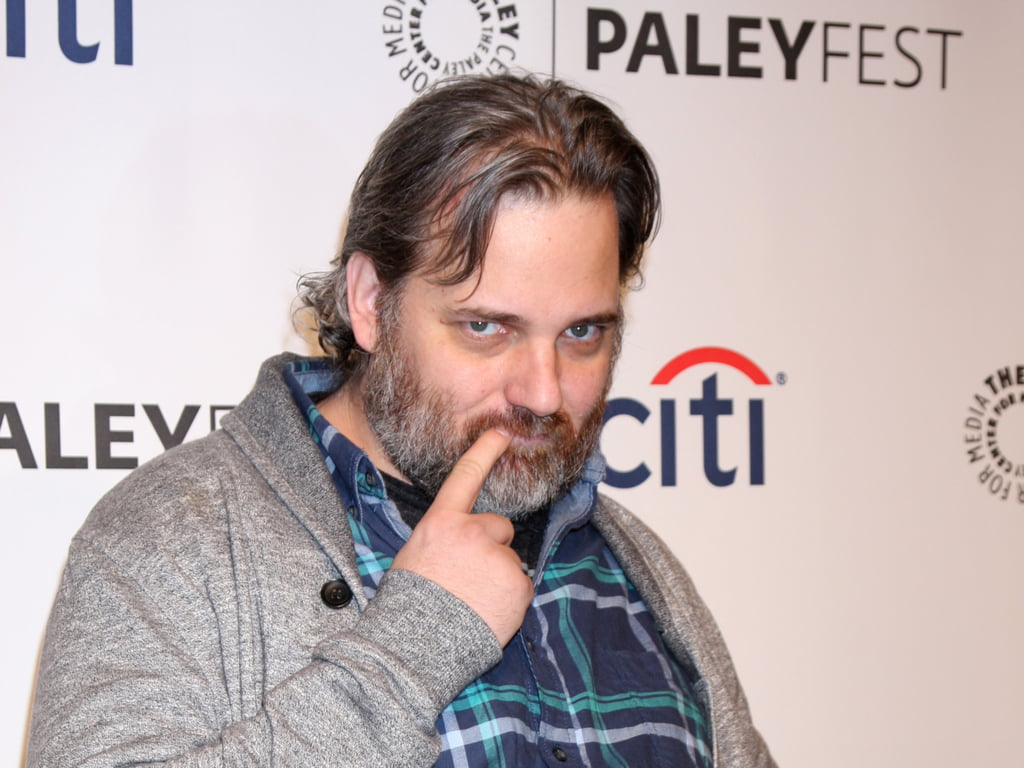 Dan Harmon
Dan Harmon is an American writer, producer, actor and comedian. He was born on the 3rd of January 1973, in Milwaukee, Wisconsin. He attended Glendale Community College, which would later be the inspiration for his hit T.V. show "Community."
In Harmon's early career he was a member of ComedySportz which is an improvisational comedy organization with a similar format to the T.V. Series "Whose line is it anyway?".  This is where Harmon met Rob Schrab, who co-wrote the Pilot "Heat Vision and Jack" which developed a cult following even though it wasn't taken on as a full Series. They further went to co-write "The Sarah Silverman Program" alongside Sarah Silverman and "Monster House".
Community and Rick and Morty
In 2009 Harmons Sitcom "Community" was chosen to air on NBC He served as Executive Producer and Showrunner up until 2012, until he was fired. However backed massively by the cast especially Joel McHale, he returned to the show in 2014 serving as co-showrunner with Chris McKenna. The show was cancelled shortly but then reborn by Yahoo! for its fifth season. The sixth season soon followed, without a formal ending. There is still demand for a "community" movie that was the mantra of the show 'Six seasons and a movie'.
In the middle Harmons 'break' from "Community" he went on to work on an animated T.V. Series alongside Justin Roiland, backed by Adult Swim they created the Pilot for "Rick and Morty". The show first aired in 2013 and has been running for four seasons. The show has been incredibly successful and has a very loyal following.
Dan Harmon – Storytelling Technique
Harmon is also well known for creating the Storytelling technique known as "Story Circle". The technique is an eight-step process for developing a coherent story;
A character is in a zone of comfort or familiarity.
They desire something.
They enter an unfamiliar situation.
They adapt to that situation.
They get that which they wanted.
They pay a heavy price for it.
They return to their familiar situation.
They have changed as a result of the journey.
Dan Harmon Filmography and TV Appearances
| Year | Title | Role | Info |
| --- | --- | --- | --- |
| 1999 | Heat Vision and Jack | | Pilot; creator and writer |
| 2003 | Computerman | Eugene Murzowski | Also creator, writer and executive producer |
| 2006 | Monster House | | Writer |
| 2006 | MTV Video Music Awards 2006 | | Television special; writer |
| 2007 –2010 | The Sarah Silverman Program | | Co-creator and writer |
| 2007 | Acceptable.TV | Various roles | Also co-creator, writer and executive producer |
| 2008 | Kung Fu Panda | | Uncredited writer |
| 2008 | Googas | Dan | Also co-creator, writer |
| 2008 | Spike Video Game Awards 2008 | | Television special; writer |
| 2009 -2015 | Community | | Writer and executive producer (season 1–3; 5–6), Executive consultant (season 4), Creator |
| 2009 | The 81st Annual Academy Awards | | Television special; writer |
| 2012 | Mary Shelley's Frankenhole | Dr. Jekyl (voice) | 5 episodes |
| 2013 –present | Rick and Morty | Birdperson / additional voices | Also co-creator, writer and executive producer |
| 2013 | Arrested Development | Yurt Clerk | Episode: "Borderline Personalities" |
| 2013 | Axe Cop | Audience Member (voice) | Episode: "Babysitting Uni-Baby" |
| 2014 | Harmontown | Himself | Documentary; also executive producer |
| 2015 | Knight of Cups | Dan | |
| 2015 | Back in Time | Himself | Documentary |
| 2015 | Anomalisa | | Executive producer |
| 2015 | Drunk History | Narrator | Episode: "Miami" |
| 2015 | The Simpsons | | Episode: "Mathlete's Feat"; wrote couch gag |
| 2016 –present | HarmonQuest[48] | Himself / Fondue Zoobag | Also creator, writer and executive producer |
| 2016 | Doctor Strange | | Uncredited consultant |
| 2016 | Great Minds with Dan Harmon | Himself | Also writer and executive producer |
| 2017 | Dr. Ken | Himself | Episode: "Ken's Big Audition" |
| 2017 | Mystery Science Theater 3000: The Return | | Writer |
| 2017 | Animals. | Ad Man 1 | Episode: "Humans." |
| 2017 | The Simpsons | Himself (voice) | Episode: "Springfield Splendor" |
| 2017 | Good Game | Suit | Also executive producer |
| 2018 | Seven Stages to Achieve Eternal Bliss | Cartwright | |
Useful links
Dan Harmon Podcast Harmon town