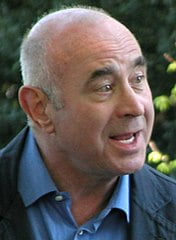 Early Life
The actor Robert (William) Hoskins, better known as Bob Hoskins, was born in Bury St. Edmund's, Suffolk on 26 October 1942. He was the only child of Robert William Hoskins Sr., a lorry driver, and his wife Lillian, a nursery school teacher. He was brought up in Finsbury Park, London, and attended Stroud Green Secondary School. Due to dyslexia, Hoskins received only a limited education. Thus, he left school, aged 15, with no qualifications. However, despite his poor education, he had a strong passion for language, literature, and the theatre.
To earn a living, Hoskins took on a string of menial jobs, including that of a porter, lorry driver, plumber, and window cleaner. His career as an actor started out more by chance rather than actual intent. One day in 1969, he arranged to meet a friend at the Unity Theatre while auditions were taking place. Mistaken for an auditionee, a stage manager pushed a script into his hand and told him, "You're next". He landed the lead role. By late 1969, he was part of Bolton's Octagon Theatre outreach troupe.
Film Career
After some stage success, he made his debut on television with a role in the crime drama series Villains (1972). He made his film debut the same year, appearing in the British comedy Up the Front (1972). He landed his next film role in The National Health (1973), a black comedy. After playing a policeman in Royal Flash (1975), he took a prominent supporting role in Inserts (1975), which starred Richard Dreyfuss.
Hoskins' breakthrough came when he was cast in the lead role in Dennis Potter's TV miniseries, Pennies from Heaven (1978). His acclaimed performance in the series brought him to the attention of the film world. It led to his casting in the lead role in the British gangster film The Long Good Friday (1980). The film's success led to him securing further starring roles in blockbuster movies such as The Cotton Club (1984), Mona Lisa (1986), Who Framed Roger Rabbit (1988), Mermaids (1990), Hook (1991), Nixon (1995), and Felicia's Journey (1999). Hoskins' performance in Mona Lisa earned him a Cannes Award, a Golden Globe, a BAFTA, and an Oscar nomination.
As well as appearing in the big payday Hollywood movies, Hoskins always had an interest in independent filmmaking. Such films include the likes of Twenty-Four Seven (1997), Parting Shots (1999), Last Orders (2001), Sparkle (2007) and Made in Dagenham (2010). He directed and starred in two feature films; The Raggedy Rawney (1988) and Rainbow (1996) and also directed several times for television. He later co-produced and act in Mrs Henderson Presents (2005). A film telling the true story of the opening of London's Windmill Theatre, starring Judy Dench.
Career Summary
Every actor makes a few professional mistakes and Hoskins was certainly no exception. He made a cameo appearance in the "Spice Girls" film Spice World (1997). Although the film was a global box-office success, it was slated by the critics. He also appeared in the lead role in Super Mario Bros, (1993). The adventure fantasy movie was the first feature-length film based on a video game. The film turned out to be a commercial flop. The U.S. 'At The Movies' film review programme described it as "the worst film of the year". Hoskins also described the film as his worst-ever acting experience.
As well as a prolific film career, Hoskins was also busy in television, having some 36 credits. His last TV role was his appearance as Smee in the mini-series Neverland (2011), a prequel to Peter Pan. His last film performance was that of Muir in the American fantasy film Snow White and the Huntsman (2012). In all, Hoskins appeared in almost 80 films, including 10 television films, in his 40-year acting career.
Personal Life
Hoskins was married twice. His first wife Jane Livesey was a teacher, whom he married in 1967. The couple had two children; Alex (b. 1968) and Sarah (b. 1972). They divorced in 1978. Hoskins' second marriage was to Linda Banwell, in 1982. She, like his first wife, was also a teacher. The couple also had two children: Rosa (b. 1983) and Jack (b. 1986). They remained married until Hoskins' death in 2014.
Hoskins was known for being particularly down-to-earth. He reputedly said that he would never accept a knighthood. He was also known for his dry wit and self-deprecating sense of humour. Hoskins recounted in one interview being put on standby to play Al Capone in The Untouchables. The role eventually went to Robert De Nero. The director, Brian De Palma sent him a cheque for £20,000 for his troubles. Hoskins phone him up and retorted, "Brian if you've ever got any other films you don't want me in, son, you just give me a call,".
Illness and death
In 2012, Hoskins announced that he had been diagnosed with Parkinson's disease and was retiring from acting. He died of pneumonia on 29 April 2014 at a hospital in London. Survived by his wife Linda and four children, he was buried in Highgate Cemetery, Camden, London.
Header Image credit: Wikimedia Commons/(CC BY 2.0)