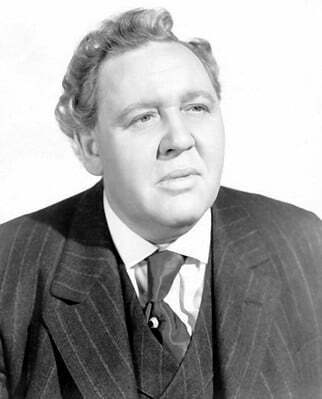 Early Life
Charles Laughton was born on 1 July 1899 at the Victoria Hotel in Scarborough, Yorkshire, England. He was the eldest son of Robert and Eliza Laughton, who were the hotel proprietors. His mother, a devout Christian of Irish descent, raised her three sons to follow the Catholic faith. Laughton briefly attended the local boys' school Scarborough College but completed his education at Stonyhurst College, an English Jesuit school. He made his stage debut there in a school production of "The Private Secretary".
After leaving school in 1915, Laughton, aged 16, was expected by his father to help run the family business. However, his mother insisted that he train first and found him a place at London's Claridge Hotel. However, WWI intervened with his training, which saw him called up for military service in 1917. He served with the Huntingdonshire Cyclist Battalion, and later, with the Northamptonshire Regiment. He was gassed in a German attack at the Front, which saw him being both physically and mentally scarred.
Early Career
After the war, Laughton began working in the family hotel, while participating in amateur dramatics in Scarborough. After his father passed away in 1924, Laughton packed his bags and headed to London to enroll in the Royal Academy of Dramatic Art (RADA). He graduated from the Academy in 1926, winning the award for the best student. He quickly went on to make his professional debut London stage appearance in a production of The Government Inspector. Within a short time, the obviously talented actor had been elevated to playing leading roles.
In 1927, Laughton was performing in "Mr. Prohack" on the London stage when he met first met fellow performer Elsa Lanchester. After his highly successful stage performances, Laughton easily made the transition to film. In 1928, he landed the lead role in his debut film, the short silent comedy Blue Bottles (1928). His co-star was none other than Elsa Lanchester. The couple went on to make two further movies together later that year. The couple married in February 1929 at a London Registry Office.
Stardom
Laughton went on to star in four more British films before leaving for America in 1931. Laughton made his New York stage debut the same year, which led to numerous film offers. He made his Hollywood debut in Devil and the Deep (1932), starring alongside Tallulah Bankhead, Gary Cooper, and Cary Grant. He starred in a further five films that year, including in the role of Nero in the Cecil B. de Milne epic The Sign of the Cross.
Even greater success came his way the following year when he starred in The Private Life of Henry VIII (1933). Laughton was awarded the Oscar for Best Actor for performance in the titular role. After winning such critical acclaim, he decided to give up on his stage career to concentrate on films.
In 1935, Laughton produced one of his most noteworthy performances as Captain Bligh in Mutiny on the Bounty, opposite Clark Gable as Fletcher Christian. He was nominated for an Oscar as Best Actor for his screen portrayal. In 1938, he starred and debuted as a producer on Vessel of Wrath. The following year he teamed up with famed director Alfred Hitchcock to star in and produce Jamaica Inn (1939). Laughton next landed what is arguably his most memorable role, that of the deformed protagonist Quasimodo in The Hunchback of Notre Dame (1939).
Later Career
Some of Laughton's standout films throughout the rest of his career include; This Land Is Mine (1943), The Suspect (1944), The Paradine Case (1947), The Big Clock (1948), Arch of Triumph (1948), O. Henry's Full House (1952), Witness for the Prosecution (1957) and Spartacus (1960). Both Laughton and his wife Elsa were Oscar-nominated for their roles in Witness for the Prosecution.
In 1955, Laughton made his big screen director debut with The Night of the Hunter (1955). The film starred Hollywood A-Listers Robert Mitchum and Shelley Winters, as well as Lillian Gish. Nonetheless, the film was panned by the critics and was a box-office flop. However, over the decades the film has been positively re-evaluated by critics. In fact, in 2008, the influential French film magazine "Cahiers du Cinéma" cited the film as the second-greatest of all time, after Citizen Kane. The film has also been selected for preservation by America's National Film Registry.
In all, Laughton appeared in almost 60 feature films. He also successfully directed six stage productions. This included the highly successful The Caine Mutiny Court-Martial, which premiered on Broadway in January 1954 and ran for more than a year. The initial failure of The Night of the Hunter (1955) dictated that it would be Laughton's only outing as a film director.
Personal life
In 1927, Laughton began a relationship with Elsa Lanchester, when they appeared together on the London stage. They married in 1929, became US citizens together in 1950, and remained wed until Laughton's death in 1962. Their marriage did not produce any children.
Following Laughton's death in 1962, Lanchester wrote a book alleging the reason they never had children was that Laughton was homosexual. Something she did not know at the time of their marriage. However, claims have also been made that Lanchester was infertile as a result of two abortions. Allegedly one of the abortions was to Laughton himself. However, it's also been said that Lanchester professed she never wanted children, while Laughton reportedly did.
Laughton was under no illusions about his own looks. He said of himself, "I have a face that would stop a sundial".
Ill-health and Death
In July 1962, Laughton was admitted to Cedars of Lebanon Hospital, Hollywood following a fall. It was thought he had collapsed vertebra but a medical examination revealed he actually had cancer of the spine. He left the hospital at the end of November for palliative care at home. Soon afterwards, he went into a coma and died at home on 15 December 1962. His official cause of death was recorded as kidney cancer. His ashes were interred at Forest Lawn Memorial Park at Hollywood Hills five days later.
In 1992, English Heritage erected a blue plaque, commemorating Laughton's life, at his former residence of 15 Percy Street, London.
Header image credit: Flickr/(CC BY-SA 2.0)