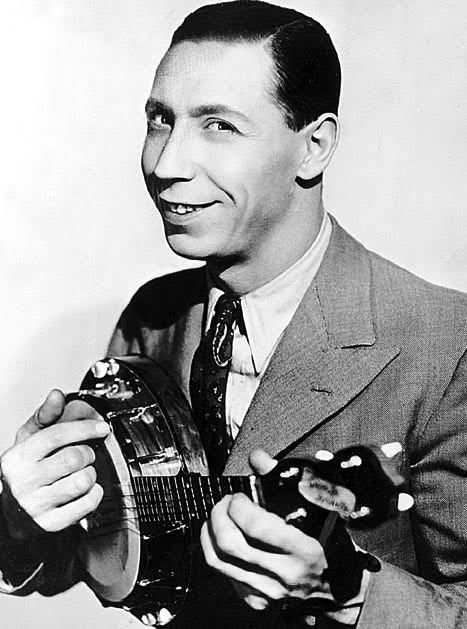 Early Life
George Formby was born George Hoy Booth on 26 May 1904 in Wigan, Lancashire. He was the eldest of the seven children of James and Eliza Booth (nee Hoy). George has six siblings, two brothers and four sisters. By the time George was born his father was already a successful music hall comedian and singer. It was James Booth that initially performed under the name George Formby. With his comedic walk and use of a cane, he is widely recognised as being Charlie Chaplin's inspiration.
Young George struggled at school, and aged 7, had made no progress with either reading or writing. James Booth was determined that none of his children would follow in his footsteps in entertainment. Thus, he took George out of his local school and sent him to Wiltshire to train as a jockey. He rode in his first professional race, aged 10, weighing in at less than four stones (56 lb/25 kg).
Early Career
Formby continued as a jockey until February 1921, which was the time that his father unexpectedly died of a bronchial condition. Visiting London with his mother shortly after his father's death, they saw Tyneside comedian Tommy Dixon perform at the Victoria Palace Theatre. The act turned out to be a copycat to that of George's father, with Dixon even billing himself as "The New George Formby". Reportedly, incensed by Dixon, it was then that George decided to follow in his father's footsteps. With the backing of his mother and the use of his father's material, he took to the stage calling himself George Hoy.
However, George's entry into the entertainment world was very much a baptism of fire. He spent two years as a support act touring the music halls of the North of England. Poorly paid, with long spells of unemployment, he was often booed off the stage. Sometime in 1923, George came across a fellow entertainer who liked to strum a ukulele backstage as a means of passing the time. Taken with the instrument, he bought it from his colleague and quickly learned to play it. He introduced the ukulele into his act one night while playing the Alhambra Theatre in Barnsley. Still using his father's material, George's musical dalliance brought the house down. He changed his name to George Formby and, at least in the mind of the public, was now inseparable from his ukulele.
Rising Stardom
For the next 3 years, Formby was still mainly confined to touring the halls and theatres of the North of England. However, in June 1926 he earned a one-off record deal with the prominent Edison Bell/Winner label. The enhanced exposure helped secure his London debut at the Shepherd's Bush Empire, later the same year.
In 1932, Formby signed a 3-year deal with Decca Records, which saw the song 'Chinese Laundry Blues' released. Telling the story of Mr Wu, he adopted the song as one of his signature tunes. Later, he would write a whole series of ditties about the fanciful character. In winter 1932, Formby appeared in his first pantomime, Babes in the Wood, in Bolton. In 1934, Formby made his big-screen debut in 'Boots! Boots!'. The low-budget film with a dubious plot was panned by the critics but cinema audiences loved it.
Film Career
The financial success of his first film led to Formby being offered a 7-year, 11-film contract with Associated Talking Pictures (ATP) at their Elstree Studios. The first film in the deal 'No Limit' was released in 1935. It featured Formby as an entrant in the Isle of Man annual TT (Tourist Trophy) motorcycle races. (The film proved so popular it was re-released in 1938, 1946, and 1957). The simple plot that saw a somewhat gormless but loveable, working-class lad triumph over adversity was the general theme that ran through all of Formby's films.
The release of 'Keep Your Seats, Please' quickly followed 'No Limit' in 1936. The film featured the bawdy song 'When I'm Cleaning Windows'. The lyrics, full of innuendo, saw the song initially banned by the BCC. However, the Cooperation had to relent, when it became common knowledge that the ditty was a favourite of Queen Mary.
However, the song for which Formby is almost certainly most famous is "Leaning on a Lamp-post", written by Noel Gay. It was first performed by Formby in the 1937 film 'Feather Your Nest'. Formby's immense popularity meant that by the end of the 1930s, he was the highest-paid entertainer in the country. His then earnings were around £100,000 a year, approximately £7.2 million at today's (2022) equivalence.
The War Years
During WW2, Formby was one of the first British entertainers to sign up for the Entertainment National Service Association (ENSA). Working for a fixed salary of £10 per week he entertained allied servicemen throughout Europe, the Middle East, and the Far East. He was personally invited by General Montgomery to entertain front-line troops. Formby was also still contracted to ATP and made a further five films for the studio between 1939 and 1941.
The last movie Formby made for ATP was 'Turned Out Nice Again' (1941). It starred him as the hapless factory worker George Pearson, who repeatedly quoted the phrase "Turned out nice again''. Formby became forever associated with the catchphrase and is the one for which he is best remembered. In 1941, Formby signed a contract to make seven films for Columbia Studios. His last film 'George in Civvy Street', released in 1946, gave him a final
filmography
of twenty-one. He was awarded an OBE by George VI for his services in entertaining allied troops the same year.
The Final Years
From 1946 onwards Formby extensively toured and entertained throughout the World. He continued to make TV and radio appearances, and record new songs during his travels. In 1951, he was offered the part of Percy Piggott in the new musical 'Zip Goes A Million'. Based on the play 'Brewster's Millions', it opened in the West End to critical acclaim. Formby was back in the limelight but six months into the run he suffered a heart attack.
After 18 months of recuperation, he gradually eased himself back into work by doing one-night stands. He followed this up with seaside summer shows and pantomime. In April 1953, he undertook a 17-show tour of Southern Rhodesia (Zimbabwe) and later made 138 appearances at the London Palladium. In mid-1954, he starred in the Blackpool show 'Turned Out Nice Again'. After doing more TV work,  Formby then toured South Africa and Canada. In mid-1955, Formby's wife and manager Beryl began to feel unwell and soon after was diagnosed with terminal cancer. Formby continued to work in TV and appear on stage. However, in 1959, he himself was identified as having serious heart problems.
George Formby gave his farewell screen performance on 16 December 1960. It was an appearance on the BBC's 'Friday Show' that was looking back at his life. On 22 February 1961, Formby suffered a massive heart attack. Following a second major attack, he died on 6 March 1961. A star on the stage, radio, TV, and the big screen, had also recorded more than 200 songs.
He was buried in the family grave at Warrington Cemetery. On the day of his funeral, more than 100,000 mourners lined the streets to pay their respects to the greatly loved and admired Lancashire entertainer.
Private Life
George Formby met his future wife Beryl Ingham in 1923 when they both appeared on the same bill at a music hall in Yorkshire. Beryl, three years Formby's senior, was a clog dancer and aspiring actress. They married in Wigan the following year. Initially, they worked together as a variety act but over the years Beryl increasingly took a back seat. By 1932, she had adopted the role of Formby's full-time manager and mentor.
Over the years Beryl developed a reputation as being an astute and shrewd businesswoman. However, it's suggested in some quarters, that Beryl's hard-line dealing and irascible character may have actually hindered Formby's career.  It's speculated by some that George and Beryl did not actually have a physical relationship, though both are known to have had multiple affairs.
In his candid interview with the BBC in December 1960, Formby admitted that it was Beryl who had been the driving force behind his success. He also lamented that life with Beryl had been far from easy. Formby also confessed that he couldn't read and write or had any understanding of music. He also expressed regret about not having children. The terminally-ill Beryl watched the interview from her hospital bed. She died of leukaemia on Christmas Eve, just 8 days later.
A few weeks after his wife's death, Formby announced his engagement to a 36-year-old schoolteacher, He planned to marry Pat Howson, the daughter of an acquaintance, the following Spring. Unfortunately, George died of a heart attack before the nuptials could be arranged. After Formby's death, it was found he had changed his will, just 2 weeks earlier, in favour of Pat. He left approximately £140, 000, some £3 million, at today's (2022) equivalence.
Legacy
The George Formby Society was created shortly after the entertainer's death in 1961. Today it has more than 1,200 members worldwide who meet on a regular basis at the four conventions held each year in Blackpool. Members, all endeavour to learn to play the ukulele. The late George Harrison of 'The Beatles' was famously once a member of the Society.
A bronze statue was erected of George Formby on the seafront in Douglas, Isle Of Man in 2006. This was followed by a similar statue being commissioned and erected in his hometown of Wigan in 2007.
Formby is viewed as having been a great influence on the career of another English comedy great, Norman Wisdom (1915 – 2010).
Header image credit: Findagrave.com