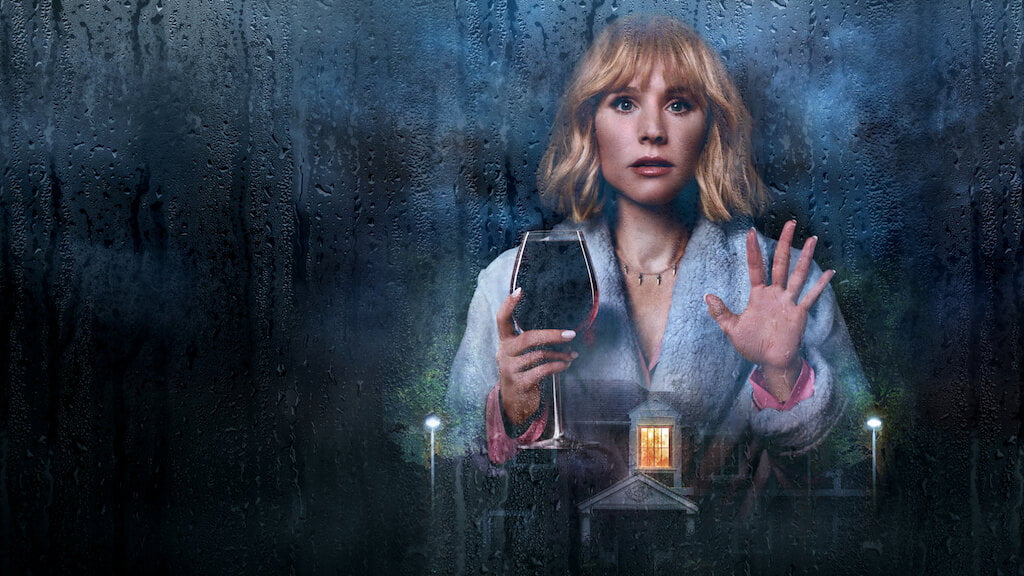 The woman in the house across the street from the girl in the window
Episodes: 8
Release Date: 28th January 2022
Rated: 15
Series Summary
The Woman in the House Across the Street from the Girl in the Window is a Dark comedy Thriller, starring Kristen Bell, Tom Riley and Mary Holland. The story revolves around Anna a divorced grieving parent whose child had passed away 3 years prior to the current timeline of the story.
Anna, now struggling with anxiety and depression and alcohol abuse, becomes infatuated with her new neighbour, Neil, who moves in across the street with his young daughter. The two connect instantly both grieving over the loss of a loved one.
However, when Anna witnesses a murder, and events unfold she starts to question her own sanity.
---
Details
Main Cast
Epsode Synopsis
Directed by: Michael Lehmann
Written by: Rachel Ramras & Hugh Davidson & Larry Dorf
Starring: Kristen Bell, Michael Ealy, Tom Riley, Mary Holland, Cameron Britton & Samsara Yett
Executive Producers: Rachel Ramras, Hugh Davidson, Larry Dorf, Kristen Bell, Will Ferrell, Jessica Elbaum, Brittney Segal, Michael Lehmann
Producer: Danielle Weinstock
Runtime: 22-29 minutes per episode, 8 episodes in total
| | |
| --- | --- |
| Kristen Bell | Anna |
| Michael Ealy | Douglas |
| Tom Riley | Neil |
| Mary Holland | Sloane |
| Cameron Britton | Buell |
| Samsara Yett | Emma |
| Brenda Koo | Carol |
| Shelley Hennig | Lisa/Chastity |
| Christina Anthony | Detective Lane |
| Benjamin Levy | Rex |
Synopsis from Netflix
Episode 1
Between broken dishes and heart-breaking visions, Anna drowns her sorrows in wine and stares out her window. Until a handsome dad gets her attention.
Episode 2
After overindulging in her usual vices, posting sexy photos and attempting to revive her passion for painting, Anna is shaken by a startling scene.
Episode 3
Determined to prove what she saw was real, Anna snoops at the scene of the crime. She joins a support group but winds up back from where she started.
Episode 4
Anna's online sleuthing unearths a close connection to Neil, and one tragedy after another. During a trip to a lighthouse, Anna's suspicions run wild.
Episode 5
A paranoid stranger appears at Anna's door with threats of unsettling truth about Lisa. After the cops drop-in, Anna unwinds in more ways than one.
Episode 6
When a night of passion leads to an arrest the morning after, Anna tries to get on with her life. But Just when things feel normal a new clue is found.
Episode 7
Detective Lane puts pressure on Anna in the interrogation room, but Anna maintains her innocence. Back at home, a dark secret lies in the attic.
Episode 8
As a storm rages on, Anna pushes past her fear and ends up fighting for her life. Later deja vu kicks in when Anna boards a flight to New York.
Review
Watch it on  Netflix
The series is set up as a parody of other psychological thrillers but disguises itself for probably the first six episodes of the series. Unfortunately, because of the subtleties in the first few episodes, the finale gets a little lost in translation and almost feels out of context. In addition, the element of comedy becomes a little lost because of its preposition.
Saying that I watched it, and for the most part, I enjoyed it. The story generally was well written; it does keep you guessing as a whodunit.
If this is something you enjoy, I would highly recommend Inside Number 9 on the BBC I Player. They are trying to achieve the same thing; it's just done far better.
The performances were brilliant, and I bought into the character of Anna. There were multiple twists that I didn't see coming that kept me flowing from one episode to the next.
When all is said and done, it's not bad, it's not the best, but it is work the watch. It sets itself up for potentially another series, and I hope they do go for a second attempt but just adjust the tone slightly.
My review of this is a bang in the middle; take it or leave it 2.5/5