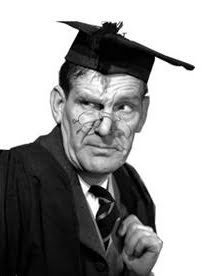 Early Life
The comedian and character actor Will Hay was born William Thomson Hay at 23 Durham Street, Stockton, County Durham on 6 December 1888. He was the son of William Robert Hay, an engineer, and his wife, Elizabeth. William had four siblings, a brother, Harold and three sisters, Evelyn, Lizzie and Annie.
When Hay was around a year old, his father moved the family to Lowestoft due to work commitments. They later moved to Hemel Hempstead, then London, and finally to Manchester, where his father established his own engineering company. When Hay left school, aged 14, he followed his father into engineering. A gifted linguist, by his late teens, Hay was already fluent in Italian, French and German. He then decided to abandon his engineering career to become an interpreter.
Early Career
In 1909, Hay, aged 21, decided he wanted to become an actor after seeing a W.C. Fields performance in Manchester. He enjoyed some initial moderate success as a stand-up comic and after-dinner speaker. Looking for comedic inspiration, Hay drew on his sister's amusing tales of teaching at a boys' school. He initially performed "The Fourth Form at St. Michael's" sketches in drag as a headmistress. The act was good enough to see Hay offered his first professional job. In 1910, he was duly given a full-time contract to perform at a theatre in Belper, Derbyshire. It was then that Hay decided to switch his onstage persona to that of a headmaster.
After his run at Belper finished, Hay and his wife ended up running a cinema in Manchester. It was not until 1913 that he got another break in the entertainment field. The offer was a summer season on the Isle of Man. It was there that his act came to the attention of the noted impresario Fred Karno. He stayed with Karno's troupe for four years, gaining valuable experience in the industry.
In 1920, Hay reworked his 'Fourth Form at St Michael's' sketches to great domestic success. He then took the routine on tour enjoying particular success in the likes of Australia, Canada and the USA. His wife Gladys, who accompanied him, often played a schoolboy in the show. When Hay returned to Britain some nine months later, he found himself in greater demand than ever.
Acting Career
In 1922, Hay starred in the short silent film 'Playmates' dressed as a schoolboy. His co-star, M'lita Dolores, a talented actress and comedian, played opposite him as a schoolgirl. In 1925, Hay was chosen to perform his now-famous St. Michael's act at the Royal Command Performance. Hay became a particular favourite of Edward, Prince of Wales, who often invited him to private gatherings at Windsor castle. Meanwhile, Hay continued to tour the world on a regular basis with his schoolmaster act.
In 1933, Hay appeared in his second film 'Know Your Apples'. The short Pathe promotion film made for the British apple industry has since been lost. Hay's proper cinematic debut came a year later at the grand old age of 46. He starred as magistrate Brutus Poskett in the 1934 film 'Those Were The Days'. The film won both the critics' and cinema audiences' approval. Hay made another two successful films for the Elstree Studio the following year.
In 1935, Hay made a switch to Gainsborough Pictures and began the most successful period of his film career. The screenplay for his first film at the studio, Boys Will Be Boys, was written by Hay himself. His next three films 'Windbag The Sailor' (1936), 'Where There's A Will' (1936) and 'Good Morning Boys (1937) were all commercial successes.
Hay's fifth film for the studio was the comedy 'Oh, Mr Porter!' (1937), which took a massive £500,000 on its release. His portrayal of stationmaster William Porter gained him glowing reviews. In all, Hay made nine films for the Gainsborough studio in 4 years. His abiding straight men Graham Moffatt and Moore Marriot appeared in all but three of the films. At the outbreak of WW2, Hay decided to move on to Ealing Studios.
Ealing Studios
During his tenure at Ealing, Hay made a total of seven films. The 'Carry On' stalwart Charles Hawtrey was a supporting actor in the first film; 'The Ghost of St Michael's' (1941). Notable actors who co-starred alongside Hay at Ealing included John Mills, Michael Redgrave and Thora Hird.
Hay's involvement in three of the Ealing films; The Black Sheep of Whitehall (1942), The Goose Steps Out (1942) and My Learned Friend (1943) went beyond acting as he was also a credited director. Due to failing health, the latter proved to be Hay's final film. Many consider his portrayal of an incompetent barrister in the exemplary black comedy to be his finest performance. Between 1934 and 1943, Hay's starred in all of the 19 films in which he had appeared.
Ill-health and Death
During the making of his last film in 1943, Hay started to feel unwell. In 1944, he was diagnosed with early-stage cancer. After treatment and a lengthy recuperation, it appeared Hay had made a full recovery when he resumed work. However, while holidaying in 1946, he suffered a stroke which left him with partial paralysis and speech problems. Hay was told by doctors that he could only expect to make a partial recovery.
On medical advice, Hay then spent time in a more favourable climate. After time in South Africa, his health seemed to improve, such that by the following year, he was making plans to become a film producer. However, in 1947, Hay's plans suffered a setback. Close friend and the director of many of his films, Marcel Varnel, was killed in a car crash. Hay postponed his plans and became more reclusive than ever.
Hay made his last public appearance on 15 April 1949. Reportedly in good spirits, he talked about his plans for the future. However, just 3 days later, on Easter Monday, following a further stroke, he died at his flat in Chelsea. He was buried in Streatham Park Cemetery, London.
Personal life
In 1907, Hay married an 18-year-old postmaster's daughter Gladys Perkins. The marriage produced two daughters and a son; Gladys (1909), William (1913), and Joan (1917). Though the couple legally separated in 1935, they were never divorced. Gladys, a devout Roman Catholic, would never consent to the dissolution. Following separation from Gladys, Hay entered into a long-term relationship with Randi Kopstadt. The Norwegian was more than 20 years his junior but the relationship lasted until Hay's death in 1949.
Off-screen, Hay was was the very antithesis of his on-screen persona. Far removed from the buffoon image he portrayed on screen, he was a serious and very private man. Hay's main interests outside the entertainment industry were aviation and astronomy. A fully qualified pilot, in 1928, he gave flying lessons to the famed American aviator Amy Johnston. Also, a dedicated and respected amateur astronomer, Hay built his own observatory in his garden. In 1932, he was made a Fellow of the Royal Astronomical Society. A year later, he was given recognition for making significant scientific discoveries about the planet Saturn. In 1935, Hay authored the book 'Through My Telescope'.
After suffering bouts of serious ill-health in the mid-1940s, Hay began to write an autobiography. However, the book entitled 'I Enjoyed Every Minute', was never completed. Excerpts from the unfinished book were included in the 2009 biography 'Will Hay', authored by Graham Rinaldi.
Comedic Legacy
The satirical humour of Hay's films has been described as being subversive and anti-authority. Over the years, many of Britain's most gifted comedians have cited Hay as a strong influence. The list includes the likes of Tony Hancock, Ken Dodd, Eric Morecambe, Tommy Cooper and Ronny Barker. The seasoned comedian, presenter and author, Roy Hudd (1936 – 2020) described Hay as the "supreme master" of sketch comedy.
Header image credit: Travalanche-WordPress.com