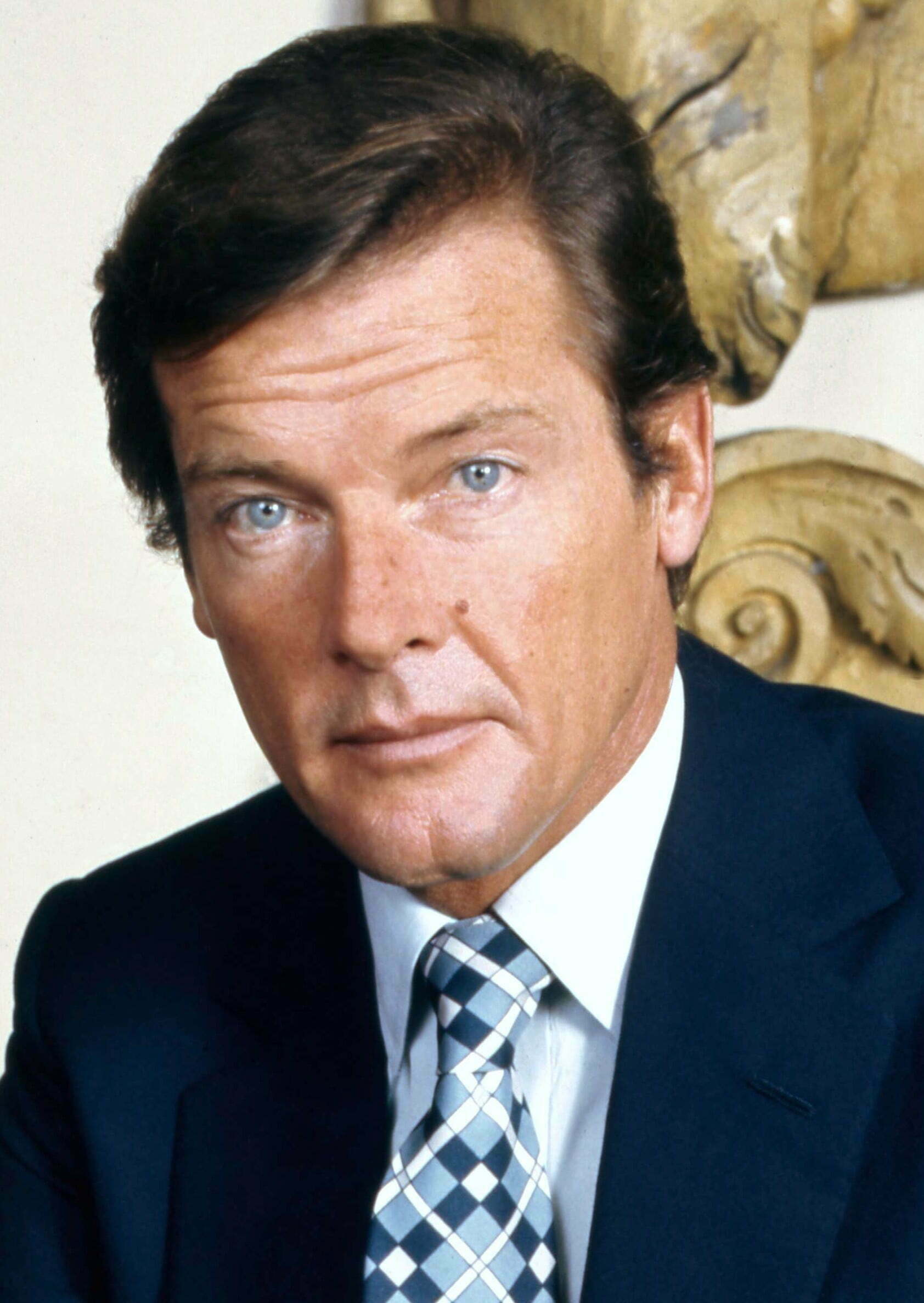 Early Life
The actor Roger Moore was born on 14 October 1927 in Stockwell, London. He was the only child of policeman George Moore and his wife Lillian. Moore attended Battersea Grammar School but was evacuated to Holsworthy, Devon during WW2. He first attended Launceston College in Cornwall, and later, Dr Challoner's Grammar School in Amersham, Buckinghamshire.
Moore got an early lucky break into the film industry via his policeman father. It happened when George Moore just happened to investigate a robbery at the home of Irish film director Brian Desmond Hurst. Roger then got an introduction to the director, which saw him hired as an extra for the 1945 film Caesar and Cleopatra. Impressed by the young Roger, Hurst decided to pay Moore's fees to attend RADA.
Shortly after the end of WW2, Moore was conscripted into the British Army for national service. In September 1946, aged almost 19, he was given a commission in the Royal Army Service Corps as a second lieutenant. He then went on to work in Combined Services Entertainment Unit in West Germany, where he eventually became a captain.
Early Career
After leaving the army in 1949, Moore found himself back in the UK. He returned to working as a film extra and also as a part-time model. However, in 1953, Moore decided to try his luck across the other side of the Atlantic. The handsome and debonair Moore soon secured work in television. In 1954, MGM headhunted him and he went on to sign a 7-year contract with the studio. His first outing was a small part in the film 'The Last Time I Saw Paris, which starred Elizabeth Taylor and Walter Pidgeon.
After his first movie, Moore was able to find plenty of work as a supporting actor in both film and television. Between 1958 and 1959, he starred in all 39 episodes of the British children's television series Ivanhoe. Afterwards, he landed significant parts in the American TV series 'Maverick' (1957) and 'The Alaskans' (1959). However, Moore's had to wait until 1962 before his big breakthrough came. It was then that British impresario Lew Grade cast him as Simon Templar in the British TV spy thriller 'The Saint'. The popular show ran for six series and 118 episodes, became a worldwide hit, and gave Moore international recognition.
Bond and Stardom
After 'The Saint' ended in 1969, Moore returned to the big screen in the spy thriller in Crossplot (1969) and the psycho-drama The Man Who Haunted Himself (1970). However, he then returned to TV to star alongside Tony Curtis as an international playboy in 'The Persuaders'. The show enjoyed only moderate success and finished in 1972. However, it meant Moore was freed up to accept the offer to play James Bond and replace the retiring Sean Connery.
His firstc outing as Bond was in Live And Let Die in 1973. He followed that up with a further six appearances as the British superspy in 'The Man with the Golden Gun' (1974), 'The Spy that Loved Me' (1977), 'Moonraker' (1979), 'For Your Eyes Only' (1981), 'Octopussy' (1983) and 'A View to a Kill'(1985). His role as the iconic Bond obviously brought Moore international fame and stardom.
Other Film Roles
Other successful films where Moore co-starred include Shout at the Devil (1976), The Wild Geese (1978), where he appeared alongside Richard Burton and Richard Harris, Sea Wolves (1980), and the Cannonball Run (1981). After his last Bond film in 1985, Moore took a 5-year sabbatical from acting. He did not appear on the big screen again until 1990, playing a supporting role in the sports film 'Fire, Ice and Dynamite'. After that, he made a further 19 film appearances, the last one being in 2017, the year of his death. The latter role was an honorary appearance in the American action film 'The Saint' (2017).
Moore appeared in close to 50 films during his 72-year acting career (1945 – 2017), while voicing a further seven. He also had accreditation as both a director and producer. In November 2007, he became the 2,350th star to be entered into the Hollywood Walk of Fame at a ceremony in Los Angles.
Private Life
Marriage and Children
Moore married four times in all. In 1946, while still a teenager, he married fellow RADA student Lucy Woodard, 6 years his senior. However, they divorced in 1953, after Moore had an affair with the Welsh singer Dorothy Squires. He then married Squires, who was 12 years older. However, it proved to be stormy wedlock, fuelled by the frustration that Squires could not have children.
In 1961, while on the set of 'The Rape of the Sabine Women', Moore met Luisa Mattioli. Within a few months, he had left his wife to set up a home with the Italian actress. However, Squires dragged out the divorce proceedings and Moore had to wait until 1969 to marry Mattoloi. The couple remained married for 31 years, eventually divorcing in 2000, after separating in 1993. They had three children, a daughter Deborah (1963) and two sons, Geoffrey (1966) and Christian (1973).
In March 2002, Moore got married for the fourth time. This time to the Danish-Swedish multi-millionaire socialite Kristina 'Kiki' Tholstrup, a former friend of his third wife Mattioli. The couple remained married up until Moore's death in 2017.
A Life Abroad
In 1978, due to the onerous tax situation in the UK, Moore decided to move abroad. He originally resided in Switzerland. Later, he divided his time living between his Swiss home and his other three properties in Monte Carlo, Tuscany, and the South of France. However, he also remained a frequent visitor to the UK.
Charity Work
After completing a 5-year spell away from the limelight in 1990, Moore turned his attention to charity work. Good friend Audrey Hepburn's work as a Goodwill Ambassador for  UNICEF made a lasting impression on him.  In 1991, Moore was appointed to the self-same role. He won numerous awards for his UN work, including a knighthood from Queen Elizabeth II in 2003. This culminated with Moore being awarded UNICEF's UK Lifetime Achievement Award in 2012. Moore always considered his work at the UN to be his greatest achievement.
Ill-health and Death
Moore suffered more than average ill-health as a child. He was also a long-term sufferer of kidney stones which saw him hospitalised during filming on set for Bond in 1973, and again in 1979. In 1993, Moore underwent successful treatment for prostate cancer. In 2003, he suddenly collapsed on the Broadway stage during a song and dance routine in a tribute to Morecambe and Wise. As a result, he had to be fitted with a pacemaker to treat a slow heartbeat. In 2013, he was diagnosed with type 2 diabetes after suffering lethargy and sudden weight loss.
Several years before Moore's death it was discovered that he had a small tumour on his liver. In 2017, he was undergoing cancer treatment but suffered a setback after experiencing a bad fall. On 23 May 2017, Roger Moore died at his home in Crans-Montana, Switzerland, surrounded by his family. They announced that he had died after "a short but brave battle with cancer".
Moore was buried on 10 June 2017 in the Monaco-Louis II Cemetery in La Colle, Monaco. The small private funeral was attended only by family and close friends.
Header image credit: Wikipedia Commons