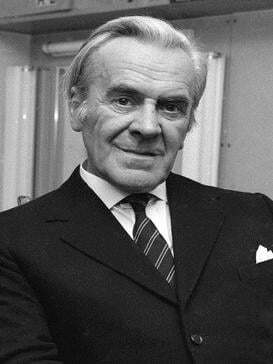 Early Life
The English actor John Le Mesurier was born on 5 April 1912 in Bedford. He was christened John Elton Le Mesurier Halliley by his parents, Charles Elton Halliley, a solicitor, and Amy Michelle (née Le Mesurier). The affluent Halliley family settled in Bury St Edmunds whilst John was still a young child. He first went to school at Grenham House in Kent, and later, at Sherborne School in Dorset. Le Mesurier would later record his intense dislike of the time spent at both schools.
In Bury St Edmunds, the Theatre Royal was situated only 300 yards from the Halliley family home. And, from an early age, Le Mesurier was taken on regular visits to London's West End. These experiences were to give Le Mesurier an interest in acting and performing from an early age. After leaving school he initially took up a junior position at a firm of solicitors in Bury St Edmunds. In his spare time, he took part in local amateur dramatics.
Early Career
In 1933, Le Mesurier left the legal profession and enrolled at the Fay Compton Studio of Dramatic Art. The future renowned actor Alec Guinness was a fellow student with whom he became close friends. After graduation, Le Mesurier took a repertory position at Edinburgh's Palladium Theatre. In September 1934, he made his stage debut in the J. B. Priestley play Dangerous Corner under his birth name. It was not until September 1937 that he adopted the stage name, John Le Mesurier. Typically, he never bothered to tell anyone why he had made the change.
In 1938, Le Mesurier made his debut television appearance in the BBC production of 'The Marvellous History of St Bernard'. However, he continued to earn the bulk of his living by treading the boards up and down the country. In September 1940, Le Mesurier got his call-up papers to join the Armed Forces. He began basic training with the Royal Armoured Corps but went on to earn a commission. After completing officer training he joined the Royal Tank Regiment. In 1943, he was posted to India, having risen to the rank of captain. Le Mesurier spent the rest of the War in India, eventually being demobbed in 1946.
Film and Television
On return to Britain, Le Mesurier resumed his acting career, initially struggling to find work. He made his first film appearance as an extra in the 1947 thriller 'The Hangman Waits'. In February 1948, he landed his first credited film role when he was cast in the short mystery drama 'Death in the Hand'. Most of his big screen appearances came as relatively small supporting roles in comedy films. Often he would portray a figure of authority such as a policeman, army officer, solicitor, judge etc. In the early 1960s, he appeared in three films that starred comedy legend Peter Sellars, which included 'The Pink Panther' (1963).
His last film role came in 1984 when he posthumously voiced the role of Bruce in the totally forgettable sci-fi musical 'Facelift'. In all, Le Mesurier appeared in more than 120 films during his prolific 50-year acting career.
Le Mesurier also made multiple appearances on television, radio and the stage, in parallel to those on the big screen. On TV, he is undoubtedly best remembered for his role as Sergeant Arthur Wilson in 'Dad's Army'. The BBC sitcom, which ran from 1968 to 1977, is often repeated on the small screen to this day. In 1971, Le Mesurier received his only acting award when he landed the BAFTA for Best Television Actor. His winning performance was that of Adrian Harris in the TV play 'Traitor' and proved to be one of his very few lead roles.
Private Life
Le Mesurier was married three times. In 1939, he met the stage director June Melville on set. They began a romance and married in April 1940. However, Le Mesurier was conscripted into the army only 5 months after the marriage. This saw the couple spend much of the next 6 years apart. After Le Mesurier's demobilisation in 1946, he discovered that his wife had become an alcoholic. This resulted in the couple separating and eventually divorcing in 1949.
In June 1947, during the estrangement from his wife, Le Mesurier met actress Hattie Jacques of later 'Carry On' fame. They married in November 1949 shortly after Le Mesurier's divorce from his first wife was settled. The couple produced two sons, Robin (1953) and Kim (1956). In 1962, Jacques began an affair with the family's personal driver. In the meantime, Le Mesurier met actress Joan Malin and moved out of the family home the following year. The couple married in March 1966. However, after only a few months, Malin left Le Mesurier for his good friend, comedian Tony Hancock. Malin returned to her husband a year later, after discovering Hancock to be a violent drunkard.
One of Le Mesurier's favourite pastimes was listening to jazz music. He would visit London's jazz clubs whenever the opportunity arose. One of his favourite hangouts was Ronnie Scott's club in Soho.
Ill-health and Death
Le Mesurier was a heavy drinker throughout most of his adult life. In 1977, he collapsed on a visit to Australia. On return to the UK, he was diagnosed with cirrhosis of the liver and told to stop drinking. After 18 months, he began to drink beer again but avoided wines and spirits.
Le Mesurier's health noticeably began to decline from July 1983 onwards. It was then that he suffered a stomach haemorrhage and was hospitalised. The condition is often a complication of cirrhosis of the liver. He suffered another haemorrhage a few months later and was taken to Ramsgate Hospital. Le Mesurier's last words "It's all been rather lovely", were spoken to his wife just before he slipped into a coma. They might well have been scripted for his most memorable creation, Seargent Wilson. Le Mesurier died on 15 November 1983, aged 71 years old.
After his cremation, Le Mesurier's ashes were buried at St. George the Martyr Church in Ramsgate. His epitaph reads: "John Le Mesurier. Much loved actor. Resting." He penned his own 'Notice of Death', which was published in 'The Times' on 16 November 1983. The tragicomic notice simply stated that he had "conked out".
Le Mesurier's autobiography, A Jobbing Actor, which he wrote towards the end of his life, was published posthumously in 1984.
Header image credit: Wikipedia Commons