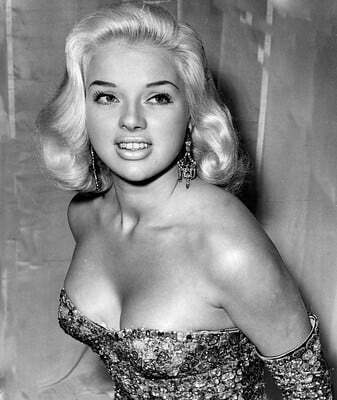 Early Life
The blonde bombshell actress and singer Diana Dors was born Diana Mary Fluck on 23 October 1931 in Swindon, Wiltshire, England. She was the only child of Winifred and Albert Fluck, a railway clerk. Her mother later admitted to having an affair around the time of becoming pregnant. It appears that Diana's uncertain paternity was never resolved. However, her mother's indiscretion did not appear to affect her childhood.
Diana was lucky enough to grow up in a relatively affluent household and received a private education. From an early age, she enjoyed regular trips to the cinema with her mother. This appeared to nurture her early love of the big screen. Even as a young child she often declared that she was going to be an actress.
Diana was a precocious teenager who liked to emulate her screen idols, such as Lana Turner and Jean Harlow. By the age of 14, but looking much older, she was already working as a model. This led to her being offered a place to study at the London Academy of Music and Dramatic Art (LAMDA). Having just turned 15, but discreet about her age, Dors became the college's youngest ever student. Despite her youth, she was dubbed 'the body' by her contemporaries. She went to gain her early acting experience by appearing in LAMDA's amateur stage productions.
Film Career
Dors soon caught the eye of a director and was duly offered a walk-on part in the noir film The Shop at Sly Corner (1947). It was then that she took the opportunity to change her stage name from Fluck. She settled on her maternal grandmother's somewhat less figurative name of Dors. She quickly followed up her debut film role with another walk-on part in Dancing with Crime (1947), starring Richard Attenborough.
Still only 15, she signed a contract with the J. Arthur Rank Organisation, joining their "Charm School" for young actors. The exposure she gained at Rank enabled her to secure six more film roles the following year. Still only 17, she was offered her first lead role as Dora Bracken in the 1949 film Diamond City, set in South Africa.
In the early 1950s, Dors agreed to a lease deal with Rolls Royce, which saw her become the youngest registered owner of a Rolls-Royce in the UK. Between 1950 and 1955, Dors made a further 16 films, mostly being cast in leading roles. By this time she had been dubbed the English Marilyn Monroe. The mid-50s saw her cast as the lead in critically acclaimed films like A Kid for Two Farthings (1955) and Yield to the Night (1956). The latter, loosely based on the notorious Ruth Ellis story, was Britain's entry at the 1956 Cannes Film Festival. Dors was at the height of her popularity.
Supporting Roles and TV
Dors' most recent performances and a 1956 guest appearance on the Bob Hope Show saw her attract attention in Hollywood. In May 1956, she appeared as the female lead in the American comedy film 'I Married a Woman' for RKO Pictures. She then immediately signed a contract with them to make a further three films. However, for a number of reasons things did not work out for Dors States side (see below). By the early '60s, she was back in Britain, with her dreams of a Hollywood career quashed. Now in her thirties, even leading lady roles in the British film industry proved difficult to come by.
From 1961 onwards, Dors increasingly worked in television, mostly appearing in comedic roles. However, between 1961 and 1979, she still made some 30 further British and European film appearances. Most of these were in supporting roles in risque comedies and horror films. Five years after appearing in the last of those films, The David Galaxy Affair (1979), she made her final film. In Steaming, she co-starred with fellow British actresses Sarah Miles and Lynne Redgrave. Released in 1985, it was also Britain's entry into the Cannes Film Festival.
In all, Diana Dors appeared in 69 films in a career that lasted 37 years, from 1947 to her death in 1984. As a singer, she also released six singles and four albums in a 28-year recording career. From the early 1970s onwards, she increasingly worked in television. Between 1970 – 72 she starred in the sitcom Queenie's Castle. She also enjoyed renewed popularity with the wider public by making regular appearances on popular game shows such as Jokers Wild, Blankety Blank, and Celebrity Squares. In 1980, she was also a regular on 'The Two Ronnies'. The much-loved comedy sketch shows regularly pulled in UK viewing audiences of some 18 million.
Personal Life
Diana Dors had a colourful and often tumultuous private life. She was married three times. She met her first husband Dennis Hamilton Gittins in May 1951, after just having had an abortion. The couple married five weeks later in July 1951. Known as Dennis Hamilton, the svengali figure took control of Dors' career and finances. She became pregnant again early in the marriage but opted for a second abortion for the sake of her career.
Hamilton was known as an associate of the infamous London gangsters, the Kray Twins. He ruined Dors' chance of an international career when he assaulted a photographer at a Hollywood party in 1956. The couple separated in late 1956 after Dors had an affair with Rod Stieger on the film set of The Unholy Wife. Soon afterwards, Dors found that Hamilton had spent almost all of her money. In 1958, desperate for money, she gave a frank interview to the press on her private life. The titillating stories concerned celebrity adult parties she hosted with Hamilton at her home in the past. By early 1959, the couple had reconciled their differences, but Hamilton died suddenly, soon afterwards.
In April 1959, Dors married the comedian and actor Richard Dawson. The marriage produced two sons, Mark (1960) and Gary Dawson (1962). In 1960, the couple returned to America where Dors performed on the cabaret circuit. Dors divorced Dawson in 1966, and returned to the UK, leaving her two sons behind. In June 1968 it was reported that Dors was £53,000 (approx £1 million in 2022) in debt. She declared bankruptcy in October 1968. In November 1968, Dors married her third and final husband Alan Lake. The couple produced, one son, Jason (1969), and remained married until Dors' death in May 1984.
Ill-health and Death
In 1982, Dors was diagnosed with ovarian cancer and from then on remained in poor health until her death. In the two years that followed, she twice underwent surgery to remove tumours and also overcame a bout of meningitis. On 4 May 1984, she collapsed at her home with acute stomach pains. She was rushed to the Princess Margaret Hospital in Windsor with what proved to be a recurrence of ovarian cancer. She died later the same day at the age of just 52 years old.
Her funeral was held at the Sacred Heart Church at Sunningdale, Windsor on 11 May 1984. She was buried in Sunningdale Catholic Cemetery, having converted to Catholicism in 1973. Five months after her death, her third husband Alan Lake, aged 43, committed suicide. Their 14-year-old son, Jason Lake was made a ward-of-court of his half-brother Gary Dawson.
Header image credit: Flickr (CC by 2.0)