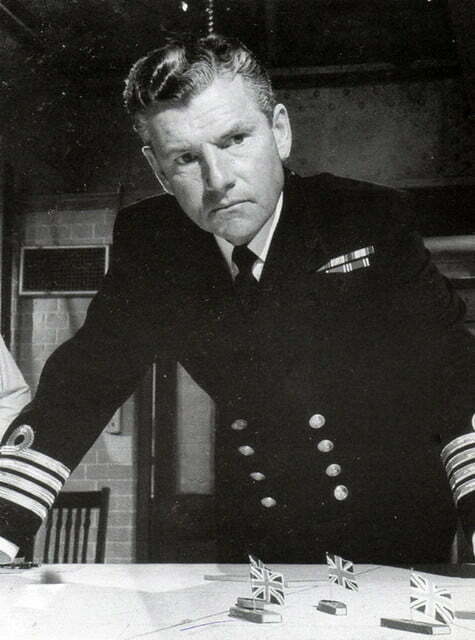 Early life
The actor Kenneth (Gilbert) More was born on 20 September 1914 at Gerrards Cross in Buckinghamshire. He was the only son of Edith and Charles More, a civil engineer. More spent much of his childhood in the Channel Islands where he attended Victoria College in Jersey.
After leaving school, More followed the family tradition and trained to become a civil engineer. However, when his father died in 1931, More decided on a career change. His first choice was to join the Royal Air Force with a commission but he failed the medical. He then decided to go to Canada, reputedly to work as a fur trapper. However, that dream was also quashed after he was sent home by Canadian immigration.
Early Career
In 1934, shortly after returning to London, More just happened to be passing the Windmill Theatre in Soho. He immediately recognised the general manager's name on the nameplate above the door. Vivian Van Damm was a friend of More's late father and ended up offering him a job as a stagehand. One day he was asked to fill in on stage as the straight man in a comedy act. The experience inspired More to become an actor and he soon established his own comedy routine.
After two years at the Windmill, More moved into repertory theatre starting with seasons in Newcastle and Wolverhampton. He continued working in the theatre until the outbreak of World War Two in 1939. More made his film debut in 1935 with an uncredited role in the musical comedy "Look Up and Laugh". He went on to make a further five film bit-part appearances before the war.
World War Two
At the outbreak of war, More worked briefly as an ambulance driver while waiting for his conscription into the armed forces. In 1940, he received a commission in the Royal Navy and saw active service with HMS Aurora and HMS Victorious. More was able to draw on his real-life wartime experience for use in many of his future film roles.
After demobilising in 1946, More immediately rekindled his acting career. He initially appeared on the London stage in the plays 'And No Birds Sing' and 'The Crimson Harvest'. It was at the latter that he was spotted by television producer Michael Barry who offered him a contract at the BBC. He was also quick to restart his film career, landing a role as a German Officer in the TV movie The Silence of the Sea (1946). He made his West End debut later that year at the Aldwych Theatre. In 1947, he was cast in the Noel Coward play Peace in Our Time.
Stardom
From the late 1940s onwards, More was prolific on both in film and on the stage. He got his big film break in 1953 when he was cast in a leading role as Ambrose Claverhouse in the children's movie Genevieve. The film was a huge success at the British box office. More followed that up with another major success when he starred in Doctor in the House (1954). The film was not only the UK's biggest box office hit of 1954 but it holds the accolade of being Rank's most successful of all time. More was awarded a BAFTA as best newcomer for his performance in the film.
Some of More's other notable films of the period include; "School for Secrets" (1946), "Scott of the Antarctic" (1948), "Chance of a Lifetime" (1950), "The Franchise Affair" (1951), "Appointment with Venus" (1951), "Never Let Me Go" (1953), and "The Deep Blue Sea" (1955). Arguably, the film for which More is best remembered is the classic "Reach for the Sky" (1956). More starred as the legendary British fighter pilot Douglas Bader, the role having been turned down by Richard Burton. Despite having had both legs amputated, Bader re-joined the RAF at the outbreak of WW2. He went on to become one of Britain's ace flyers during the conflict. The film won the BAFTA Award for Best British Film of 1956.
Career in Decline
In 1959, More starred in a remake of the Hitchcock classic "The 39 Steps" (1959). Although the film was well-received in the UK, it did poorly in America. It marked the start of recognisable decline in More's film career. That's not to say he did not go on to make some memorable film appearances during the period. Successful films he co-starred in during the '60s include; "The Man in the Moon" (1960), "We Joined the Navy" (1962), "The Longest Day" (1962), "The Comedy Man" (1964), and "The Battle of Britain" (1969).
In all, More appeared in some 70 films, including TV movies. His last film appearance came in the TV movie "A Tale of Two Cities" (1980), where he starred alongside Peter Cushing and Flora Robson. As well as his film work, More was also a prolific performer both on the stage and in television.
Personal life
More was married three times. His first marriage, in 1940, was to the actress Mary Beryl Johnstone. The couple had a daughter, Susan Jane, in 1941, but their marriage ended in divorce in 1946. More next married Mabel Edith "Bill" Barkby in 1952. Their daughter, Sarah, was born in 1954. He left Barkby in early 1968 to live with the actress Angela Douglas, who was 26 years his junior. The couple married in March 1968 and remained wed until More's death in 1982. However, the pair did separate for a couple of years in during the 1970s. They reunited after More was diagnosed with Parkinson's disease in the mid-'70s. Douglas nursed More through his illness until his death several years later.
More wrote two autobiographies; Happy Go Lucky (1959) and More or Less (1978). In 1980, More was sued by the British film producer Daniel M. Angel for libel over comments made in his second autobiography.
More was known for his lifelong commitment to children's charity work. In 1970, Kenneth More was made a Commander of the British Empire (CBE). In 1975, named in his honour, The Kenneth More Theatre was opened in Ilford, East London.
Ill health and Death
More was diagnosed with Parkinson's disease in the mid-1970s, making it increasingly difficult to work. He died on 12 July 1982, aged 67, with complications from the disease. He was cremated at Putney Vale Crematorium following a memorial service attended by family, friends and colleagues.
Header image credit: Flickr/(CC BY-NC-SA 2.0)