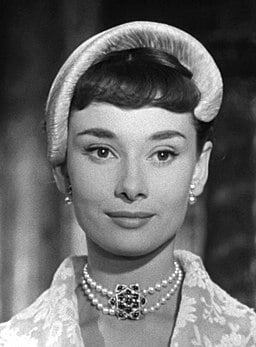 Early Life
The British actress Audrey Hepburn was born Audrey Kathleen Ruston on 4 May 1929 in Ixelles, Brussels, Belgium. Her mother, Baroness Ella Van Heemstra, was born into Dutch nobility. Her father, Joseph Victor Anthony Ruston, was born to English and Austrian parents in the present-day Czech Republic. Joseph would later double-barrel his surname to Hepburn-Ruston. This was in the mistaken belief he was descended from James Hepburn, third husband of Mary, Queen of Scots. Joseph worked for an English-based trading company which saw him travel regularly between Brussels, The Hague, and London. This saw the family eventually settle in an affluent suburb of Brussels.
In 1935, when Audrey was six, an incident in Brussels saw her father abruptly abandon the family. Joseph then moved to London to take up the cause of the British Union of Fascists. Life in Britain persuaded him that his daughter should receive a British education. Thus, in 1937, Audrey was sent to a private girls' school in Eltham, Kent. After Hepburn's parents divorced in 1938, her mother moved back to the family estate in the Netherlands. In September 1939, when Britain declared war on Germany, Hepburn's mother brought her daughter home to Arnhem. This was on an assumption that the Netherlands, as in World War One, would again remain neutral in any war.
Between 1939 and 1945, Hepburn attended Arnhem Conservatory where she took up ballet. She went on to become the school's star pupil. After the Germans invaded the Netherlands in 1940, Hepburn adopted the name, Edda van Heemstra. She saw her uncle executed by the Nazis and her half-brother was interred in a German labour camp. Hepburn herself, like many Dutch, suffered from malnutrition during the German occupation. The war had also seen her family estate destroyed, and thus, the privilege of wealth.
Early Career
After the war ended in 1945, Hepburn moved to Amsterdam with her mother. There she took up further ballet training with Sonia Gaskell, a leading figure in Dutch ballet. In 1948, Hepburn was spotted by a producer who signed her up for a part in an educational film 'Dutch in Seven Lessons'.
At the end of 1948, Hepburn moved to London to study ballet at the prestigious Marie Rambert school. At the same time, she dropped "Ruston" from her surname to become plain Audrey Hepburn. Needing to support herself she began working as a chorus girl in London's West End. A casting director spotted her on stage and pursued her to register as a freelance actress. Thus, in 1951, Hepburn went on to make a number of uncredited British film appearances.
Stardom
While Hepburn's early life was certainly traumatic, she appears to have trodden the path to stardom and celebrity with relative ease. At the end of 1951, she was chosen to play the titular role in the Broadway production of Gigi. The play's success led to her being cast in the lead role of Roman Holiday (1953), starring opposite Gregory Peck. Her performance saw her become the first actress to be awarded an Oscar, a Golden Globe, and a BAFTA, for the same film.
In 1954, she gained a second Oscar nomination for her performance in Sabrina. She then won a Tony Award for her Broadway stage performance in Ondine the same year. She later starred with great success in the Funny Face (1957) and Love in the Afternoon (1957). Her third Oscar nomination came for her role in The Nun's Story (1959).
Hepburn's most iconic performance came in the big screen adaption of Truman Capote's novella Breakfast at Tiffany's (1961). Her portrayal of Holly Golightly earned her a fourth Oscar nomination. Other highly commended performances followed in Charade (1963), My Fair Lady (1964), and Two for the Road (1967). Her portrayal as a blind woman in Wait Until Dark (1967) earned her fifth Best Actress Oscar nomination. In 1967, at the height of her career, Hepburn announced she was quitting acting to concentrate on family life.
A Part-time Comeback
Nine years after quitting the big-screen Hepburn made a surprise comeback, even if it was on a part-time basis. In 1976, she starred as Maid Marion, opposite Sean Connery, in the romantic comedy Robin and Marion. She then went on to star in the 1979 thriller Bloodline, playing billion-dollar heiress Elizabeth Roffe. The film's all-star cast included James Mason and Omar Sheriff. Hepburn's penultimate film was the 1981 romantic comedy 'They All Laughed', where she starred opposite Ben Gazzara. Her last film, eight years later, was the American romantic fantasy drama Always (1989) directed by Steven Spielberg.
Hepburn had a 41-year film career, stretching between 1948 and 1981, which saw her appear in around 31 films. However, her very last screen appearance came posthumously in the TV documentary Gardens of the World with Audrey Hepburn. Made in the early 1990s, the eight-part series aired in more than 30 countries. The final episodes were not screened until after Hepburn's death in January 1993.
Personal Life
In September 1954, Hepburn married the American director, producer, and actor Mel Ferrer. They had met 8 months earlier at a Hollywood party hosted by mutual friend Gregory Peck. She gave birth to her first child, Sean Hepburn Ferrer, in July 1960.
In 1967, Hepburn decided to retire from acting to concentrate on family life. However, she divorced Ferrer just a year later to end their 14-year marriage. In June 1968, she met Italian psychiatrist Andrea Dotti on a Mediterranean cruise. They married in January 1969, which saw Hepburn give birth to her second son, Luca Dotti, 13 months later. Both known to have had affairs, the couple divorced in 1882, after 14 years of marriage. From 1980 until her death, Hepburn was in a relationship with the Dutch actor Robert Wolders.
In 1988, Hepburn became a goodwill ambassador to UNICEF. She immediately became a tireless worker for the organisation's goal of helping impoverished children across the world. In 1992, she went on to receive the USA's highest civilian award, the Presidential Medal of Freedom, for her work with UNICEF. Working for the organisation even after her terminal cancer diagnosis, Hepburn retained her ambassador position up until her death in 1993.
Ill-health and Death
In 1992, after travelling back from a visit to Somalia on behalf of UNICEF, Hepburn began to suffer severe abdominal pains. Her own doctor was unable to diagnose the problem so decided to fly to Los Angeles for medical tests. Doctors there discovered she had a rare form of cancer that most commonly starts in the appendix. While Hepburn underwent surgery to treat the condition, it proved to be too late to save her life.
Hepburn's final wish was to return home to Switzerland to die but she was already considered too sick to travel. However, good friend fashion designer Hubert de Givenchy stepped in and provided a private jet to take her back home. Audrey Hepburn died, aged 63, on 20 January 1993 in Tolochnaz, Vaud, Switzerland. She was buried a few days later at the local village cemetery in a simple family ceremony.
Some 60 years after the height of her fame and 30 years after her death, Hepburn remains one of the best-loved actresses of all time. She has been ranked by the American Film Institute as the third-greatest actress ever from the era of Classical Hollywood cinema. The timeless sophisticated sense of style she brought to the big screen has arguably never been surpassed. It seems to be a fitting tribute to Hepburn that her iconic effortless chic look is still being widely used in advertising across the globe.
Header image credit: Wikipedia Commons