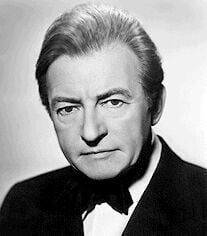 Early Life
The British character actor Claude Rains was born William Claude Rains on 10 November 1889 in Clapham, London. His father, Frederick William Rains was a boilermaker turned stage actor. His mother Emily Eliza (nee Cox), a housewife, was plagued with ill health. He was one of twelve children though only three of his siblings managed to survive infancy.
Influenced by his father, Rains spend much of his youth hanging around theatres and actors. He made his stage debut, aged 10, in the play Sweet Nell of Old Drury at the Haymarket Theatre. Soon after, he began working in the theatre as a call boy. He went on to become a stage manager, an understudy and eventually a professional actor.
Early Career
In 1912, Rains moved to America to take up employment opportunities in the New York theatre. However, in 1914, at the outbreak of World War I, he returned to England to serve in the London Scottish Regiment.
In November 1916, Rains was the victim of a gas attack at Vimy, France. This resulted in him losing 90 percent of the vision in his right eye and experiencing vocal cord damage. He never returned to combat but continued to serve with his regiment. By the end of the war in 1918, he had risen to the rank of captain. After demob, Rains remained in the UK and continued to develop his acting career.
It was not long before Rains had established himself as one of the country's leading stage actors. He made his film debut with a small part in the British silent film, Build Thy House (1920). Rains was now not only in demand as an actor but also as a teacher. He taught at the Royal Academy (RADA) and saw a young Laurence Olivier and John Gielgud amongst his students. In 1927, Rains decided it was time to return to the USA. By 1932, he had undertaken more than 20 roles on Broadway. It was only then that he was offered a screen test with Universal Pictures.
Hollywood Fame
Rains' unique baritone voice helped him land the titular role in The Invisible Man (1934). He starred in another six films at Universal before moving to Warner Bros. in 1936. His first film at the studio was in a supporting role in the period drama Anthony Adverse (1936). He was kept busy for the remainder of the decade, making a further thirteen films in 3 years. It culminated in his Oscar-nominated performance as the corrupt Senator Joe Paine in Mr Smith Goes To Washington (1939).
Throughout the 1940s, Rains' reputation as one of Hollywood's most accomplished actors continued to grow. In 1942, he was cast as the witty, loveable rogue Louis Renault in Casablanca. His portrayal of the French Police Captain, which is surely his best-remembered role, gained him a second Oscar nomination. In 1945, he starred as Caesar alongside a young Vivian Leigh in Caesar and Cleopatra. He reputedly became the first British actor to receive a US$ 1 million plus fee for a single film.
His other highly regarded performance of the 1940s was in Alfred Hitchcock's "Notorious" (1946). Starring alongside Cary Grant and Ingrid Bergman, he gained his fourth and final Best Supporting Actor Oscar nomination. In 1950, Rains starred in the White Tower, alongside Glen Ford, in what can be considered his last major big-screen role.
Later Career
During the 1950s, an older Rains saw his career increasingly veer towards the emerging medium of television. He starred in a number of the "Hitchcock Presents" TV suspense dramas into the '60s. In 1951, he also made a successful return to Broadway, starring in "Darkness at Noon". Though Rains was now busy with a stage and small screen career he still managed to make time for offers from Hollywood. One such role was that of a British diplomat in David Lean's epic "Lawrence of Arabia" (1962).
Rains' final big-screen role was portraying King Herod in "The Greatest Story Ever Told" (1965), starring Charlton Heston. In all, he made more than 60 films during his acting career which spanned seven decades.
Personal Life
Rains kept his personal life very private, though he was well-known as a heavy drinker. The consummate actor also had a very colourful love life – he married six times. In 1913, he married Isabel Jeans but divorced two years later. His second marriage to Marie Hemingway in 1920, lasted less than a year. He did better when he married Beatrix Thomson in 1924 as their liaison lasted more than a decade. They divorced on 8 April 1935, which saw Rains marry Frances Propper the very next day. The marriage lasted more than 20 years and produced Rains' only child. Jessica Rains was born in 1938 and would follow her father into the acting profession. In 1939, Rains became an American citizen.
In 1941, Rains acquired the 380-acre Stock Grange Farm, near Coatesville, Pennsylvania. He very much became a hands-on farmer when he was not on a film set. Taking great pride in his farm, Rains is reputed to have spent much of his time between film takes reading up on agriculture. He sold the farm when his marriage to Propper ended in 1956.
Rains spent his final years in Sandwich, New Hampshire. In 1959, Rains married the classical pianist Agi Jambor though again the marriage lasted less than a year. In 1960, he married Rosemary Clark Schrode, to whom he remained wed until her death in December 1964.
Death
It was late in life that Rains decided to write his memoirs.  He employed the help of journalist Jonathan Root to assist him in the endeavour. Rains' declining health slowed down the process. However, Root's sudden death in March 1967, meant the biography was never completed. Rains died just 2 months later on 30 May 1967, aged 77, at Laconia in New Hampshire. His death was the result of an abdominal haemorrhage, brought on by chronic alcoholism.
Rains was buried at the Red Hill Cemetery in Moultonborough, about 3 miles from his Sandwich home. He wrote his own epitaph which is inscribed on his gravestone. It reads "All things once, Are things forever, Soul, once living, lives forever".
Header photo credit: David Stoppa/Pinterest (No copyright infringement intended)