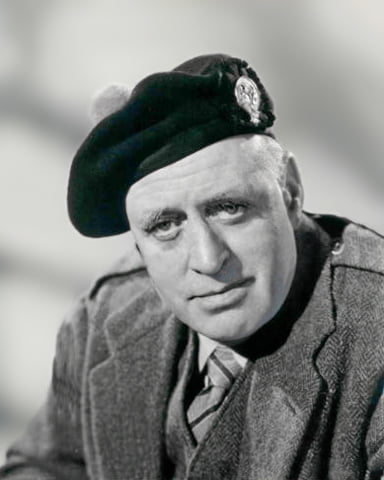 Early Life
The comedic character actor Alastair Sim was born in Edinburgh on 9 October 1900. He was the youngest child of tailor Alexander Sim and his wife Isabella. Sim had three siblings, a brother, and two sisters. He was educated at Bruntsfield Primary school, James Gillespie's High School, and George Heriot's School
After leaving school, Sim went to work in his father's tailor's business and later at a local men's outfitters. Aged 18, he decided the retail world was not for him and left to study chemistry at the University of Edinburgh. However, his studies were dramatically cut short when he was conscripted into the British army to fight in World War One. When the war ended in 1918, Sim was released from military service. On returning home he told his parents that he wouldn't resume his University studies as he intended to become an actor.
However, it took Sim 12 years to realise his dream of becoming a professional performer. In the interim, he worked primarily in the field of elocution. He found employment teaching the subject at a College of Further Education and later at Edinburgh University. From 1925 onwards, he ran his own children's drama school, while maintaining his employment status.
Early Career
In 1930, the playwright John Drinkwater saw one of Sim's stage productions. Suitably impressed, Drinkwater encouraged Sim to become a professional actor. Within weeks he was cast in a production of Othello at the Savoy in London's West End. Making a good initial impression, Sim saw offers of other stage work soon follow.
He made his film debut in 1935 in The Case of Gabriel Perry. He appeared in a further three films that year and spent the rest of the 1930s playing supporting roles. Memorably he played Detective Sergeant Bingham in the three Inspector Hornleigh films made between 1939 and 1941. Following that success, Sim's career moved on as he was elevated to playing leading roles. More critical acclaim followed in 1946 when he played another detective in the thriller Green for Danger.
Professional Success
In a 1950 poll of cinema audiences, Sim was voted the country's most popular film actor. However, Sim's career was still far from reaching its pinnacle. He went on to further acclaim by playing a headmaster in The Happiest Days of Your Life (1950) and a novelist in Laughter in Paradise (1951). One of his most commended performances came with his portrayal of Scrooge in a film adaptation of Charles Dickens' A Christmas Carol (1951).
However, Sim still had plenty more comedic genius in the tank and the rest of the 1950s proved to be an extended heyday. This mastery was portrayed in films that included Escapade (1951) Folly to Be Wise (1953), Innocents in Paris (1953), Geordie (1955), The Green Man (1956), and A School for Scoundrels (1960).
In 1954, Sim starred in one of his most famous roles as the headmistress Miss Fritton in The Belles of St Trinian's. He also played the headmistress's shady brother Clarence in the same film. In 1958, Sim's drag school teacher character was successfully resurrected in Blue Murder at St Trinian's. In all, Sim appeared in well over 60 films, whilst also maintaining a robust stage and TV career at the same time. One of his last onscreen roles was as The Earl in the 1976 BBC film Rogue Male.
Private Life
Sim was known as a very private man and avoided the usual trappings of fame. He famously never signed autographs, made personal appearances, or gave interviews. Sim's favourite pastime was playing chess, but he was also a keen swimmer and tennis player.
In 1931, Sim married his personal secretary Naomi Plaskitt, shortly after she turned eighteen. Thirteen years his junior, Naomi was a former student of his drama school. They had a long and happy marriage which saw them produce a daughter, Meredith. Naomi herself briefly became an actor but gave it up to help her husband in his career. They remained married until Sim's death in 1976.
The Sims were long-term foster parents, mainly looking after problem teenage boys. One such boy was George Cole, who himself became a well-known actor. He became part of the family, living with the Sims for well over a decade. Cole appeared opposite Sim in a total of nine films, including Scrooge and two of the St Trinian's films. Sim and Cole were to remain lifelong friends.
In 1948, Sim took a three-year tenure as the rector of Edinburgh University. In 1953, he was made a Commander of the British Empire (CBE). Later, he turned down a knighthood, reportedly because he thought it might impinge on his privacy.
Death
On 19 August 1976, Alastair Sim, a long-time smoker, died of lung cancer at St. Pancras Hospital, London. He donated his body to medical research, insisting that there should not be a memorial service for him. Sim managed to maintain his coveted privacy beyond death since whatever happened to his remnants remains unknown.
Eleven years after Sim's death, his wife Naomi published an autobiography 'Dance and Skylark: Fifty Years with Alastair Sim' (1987). She died on 3 August 1999 at Henley-on-Thames, Oxfordshire, following a stroke.
Header photo: commons.wikimedia.org