What are Brassicas?
Did you know Brassica is a genus of plants that belong to the mustard family (Brassicaceae)? The members of the genus are informally known as either cruciferous vegetables, cabbages, or mustard plants. The brassica genus is thought to have essentially originated from the Mediterranean region and some temperate parts of Asia. However, hybrid brassica vegetable species have been suitably customised over the decades for worldwide production, such that they are now successfully cultivated from the Tropics to the Arctic Circle.
Common species of brassica vegetables include broccoli, cauliflower, cabbage, kale, swede (rutabaga) and turnip. Plants that produce seeds that are used in processed food production, like mustard seed, rapeseed and canola seed are also part of the brassica family.
Growing Brassica Vegetables
Here's a concise guide to growing some of the commonest brassica vegetables. They grow readily outdoors in cold, temperate climates, with only usually needing the occasional weeding, feeding and watering. The general narrative gives tips on growing the vegetables outdoors from seed. Any advice given on timing refers to the expected seasonal weather patterns of the UK.
Brocolli
Broccoli is best grown in an open position where the soil has been deeply dug and manured for a previous vegetable crop.
Any newly dug soil must be compressed up by treading or rolling, which will ensure a firm root-run.
The soil will benefit from a light dusting of hydrated lime about a week before planting. If the soil is sandy add ground limestone instead.
Seeds should be sown thinly in late March to early April in ½'' (13 mm) deep drills on a prepared seedbed.
Seedlings should be moved to nursery bed as early as possible and planted about 4'' (100 mm) apart, and water as necessary.
When planting out, rows of plants should be made 2 ft (600 mm) apart, with the plants being 18'' (450 mm) in the rows.
Care should be taken to make sure the soil is thoroughly firm on planting.
With numerous varieties of both summer & winter broccoli, with long harvesting periods, it's one of the few vegetables that can more or less harvest all year round.

Popular varieties:
Marathon – summer broccoli that grows well in most soils with a long harvesting period. Also offers good resistance to disease.
Randolph (Purple Sprouting) – can be harvested as early as January and usually produces an abundance of large tasty spears.
Lancer Mixed – tasty winter broccoli that has both white and purple sprouting for 6 months of the year.
Brussel Sprouts
Brussels sprouts are a winter vegetable that best grown in an open position in good firm soil.
Medium to heavy soils that have been dug and manured for a previous crop is the ideal.
The usual date for outdoor sowing is in March and April, while harvesting begins in November and ends in February, but some late varieties can last through until April.
Seeds should be sown on a seedbed with well-raked soil. Drills should be 1/2 '' (13 mm) deep and about 4'' (100 mm) apart.
Make sure dry soil is well watered at least a couple of hours before sowing and seedlings are kept moist at the roots.
In May or June, transplant seeds in rows 2 ft (600 mm) and plants 2 ft (600 mm) apart in the rows.
Use a trowel (or dibbler) to form a plant-hole, making sure each plant is deep and firm in the ground.
Any dry soil should be well soaked for planting.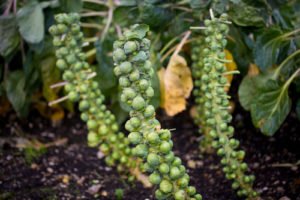 Popular varieties:
Brenden – should produce a good crop of small to medium-sized buttons. Good resistance to disease.
Braemar – usually produces bright green, uniform buttons. Good resistance to frost and foliar disease.
Trafalgar – should produce a good crop of sweet, medium-sized, firm buttons. Ideal for Christmas!
Cabbage
Cabbages will grow best in a firm, undisturbed, fertile soil, where brassicas of any kind have been recently grown.
They will also profit if they are given a sunny position in the garden and generous room to grow.
Seeds can be sown in a prepared seedbed as early as February. Sow seed thinly on a well-raked seedbed in drills ½'' (13 mm) deep, watering beforehand if dry, and frequently thereafter.
Best results are usually seen from plants that have been grown under cover that are planted out when they have 5 or 6 leaves and about 3'' high.
Transplant between May and early July, leaving approximately 18'' (450 mm) between plants. Unless the soil is already very moist, plant holes should be filled with water before planting.
Water plants regularly during dry weather.
Seeding and harvesting dates for cabbages are long and dependant very much on the variety.
Seeding for the main crop is generally between March and June, with harvesting being between July and December.
Early varieties can be sown in July/August and harvested in April/May.

Popular varieties:
Ormskirk – a late savoy, hardy plant, that will tolerate harsh winters.
January King – full-flavoured, hardy cabbage, with red-tinged outer leaves.
Golden Acre – a medium-sized cabbage, that can grow well in poor soils.
Cauliflower
Ideally, cauliflowers should be grown in an open position in heavy soil, but light ground can be suitably stiffened with the addition of leaf compost.
All soils will benefit from being manured a few weeks before sowing.
When seedlings are about 2'' (50 mm) high they should be moved to a nursery bed and planted 4'' (100 mm) apart, making sure they are well watered.
When planting out, plant in 4'' (100 mm) drills, with rows of plants being be made 2 ft (600 mm) apart, with the plants being 18'' (450 mm) in the rows.
Keep well-watered during dry spells. Soak surface with the occasional dose of liquid manure to aid growth.
Harvest winter varieties in April and May. All-year-round varieties can normally be harvested June to October.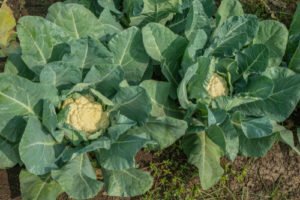 Popular Varieties:
Walcheren Winter – a hardy cauliflower that can come through the harshest of winters to give good quality white curds.
All the Year Round – a versatile plant, suitable for rotational sowing and cropping, that does well in most conditions.
Clapton – a mid-autumn variety which produces a good, white head and shows good resistance to clubfoot.
Kale (Borecole)
Kale should be planted in firm ground, where other vegetables have already done well. However, the top 2'' of soil should be broken up with a fork.
For less robust soils, dig in well-rotted compost up to a depth of 12'' and give a scattering of superphosphate of lime to the dug surface. Firm up the ground by treading or rolling.
Seeds can be sown March to June, with early sowings for early winter harvesting, and later ones for main winter and spring pickings.
Sow seeds thinly in ¾'' drills, thinning out to about 4'' apart as the seedlings grow, keeping the seedbed watered. Transplant seedlings in a 2 ft apart, with 2ft spacings between rows. If
planting is in dry ground, use a trowel, making sure the hole is of sufficient depth to take whole of the bare stem, so that lowest leaves are level with the soil surface. Fill the hole with water, but make sure the plant is left firmly in the ground.
An alternative for late sowing, which avoids transplanting, is to sow 3 or 4 seeds in rows at 2 ft (600 mm) intervals, with 2 ft spacings between rows.
Water plants on a regular basis during dry spells. Hoe plot the day after watering, even if there are no weeds, to keep soil in the best condition for growing.
Kale, depending on variety, can be harvested from September through to March.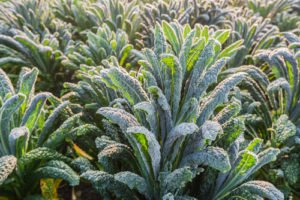 Popular Varieties:
Calvo Nero Di Toscana – gives a unique texture and flavour and is available when most veg is scarce.
Black Magic – has good resistant to most diseases and also continues growing through cold months better than most.
Reflex – one of the curliest of all kales, produces a mass of deep green leaves, but a more bitter than average taste.
If you've enjoyed reading this article, why not click on the link to Hobbies and Pastimes, to see if there's anything else that takes your interest?