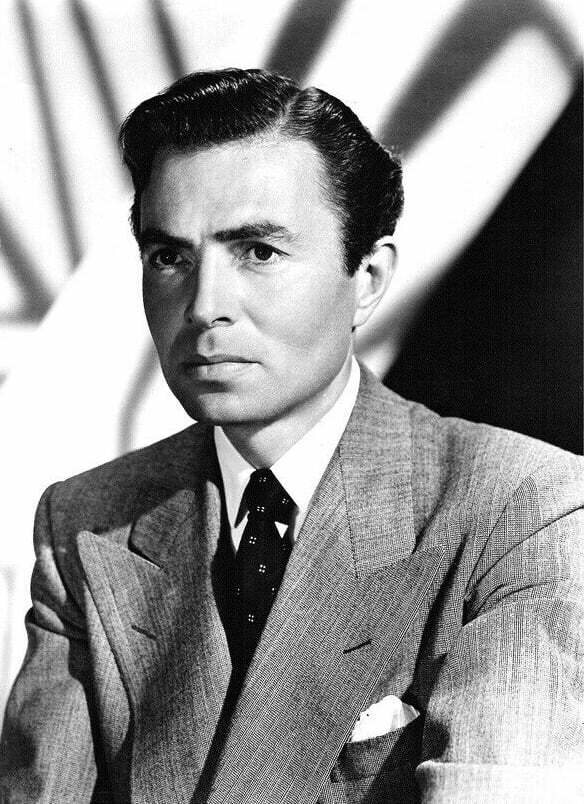 Early Life
The character actor James Mason was born on 15 May 1909, in Huddersfield, Yorkshire. He was the youngest of the three sons of John Mason and Mabel Hattersley. His father was a wealthy textile merchant, who travelled extensively to Europe on business. His well-educated mother had studied and worked in London as an artist, before returning to Yorkshire for family reasons.
Mason was educated at Marlborough College and studied architecture at Peterhouse, Cambridge. It was while at university that he became interested in repertory theatre, initially embarking upon it for fun. After finishing Cambridge in 1931, Mason made his stage debut at Aldershot in 'The Rascal'. He soon went on to appear in a number of classic productions at the Old Vic. These included the likes of The Cherry Orchard, The Importance of Being Earnest, The Tempest, and Macbeth.
Film Career
In 1933, Mason managed to land a small part in the British comedy-drama film, The Private Life of Don Juan, starring Douglas Fairbanks. However, he was sacked after only three days into the shooting. Between 1935 and 1938, he starred in many of the 'quota quickies'. These were short low-budget movies aimed at reviving the flagging British film industry. His first film was Late Extra (1935), in which he starred alongside the American actress Virginia Cherrill and Alistair Sim.
Mason got a supporting role in his first feature film, Fire Over England (1937), starring Laurence Olivier and Vivien Leigh. Between 1938 and 1939, Mason appeared in a number of the earliest plays made for British television. He then returned to feature films, starring Pamela Kellino, the director's wife, in I Met a Murderer (1939).
Second World War
In 1939, Mason registered as a conscientious objector at the outbreak of World War II. It was a belief that would cause him to become estranged from his family for many years. The tribunal did exempt him from normal military duty but stipulated that he should undertake non-combatant service. However, Mason also refused to perform these duties and appealed against the tribunal's decision. His appeal became irrelevant when workers in the film industry were given reserved occupation status.
Given the green light in 1941, Mason quickly established himself as a leading man in the British film industry. He starred in some 16 feature-length films during the war years, starting with 'The Patient Vanishes' in 1941. That ended with his major supporting role in the well-received 'The Wicked Lady' (1945), where Margaret Lockwood starred.
Stardom
In 1947, Mason starred as Johnny McQueen, an IRA bank robber on the run, in 'Odd Man Out'. The film was awarded the first-ever BAFTA for Best Film and also earned Mason much critical acclaim. After his newfound success, Mason was able to make an easy transition to Hollywood. Between 1949 and 1951, he starred in six movies States side, though none of them did particularly well at the box office. His big Hollywood breakthrough came in 1951 when he was cast as General Rommel in The Desert Fox: The Story of Rommel.
Film-wise, 1952 to 1954 were his most productive years, which also saw some of his greatest successes. He made a total of 14 films in the period, which included an acclaimed revival of his role as Rommel in The Desert Rats (1953). Other great successes during this period included The Prisoner of Zenda (1952), Julius Caesar (1953), and the Disney classic 20,000 Leagues Under the Sea (1954). He also starred with Judy Garland in A Star is Born (1954), after Cary Grant had turned down the role.
In 1959, Mason gave one of his most commended performances in Hitchcock's highly acclaimed North by Northwest. He starred in another massive box-office hit a year later, playing Sir Oliver Lindenbrook, in Journey to the Centre of the Earth. Some of his other critically acclaimed performances that followed, came in Lolita (1962), Georgy Girl (1966), The Boys from Brazil (1978), and The Verdict (1982). His last film role was the portrayal of Bishop Nicolini in the Assisi Underground in 1985. In all, during his 50-year acting career, Mason appeared in 106 films. He also earned credits as a producer, director, and writer.
Private Life
In 1941, Mason married the British actress Pamela Killeno. The couple first met in 1939 on the set of 'I Met a Murderer' when Killeno had been the wife of the director. Mason's marriage produced a daughter, Portland Mason Schuyler (1948–2004), and a son, Morgan. Pamela Mason was reportedly a keen Hollywood socialite who was frequently unfaithful to her husband.
Mason was a devoted animal lover, who was particularly fond of cats. In 1949, he and his wife, Pamela Mason, co-authored and published the book 'The Cats in Our Lives'. Mason wrote the majority of the book's text and produced most of the illustrations.
In 1952, Mason purchased a house previously owned by one of the stars of the silent screen, Buster Keaton. He discovered several severely damaged film reels at the property. Luckily, it proved possible to save and restore the previously thought to be lost Keaton films.
In 1962, Mason's wife Pamela initiated divorce proceedings against him. Reported to have had multiple affairs herself, she claimed adultery on his part. The massive million-dollar divorce settlement was the talk of Hollywood. A year later, Mason moved from Hollywood to Lausanne, Switzerland to lead a somewhat more secluded life. After 1963, as well as working in Hollywood, he resumed his UK career, and also took roles in European films.
In 1971, Mason married the Australian actress Clarissa Kaye, who was 22 years his junior.  The couple did not produce any children but they remained married until Mason's death in 1984.
Death
James Mason died as the result of a severe heart attack on 27 July 1984 in Lausanne, Switzerland. His first major heart attack had been 25 years earlier. He was cremated at Corsier-sur-Vevey cemetery at Vaud, about 12 km from his home. His ashes were eventually (see below) interred near the grave of his close friend, the legendary comedic actor Charlie Chaplin. His headstone reads: "Never say in grief you are sorry he's gone. Rather, say in thankfulness you are grateful he was here,". These were words spoken by Ted Kennedy to Morgan Mason after learning of the actor's death.
Mason left his entire £15 million estate to his second wife, Clarissa Kaye. However, the will was challenged by his two children. Kaye died from cancer in July 1994, with the lawsuit still unsettled. She then left all her holdings to the religious guru Sathya Sai Baba, including Mason's ashes. However, the ashes were eventually returned to his children after they successfully sued the Sai Baba organisation for their return.
Header image credit: Wikipedia Commons