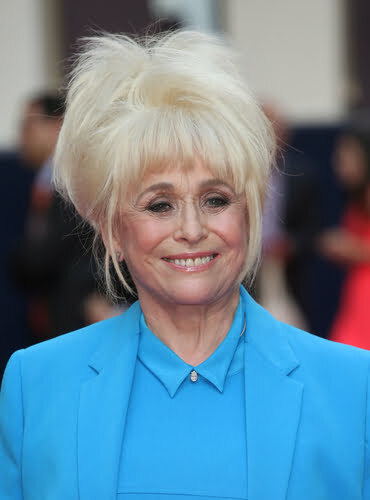 Early Life
The comedy actress Barbara Windsor was born in Shoreditch, London on 6 August 1937. Christened Barbara Ann Deeks, she was the only child of John Deeks, a bus driver, and his wife Rose, a dressmaker. Aged 6, Windsor was evacuated to Blackpool after a friend was killed in a Luftwaffe bombing raid. She returned to London in 1944 with a school report stating "Barbara is a born show-off who loves to perform."
Windsor's mother took note and sent her to Madame Behenna's Juvenile Jollities drama school. She made her first stage performances at the school in concerts and pantomimes. Later, after being expelled from Our Lady's Catholic High School in Hackney, she attended the Aida Foster Theatre School, Golders Green. She went on to appear in Love From Judy (1952) in the West End, which had a successful run of two years. Inspired by the up-and-coming Coronation (1953) of Elizabeth II, she decided to adopt the stage name "Windsor".
Film Career
Windsor made her film debut in an uncredited appearance as a schoolgirl in The Belles of St. Trinians (1954). For the next 6 years, she worked in television, cabaret and working-class theatre. However, although uncredited, she also managed to notch up two further film appearances. She made her first accredited film appearance as Ponytail in Too Hot Too Handle (1960), starring Jane Mansfield.
Next, Windsor joined Joan Littlewood's Theatre Workshop at the Theatre Royal, Stratford East. She made a name for herself in the stage cockney musical comedy production Fings Ain't Wot TheyUsed T'Be. She went on to co-star in Littlewood's big-screen adaptation of the play, Sparrows Can't Sing (1963). Windsor received a BAFTA nomination for Best British Film Actress for her appearance.
Windsor went on to appear in the comedy films Crooks in Cloisters (1964) and San Ferry Ann (1965), the thriller film A Study in Terror (1965), and the fantasy film Chitty Chitty Bang Bang (1968). Later, she made a supporting role appearance in Ken Russell's popular musical The Boy Friend (1971), starring Twiggy. She also starred in the popular TV sitcom The Rag Trade (1961 – 1963) and the less well-received Wild, Wild Women (1968 – 1969).
'Carry On'
While Windsor had become well known within the entertainment industry, it was the 'Carry On' comedies that brought her to prominence. She appeared in nine films of the long-running franchise, starting with 'Carry On Spying' (1964) and ending with Carry On Dick (1974). She basically played the role of the good-natured, dizzy blonde sex kitten in all of the films. However, her portrayal of the character endeared her to the many 'Carry On' fans.
One person who was not particularly enamoured with Windsor was 'Carry On' stalwart actor Kenneth Williams. They reputedly took an instant dislike to each other. However, they soon overcome their differences to become lifelong close friends. Their friendship was such that Windsor invited Williams to tag along on her second honeymoon.
Later Work
After Windsor left the Carry-On franchise in 1974, she continued to work mostly on the stage and television. While she clocked up more than 50 television roles, by far the biggest of these was that of Peggy Mitchell. In the long-running British soap opera, EastEnders (1985), she played the landlady of the local pub 'The Queen Vic'. She appeared in the role in almost 1700 episodes between 1994 and 2016.
In all, Windsor was featured in thirty-one films during her 63-year screen career. However, only seven of these films were made after her last Carry-On appearance in Carry on Dick in 1974. In her very last role, she voiced the part of Mallymkun in Alice Through the Looking Glass (2016). Her last television appearance was in the TV film 'Babs' (2017), a biopic about her life.
Personal Life
Windsor was married three times, though she never had children. In 1964, she married nightclub owner and known criminal Ronnie Knight. They divorced in 1985. A year later, she wed restaurateur Stephen Hollings in Jamaica. They remained wed for a decade, before divorcing in 1995. Her last marriage was in 2000 to Scott Mitchell, a former actor and recruitment consultant. The couple remained married until Windsor's death in 2020.
Before her first marriage, Windsor had relationships with both of the notorious East End gangsters, the Kray twins, as well as a number of celebrities. She also had a 3-year affair with fellow Carry-On actor Sid James during her first marriage.
In 2000, Windsor was awarded the Order of the British Empire (OBE) in the 2000 Queen's New Year's Honours for her services to entertainment. In 2016, the award was upgraded to Dame Commander of the Order of the British Empire (CBE) for her services to entertainment and to charity.
Windsor wrote two autobiographies; Barbara – the 'Laughter and Tears of a Cockney Sparrow', and 'All of Me – My Extraordinary Life'.
Ill-health and Death
In April 2014, Windsor was diagnosed with Alzheimer's disease. However, her husband did not make it public knowledge until May 2018. In August 2019, on her 82nd birthday, she was made an ambassador of the Alzheimer's Society. In August 2020, it was reported that Windsor had moved into a care home.
On 10 December 2020, aged 83, Barbara Windsor died as a result of complications from Alzheimer's. Her funeral took place on 8 January 2021 which saw her cremated at Golders Green Crematorium. The attendees at the service included a number of her close friends from the entertainment industry.
Header image credit: Featureflash Photo Agency/Shutterstock.com