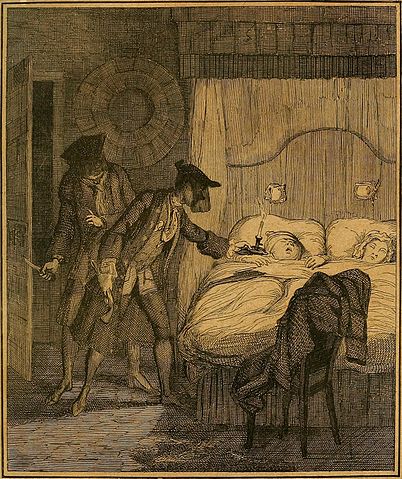 Dick Turpin in Brief
Dick Turpin is, undoubtedly the most celebrated and best remembered, of all the British highwayman and his has been romanticised in poems, books, television and films, down the years. Highwayman are almost always portrayed as dashing, heroic, gentlemanly figures, however, the truth could often be very different. So, just how much do you know of Dick Turpin? Well read on and see…
Early Life
Richard (Dick) Turpin was born on 21st September 1705 at the Blue Bell Inn in Hempstead, Essex. He was the fifth of the six children of John Turpin and Mary Elizabeth Parmenter. John Turpin father was a former butcher, and by all accounts, Dick initially followed in his father's footsteps. After serving an apprenticeship at Whitechapel, he opened a butcher's shop in Buckhurst Hill, Essex. However, by the early 1730s, Turpin had become involved with the notorious "Gregory Gang", a well known local outfit of deer thieves and poachers. The gang's activities soon progressed to burglary and highway robbery, but by 1735, most of the members had been caught and hanged.
A Fatal Mistake
Turpin now decided to turn his hand to a new full-time career as a thief and highway robber himself, which ultimately saw him also become a killer. Following the torture and murder of some of his victims, Turpin was forced to lead a nomadic existence but eventually settled in the Yorkshire village of Brough. There he set himself up as a cattle and horse dealer, under the alias of John Palmer. However, Turpin soon fell foul of the law, when in a drunken incident, ended up shooting a local landlord's game-cock. He was sent to Beverly and then York Prison, where he made the fatal error of writing to his brother in Hemstead for assistance. By chance, Turpin's old schoolmaster, James Smith saw the letter, recognised the handwriting and duly notified the authorities. John Palmer was outed as Dick Turpin and subsequently found guilty on two charges of horse theft and sentenced to death.
The Gallows and Immortality
In the weeks leading up to his execution, Turpin spent time entertaining the visitors, who had paid to see him in his prison cell. He ordered fine new clothes in which to be hanged and arranged for paid mourners to attend his burial. On 7th April 1739, Dick Turpin, the now known poacher, torturer, robber, horse thief and murderer, was hanged. On the 8th April 1739, Turpin's body was buried in St. Georges's Churchyard, Fishergate in York. However, had it not been for W. Harrison Ainsworth, author of the immensely popular novel Rookwood, published in 1834, Turpin's name may well have faded into obscurity.
It was Ainsworth's fictional portrayal of Dicken Turpin as a romantic, dashing, gentleman figure, that created the legend of the highwayman that survives today, almost 300 years after his death. However, it turns out that the few facts we think we know about Dick Turpin are not actually true. His famed non-stop 230-mile ride on horseback between London to York to establish an alibi was a feat previously attributed to another highwayman, John Nevison. The epic journey reportedly happened more than twenty years before Turpin was even born. And, perhaps even more disappointingly, Turpin's famed faithfully horse, Black Bess, also just happens to be a fictional creation of Ainsworth imagination.
The Legend of Dick Turpin
Since his death in 1739, a romanticised notion of Highwayman Turpin has been portrayed in magazines, short stories and books, as well as TV and film screen. Turpin's evilness was soon overlooked, and like many highwaymen, he became a cult, anti-hero figure of his day. Being able to "get one over" on the establishment, as such, Turpin, like most of his compatriots, became an especially popular figure with the countries peasant class.
The popular 1834 novel, Rockford, had already established Turpin as a popular figure, so he was a natural choice for inclusion in the 'Penny Bloods' that began publication shortly afterwards. The largely imaginary exploits of Turpin ran for 254 episodes, which was well over 2,000 pages, in the magazine. Since the publication of Ainsworth's novel, there have been countless books written on Turpin, the latest as recently as 2004, 'Dick Turpin: The Myth of the English Highwayman'.
Dick got his first film outing as early as 1925, in the American silent adventure film and eponymously titled 'Dick Turpin', starring western hero, Tom Mix. There have been many 'Turpin' films since then, including the British comedy, 'Carry On Dick', starring the irrepressible Sid James, as the anti-hero.
Dick Turpin On TV
In Britain, ITV ran a popular television series between 1979 and 1982, entitled Dick Turpin, but it bore little resemblance to the real-life of the infamous outlaw. However, our favourite bit of Turpin TV was on the BBCs Horrible Histories. Enjoy…
[embedyt] https://www.youtube.com/watch?v=WYU-vSh7ORA[/embedyt]
Before you go why not try some of our quizzes or have a look at some of our other Notorious Highwaymen Articles. Better still why not join our growing community it's free and could be very rewarding going forward.