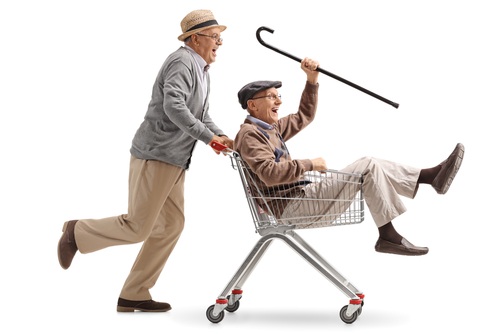 What's Your Life Expectancy?
"Longevity" could be simply defined as the ability to having survived for a long time, i.e. well beyond that which could be expected. It's a condition to which many of us aspire. According to the United Nations, the global life expectancy in 2023, i.e. the overall average, is 70.8 years for males and 76.0 years for females. However, in Japan, the country with the current (2023) highest life expectancy, a man can expect to live until 85 years old, and a woman to 88 years old.
The good news is that most experts forecast a bright future for longevity, predicting that some 3.7 million people, globally, will surpass the age of 100 by 2050. That's up from a mere 95,000 centenarians in 1990. Additionally, a recent scientific study suggests that maximum human life span could rise to as much as (a 'hard' limit of ) 150 years in the not too distant future. However, there a few extraordinary people who have already had exceptionally long lives. Here's a brief overview of the five people who have verifably managed to survive on the planet for the longest to date:
Nabi Tajima (1900 – 2018)
Nabi Tajima is verified as having had the fifth-longest human lifespan ever. She was born on 4 August 1900 on the small island of Kikaijima, mid-way between Okinawa and the Japanese mainland. She gave birth to nine children, seven sons and two daughters. In September 2017, she was reported to have some 160 living descendants, including great-great-great-grandchildren.
Tajima became the world's oldest living person when the Jamaican June Brown died on 16 September 2017. She was also the last person alive to be verified as having been born in the 19th century. She put her longevity down to sleeping soundly and a good diet. She died on 21 April 2018, aged 117 years and 260 days, on Kikaijima, the island where she had spent her life.
Lucile Randon (1904 – 2023)
Lucile Randon is verified as having had the fourth-longest human lifespan ever. She was born on 11 February 1904 in Alès, a commune in the Occitania region of the South of France. She had three older brothers and a twin sister, who died a year after they were born. Aged 19, Randon converted from Protestantism to Catholicism and worked as a governess and teacher.
In 1944, Randon joined the Catholic order Daughters of Charity and took the name, Sister André. She later became a missionary, retiring from full-time work in 1979, aged 75. From 2009 onwards, she lived in a nursing home in Toulon, France. On 19 April 2022, she was verified as the world's oldest living person, reportedly still enjoying chocolate and a daily glass of wine. She died on 17 January 2023, aged 118 years and 340 days.
Sarah DeRemer Clark (1880 – 1999)
Sarah DeRemer Clark is verified as having the third longest human lifespan ever. She was born on 24 September 1880, in the small coal-mining community of Hollywood, Luzerne County, Pennsylvania. The daughter of German immigrants, she was the third of seven children. In 1901, married Abraham Lincoln Knauss, and saw their only child, Kathryn, born two years later.
Knuass's main occupation during her life was that of a housewife. Aged 111 years old, she finally took up residency at a nursing home in Allentown, Pennsylvania. On 16 April 1998, she became the world's oldest living person. Described as having a friendly disposition, Knauss attributed her longevity to keeping busy and hard work. She reputedly loved sweets but hated vegetables. She is said to have had a sound of mind, right up until her time of death on 30 December 1999, aged 119 years and 97 days.
Kane Tanaka (1903 – 2022)
Kane Tanaka is verified as having the second-longest human lifespan ever. She was born Kane Ota on 2 January 1903 in the village of Wajiro (now Fukuoka) on the island of Kyushu, the southernmost of Japan's main islands. She married her cousin Hideo Tanaka in 1922 with whom she had two sons and two daughters. They also adopt Tanaka's young niece, following the death of the child's mother. Tanaka spent most of her working life running a noodle shop with her husband, retiring at the age of 63.
Tanaka became the world's oldest verified living person following the death of Chiyo Miyako on 22 July 2018. From September 2018, onwards, Tanaka resided in Fukuoka nursing home, where she reportedly still enjoyed good health. She credited her longevity to her faith in God, family, sleep, hope, good food, and practicing mathematics. Tanaka died in a hospital in Fukuoka, on 19 April 2022, aged 119 years and 107 days, nine days after becoming the world's second longest living person ever.
Jeanne Calment (1875 – 1997)
Jeanne Louise Calment is universally verified as being the oldest person that has ever lived. She was born on 21 February 1875 in Arles, Bouches-du-Rhône, Provence, France. In 1888, aged 13, she met Vincent van Gogh when he visited her uncle's shop to buy canvas. In 1896, aged 21, she married her second cousin, Fernand Calment. Her husband was wealthy, so Jeanne never had to work. Instead, she pursued an outdoor lifestyle and particularly enjoyed fencing, cycling, tennis, swimming, and roller skating. The couple's only child, Yvonne, was born in 1898. However, she died of pleurisy in 1934, aged 36. Yvonne's son, Frederic, also suffered a premature death when he was killed in a car crash in 1963.
Following the death of Calment's husband in 1942, she shared an apartment with her son-in-law, Joseph. For many years, she enjoyed a good social life and travel. Aged 88, she lived on her own for the first time. However, she was almost 110, before she decided to move into a nursing home. She speculated her long life was down to a good diet, rich in olive oil, and maintaining a healthy body weight. Towards the end of her life, Calvert became almost blind and deaf but was reported as being in otherwise good health. She was also said to have been mentally 'sharp' right up until the time of her death. She died of unspecified causes on 4 August 1997, aged 122 years and 164 days old.
During Calment's later life, the authenticity of her age was subject to some speculation. The detractors' main hypothesis was that Jeanne had actually died in 1934. Her daughter Yvonne, born in 1898, had then assumed her mother's identity and was therefore only 99 years old when she died. However, the theory has largely been debunked, not least on the grounds that absolutely no evidence of the 'switch' was ever produced by the sceptics.
Header image credit: Sweet Smokovski/Shutterstock.com