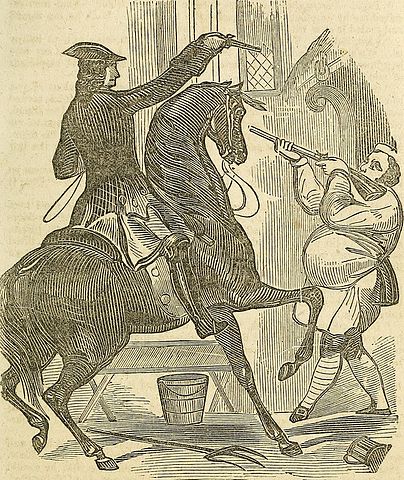 What is a Highwayman?
Highwaymen as they were dubbed in Britain, were known elsewhere as land-pirates, mail-coach robbers, stagecoach robbers, road agents, or bushrangers. In Ireland they were sometimes also known as rapparees. Basically, they were outlaws who plied their trade along the travelled highways of the world. In Britain and Ireland, they were active for around 200 years, between the early 17th and 19th centuries.
Patrick Fleming in Brief
The reputation highwaymen has often been romanticised in poems, books, and on screen, down the years. They are usually portrayed as dashing, heroic, gentlemanly figures, however, the truth was often very different. None perhaps more so that in the case of Ireland's most celebrated highwayman Patrick Fleming. The subject of numerous Irish poems and songs, he was executed on 24 April 1650. So, just what is the real story of the heroic anti-establishment figure Patrick Fleming? Here's a brief biography of the notorious highwayman:
Early Life
Patrick Fleming was born in Athlone, Ireland sometime during the very early 17th century. He was the son of a tenant potato farmer and the eldest of nine children who all lived in a one-room cottage. When he was thirteen he was hired by the Countess of Kildare as a 'foot-boy'. However, he was reportedly sacked for insolent behaviour and a blatant disregard of his education.
Fleming fell lucky as he soon managed to find work as a domestic worker in the home of the Earl of Antrim. However, it didn't take long for him to upset the apple cart again. It's said that he greatly embarrassed the Earl's personal Catholic priest over an incident of a sexual nature. The sacked Patrick left the Earl's household and then headed to Athenry in Connaught. However, that was not before deciding to take a silver plate from the Earl's household, worth some 200 pounds, with him. Fleming quickly moved on from Athenry to Dublin, where he was quick to join a notorious gang of burglars.
A New Career
After several years Fleming had become known to every watchman (early policeman) in Dublin, so once again found himself having to move on. It was then, that he decided to embark on a new career as a highwayman, operating around the Bog of Allen. He chose his victims without discrimination and quickly became known for being particularly brutal. He had absolutely no qualms of murdering those who showed resistance to his attacks.
From the Bog of Allen, Fleming then moved to the Donegal area. There, he quickly established a gang who it was reported that in one period of a few days, robbed 125 people. Nor did he spare any quarter for the church or members of the opposite sex. In one notorious incident, he robbed the Archbishop of Tuam of a 1000 pounds and took Lady Baltimore's four-year-old son captive. Fleming then demanded the ransom money be paid within 24 hours or he would "cut the young puppy's throat and make a pie of him".
A Brutal Criminal
After such a high profile incident, Fleming was forced to flee yet again. This time he headed to Munster, where he soon found himself apprehended for the robbery of a nobleman of 250 pounds. He was subsequently sent down and incarcerated in Cork prison. Knowing he was likely to be hanged for the offence, Fleming was inspired to make an escape by climbing up through a chimney. Despite his near brush with death, Fleming decided to continue his with brutal criminal career. Over the next few years, he was suspected of murdering a further 5 men, 2 women and a 14-year-old boy. And, in yet another particularly nasty incident, Fleming cut-off the nose, lips and ears of Sir Donagh O'Brien, who'd had the audacity to resist his attack.
Capture and Execution
In April 1650, Fleming's good luck was finally to run out. The landlord of a house where Fleming and his gang were staying, informed the local authority of their presence. The Sheriff subsequently dispatched a well-armed guard. While Fleming and his fellow outlaws attempted to fight back, their firearms had been rendered useless by the landlord, who had had the foresight to soak them overnight. Thus, Fleming and his fourteen cohorts were easily captured and then transported to Dublin, where they were put on trial. All fifteen of the accused were sentenced to death. On the 24th of April 1650, Patrick Fleming was executed and his body hung in chains on the main road into Dublin.
The Legend of Patrick Fleming
In the years after his death, Fleming became immortalised in a number of books and poems, such as 'The Ballad of Patrick Flemming', and 'Patrick Flemmen he was a Valiant Soldier'. The truth was that Fleming's wickedness was soon overlooked, and like many highwaymen, he became very much viewed as an anti-hero of his day. Being able to 'get one over' on the establishment as such, made almost all highwaymen, popular figures with the peasant class throughout the British Isles.
The famed Irish folk song "Whiskey in the Jar" is thought by many to be based on the exploits of Patrick Fleming.  The song has been recorded by numerous artists since the 1950s. It was popularised by the Dubliners in the 1960s, becoming their signature song. One of the best-known versions was released in 1972 by Dublin rock band 'Thin Lizzy'. The record spent 17 weeks at the number one spot in the Irish charts. It also went on to find success in the UK charts the following year, reaching the No. 6 spot.
Here's American metal band, Metallica thrashing out their cover of Thin Lizzy's 'Whiskey in the Jar'.  A rollicking rock video to boot. Enjoy!
If you've enjoyed reading this article, you can find other features on notorious highwaymen by clicking on https://www.fiveminutesspare.com/education/category/people/highwaymen/