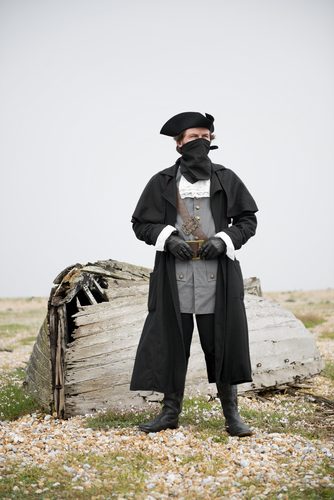 What was a Highwayman?
Highwaymen as they were dubbed in Britain, and elsewhere known as land-pirates, mail-coach robbers, stagecoach robbers, road agents, or bushrangers. They were outlaws who plied their trade along the travelled highways of the world. In Britain and Ireland, they were active for around 200 years, between the early 17th and 19th centuries. One such highwayman was Isaac Darkin (or Darking), known by the alias 'Dumas'. The infamous 18th-century highwayman's youthful good looks made him a 'big hit' with the ladies.
Darkin's Early Life
He was born on 2 April 1740 in the Eastcheap district of London. The son of a cork-cutter, it's thought he attended a boarding school in Kent. When he was just fourteen, his father passed away, thus Isaac, along with his sister, took over the family business. However, within a few years, the business had failed. Darkin, aged only 17, then decided to embark on a life of crime. Thus, he began operating as a highwayman in and around the Essex area.
Darkin's first nine months of his new career were a great success. He was able to put the proceeds of his plunder towards funding his new extravagant lifestyle. He reputedly spent most of his bounty in local brothels. However, in February 1758, he was apprehended and put on trial at Chelmsford Assizes for the robbery of Captain Cockburn. Although found guilty of a capital offense, the judge granted him a reprieve on account of his youth and subsequently sentenced him to 14 years of transportation.
However, whilst awaiting transfer, he uncovered a plot by a group of other prisoners to kill the prison keeper and escape. The grateful authorities went on to grant Darkin a conditional pardon on the premise that he must join the Army. In January 1759, he was drafted to the 48th Regiment of Foot, who was stationed in Antigua.
A Short-Lived Military Career
Once overseas, Darkin soon found the rigours of army life were not for him. He found himself being court-martialled three times within a couple of months. He then persuade the captain of a merchant navy ship to smuggle him back to England, promising him that he would be well rewarded. When the merchantman arrived at Portsmouth, Darkin immediately headed for London. He told the ship's captain that he needed to gather his reward from friends in the capital.
Darkin immediately resumed his career as a highwayman but avoided his old stomping ground of Essex. This time he chose to ply his trade around the Midlands, under the aliases of Harris and Hamilton. With growing notoriety and fear of capture, Darkin found sanctuary by joining the Royal Navy. He served aboard HMS Royal George with distinction and was soon promoted to Midshipman. However, Darkin decided, like the army, naval service wasn't for him either. He went 'absent without leave' (AWOL) and soon embarked on a new criminal career around the Bath area.
The Robbing of a Lord
Whilst Darkin was on this particular orgy of robberies, a notable victim was Lord Percival. The robbery took place on 22 June 1760, near Devizes, as Percival was making his way to Bath. According to records, Darkin approached Percival's carriage, producing a gun. He demanded his victim hand over his money which came to some 13 guineas. However, Darkin believed that he was being short-changed and threatened Percival he would "blow his brains out".
Percival said he had managed to disarm Darkin but he had then produced another pistol. He then attempted to shoot the highwayman but his gun misfired. Darkin then took the pistol, accepting Percival's plea that he had no more money. He quickly departed the scene, politely asking Percival not to stand as a witness. A four-hour horseback pursuit by a local posse followed but Darkin managed to evade capture.
The exhausted highwayman then encountered a farmer near the village of Upavon, near Salisbury Plain. He asked the farmer where he could get a bed for the night, who directed him to a local public house. Later that night, Darkin was apprehended by a group of locals, including the farmer, who had identified him from local chit-chat of the robbery.
Back On Trial
Darkin was put on trial again at Salisbury Assizes. Whilst he was awaiting trial it became apparent that his reputation as a ''ladies' man'', had gone before him. Reportedly, a procession of women from Salisbury's upper classes visited him whilst he was held in prison. At the trial, though a sum of money equivalent to that stolen in the robbery and a pistol similar to that of Percival's was found in Darkin's possession, he claimed to be a victim of circumstance. He testified that his name was Dumas, a native of the West Indies, unfamiliar with the locality, he had simply lost his way and sought a bed for the night at a local inn.
Darkin explained that the pistol found on him was one of a pair that he had purchased but had recently lost the other on the road. He even suggested that the guilty highwayman could have found it and used it in the robbery. He said his neckerchief, similar to the one used in the robbery was a souvenir from his time in the military, not forgetting to add the fact that he'd taken part in the Invasion of Guadeloupe. Neither, Percival nor his driver could positively identify Darkin as the assailant, thus he was found ''not guilty''. After the acquittal, he successfully petitioned the court for the return of all his possessions, including the money.
One Robbery Too Many
Following his release, Darkin made his way to London, immediately returning to his criminal ways as a highwayman. An account of one particular hold-up recounts that Darkin found he'd held up a coach of lady travellers. However, instead of robbing them, he insisted that each of the women dance a *courante with him. He then sent them on their way.
In August 1760, Darkin unwittingly committed his last robbery. He held up Smithfield businessman Robert Gammon on a highway near the Oxfordshire village of Nettlebed, stealing a gold watch and one guinea and five shillings. Later, on the same day, Darkin dropped off two letters at a local inn for despatch to London.
Unfortunately for the highwayman, the innkeeper was able to identify him from an account of the crime given by Gammon, who had visited the inn only 2 hours earlier. The innkeeper sent the letters to Gammon in London, who then forwarded them to the noted magistrate, Sir John Fielding. A few days later, Darkin was captured at his London lodgings, reported as being in the company of "a woman of the town". He was held in Newgate Prison and then transferred to Oxford Castle to await trial at the local Assizes.
No Escape
Darkin's trial took place on 6 March 1761, where the overwhelming evidence meant that the jury took only a few minutes to reach a verdict of guilty. An appeal for clemency for Darkin because of his age was rejected by the judge and he was sentenced to hang. Whilst awaiting his fate in prison, Darkin reportedly got many visitors who noted that despite his situation he still gave much attention to his appearance. The London Chronicle reported that he had "his hair dressed in the most fashionable manner every morning". He passed much of his time by reading from ' The Beggar's Opera', greatly identifying with the anti-hero Macheath.
Still only 20 years old, his execution took place on 23 March 1761, where it was reported that without waiting for the assistance of the hangman, Darkin placed the noose around his own neck and then proceeded to step off the platform. To escape the possible fate of dissection by medical students, as was often the case with the criminal classes of the time, his body was secretly buried in a nearby church by a group of sympathetic local bargemen.
The Legend of Ian Darkin
Although notorious in his day, the life of Isaac Darkin is certainly not been as well documented as some of his counterparts from the era of highwaymen. Darkin completed two short autobiographies shortly before his death, namely: 'The Authentic Trial, and Memoirs of Isaac Darkin, Alias Dumas'; and, 'Trial and Memoirs of Darkin: Convicted for Highway-Robbery'. His story also features in several highwaymen other books that have been written since the time of his death.
However, his character, along with other notorious highwaymen, such as Dick Turpin, Claude Duvall, and Jack Sheppard, did feature in the 'Penny Bloods', which were first published in the 1830s. Later called 'Penny Dreadfuls', they were highly popular cheap comic-style publications that featured weekly serialised stories that told sensationalised tales on the exploits of pirates, highwaymen, and the like.
In 2020 (and beyond), if you happen to visit Oxford Castle, there is a good chance that the tour guide will be in the guise of Isaac Darkin, telling the story of his incarceration and subsequent execution there.
If you've enjoyed reading this article, you can find other features on notorious highwaymen by clicking on https://www.fiveminutesspare.com/education/category/people/highwaymen/
Header image credit: John Gomez/Shutterstock.com