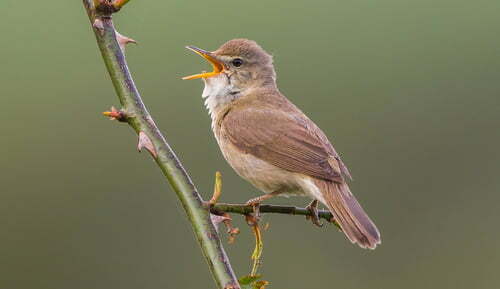 Warbler Facts
There are almost 400 extant species of warbler in the world divided into several families. They live throughout Europe, Africa, Asia and Australasia. Excluding visits from rare vagrants, around 20 different species of warbler can be found in the UK. These are usually subdivided into four groups which are: leaf warblers; reed warblers, locustella warblers; and Sylvia warblers.  Most are migrant species but a few remain resident in the UK throughout the year.
UK Warblers
Here's a list of 10 of the best known species of warbler that can be found in the UK.
Cetti's warbler
Chiffchaff
Dartford warbler
Garden warbler
Grasshopper warbler
Reed warbler
Savi's warbler
Sedge warbler
Willow warbler
Wood warbler
Can you identify the 10 listed species of warbler from the photos presented in our quiz? Why not take our warbler recognition quiz and find out?
Take the UK warbler recognition quiz!
Quiz Maker – powered by Riddle
That's one of our latest wildlife quizzes. If you enjoyed taking the quiz, why not try some of our other wildlife and general knowledge quizzes? While you are here don't forget to sign up and join our growing community it's free and there could be a few rewards chucked in later on.
Header image credit: Peter Garrity/Shutterstock.com