Public Group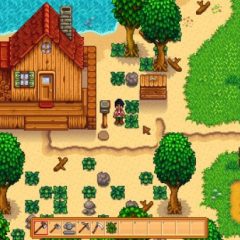 Stardew Valley
Created 1 year, 6 months ago
Last activity was
active 12 months ago
Stardew Valley is a game created by Eric Barone AKA Concerned Ape. This Group has no Affiliations with the developer and is not Endorsed by the Developer.
This is Simply a casual group where you can all share your farms and asks questions about the game in case you need some help learning about it. Feel free to discuss and share your Stardew knowledge.
Group Type: Gaming group
Mayor Lewis
Author

Posts

Lewis Walker

Participant

Lewis is the Mayor of Pelican Town. He greets you alongside Robin at the beginning of the Game.

He is in a non-disclosed relationship with Marnie, so both appear not single despite Marnie complaining about being single on occasions.

When a festival takes place, you are commonly notified about the event by Lewis.

Creating a relationship with Lewis

Gifts he loves

Autumns Bounty, Glazed Yams, Green Tea, Hot Pepper and Vegetable Medley.

Gifts he Likes

Blueberry, Cactus Fruit and Coconut

Gifts he Dislikes

Salmonberry and Wild Horseradish

Gifts he hates

Holly and Quartz

Everything Else should be neutral

This topic was modified 1 year, 4 months ago by

Lewis Walker

.

Author

Posts
You must be logged in to reply to this topic.