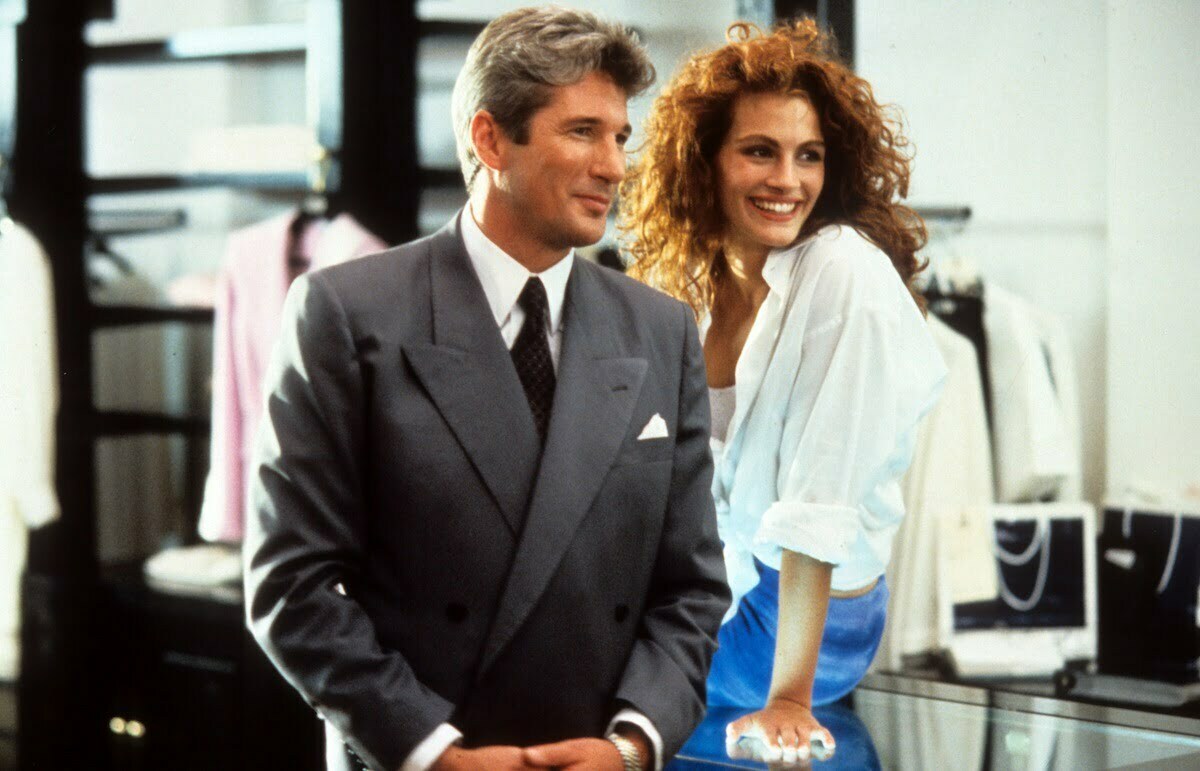 Pretty Woman was released in the UK on the 1st of June 1990.
Release Date

1st June 1990

Directed by

Garry Marshall

|

Kirk Wise

Main Cast

Julia Roberts

|

Richard Gere

Produced by

Arnon Milchan

|

Steven Reuther

|

Gary W. Goldstein
Julia Roberts as Vivian Ward
Richard Gere as Edward Lewis
Laura San Giacomo as Kit De Luca
Hector Elizondo as Barney Thompson
Jason Alexander as Phillip Stuckey
Amy Yasbeck as Elizabeth Stuckey
Ralph Bellamy as James Morse
Alex Hyde-White as David Morse
Ellnor Donahue as Bridget
William Gallo as Carlos
Larry Miller as Hollister
Pretty Woman is what I and the film itself would call a modern-day Cinderella and by this, I mean it takes two people from totally different worlds and somehow, they end up falling in love.
This film starts off with showing how different Edwards and Vivian's lives are. Edward is a billionaire that took over his father's company he has it all the cars, the homes, the women, and the money. Whereas Vivian is a woman who has nothing so because of this she is working as a prostitute. Now to anyone that has watched this film, even once it is know how these two completely different people end up meeting, that being Edward ends up getting lost on the wrong side of Beverly Hills after having another relationship go wrong and needs some help getting back to a fancy hotel he is staying at, in a car he knows nothing about and if I'm honest cant even drive. He stops the car on the side of the road and ends up meeting Vivian, who knows the way and a lot about the fancy car.
Whilst in the car Edward and Vivian get to know each other well. This is important because this leads up to why Edward hires her for the night. They spend the night getting to know each other well whilst Vivian drinks champagne and eats strawberries because Edward doesn't drink alcohol, after spending a night of passion with each other Edward hires Vivian for the rest of his stay in Beverly Hills.
The first day of this arrangement Edward gives Vivian some money to get some new clothes for their week together but not everyone is accepting of how Vivian looks. Vivian ends up going back to the hotel where the hotel manager Barney Thompson (played by Hector Elizondo) takes Vivian to his office where he questions her on her intentions whilst staying at the hotel. After a somewhat friendly discussion Barney lets Vivian stay for the rest of her and Edwards stay with the promise of when Edward leaves so does, she, he also helps Vivian get a dress for a meal she and Edward were having that night with the heads of the Morse company.
The next day after finding out how Vivian was treated Edward takes Vivian to a very expensive clothing shop where he allows her to get anything she wants. There's a quote that Edward says before they walk in the store "stores aren't nice to people they are nice to credit cards", and this is where Vivian sees that this is in fact true.
Vivian and Edward spend the week going on nights and days out and getting to know each. On one of these days out they end up going to a polo match where Vivian gets to know everyone in Edwards's world and what they are about and if in honest I would say they are all stuck up and think everyone below them is nothing. Whilst at the match Vivian starts to talk to David Morse who's the grandson of James Morse, this is important because Edward is trying to buy their company to sell on to other companies, and are also the clients from the business dinner the other night. As they are talking Edwards's lawyer Phillip Stuckey sees them both getting along and gets worried Vivian is a spy working for the Morse family to find out about Edwards company and what they are up to, he brings this up with Edward that has no chose but to tell his lawyer what she does for a living. Phillip then goes over the Vivian and tells her that he knows who she is and tries to hit on her. Once they get back to the hotel room Edward and Vivian get into a big fight and she tries to leave but ends up staying the rest of the week as she understands why Edward told him in the end.
One of the nights that Edward and Vivian spend out is at the opera where they see La Traviata. Vivian ends up wearing the most beautiful red dress I have ever seen, this dress was almost black but the costume designer Marilyn Vance just knew it needed to be red and after a lengthy process involving three different dresses and multiple test movie shots it was proven that Marilyn knew what she was talking about and they all finally agreed on the dress being red. Edward also rents a $250,000 (which is £179,126.75) necklace that even came with its own bodyguards to the set, whilst giving Vivian the necklace Edward shuts the case down on Vivian's fingers which the actor of Edward, Richard Gere, did unscripted. This for me will always be my second favourite part of the film because within that split second you get to see the actor and what they are like on sets.
Edward changes towards the end of the film with the help of Vivian, he starts to sleep, take care of himself, and live his life how he wants to with taking days off from work to just relax. Also because of Vivian he chooses to buy the Morse's company but as a company to work with and not against. However, because of this he loses out on a lot of money which he doesn't really seem to care about, but his lawyer Phillip does and because of this he goes to Edwards's hotel room after the meeting to speak to Edward who left the meeting after his conversation with James Mores but finds out it is just Vivian who is there and as Phillip finds this out, he tries to force Vivian to do some work for him. Just as Phillip thinks he is going to get away with it Edward shows up to save Vivian and drags Phillip out the room and punches him in the face, every time I watch him get that punch, I cheer.
My favourite part of the film is the ending, watching them both say goodbye to each other breaks my heart as you start to think they will never be together but when Edward shows up at Vivian's apartment with his driver honking the horn to his limo and playing a song from the Oprah they watched on there night out just as Vivian is about to leave and start a new, I cant help the big massive grin that shows up on my face as he makes his way up the fire escape meeting her half way and bringing her into a big kiss on the lips. This film is a film I will keep watching for years and I will always recommend to anyone I speak to.
You May Also Like: