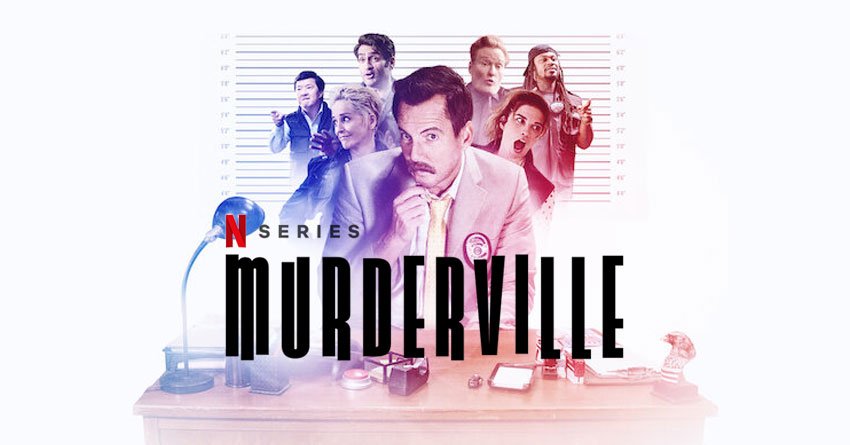 Murderville
Episodes: 6
Release Date: 3rd February 2022
Rated: 15
Series Summary
Will Arnett stars as Terry Seattle, a Homicide Detective who is investigating a single murder per episode. In each episode, a celebrity guest joins Arnett to investigate. However, the celebrity has no script, and their performance is improvised with only prompts from Arnett and the supporting cast. In each episode, the stars are provided with three suspects and a series of clues, some more subtle than others, that tie one suspect to the Murder. At the end of the episode, the celebrity chooses who they thought was the killer.
---
Details
Season 1 Guest Stars
Directed by: Iain K. Morris & Brennan Shroff
Executive Producers: Will Arnett, Krister Johnson, Marc Forman, Jonathan Stern, Peter Principato, Brian Steinberg, Tom Davis (Murder in Successville), Andy Brereton, James De Frond
Starring: Will Arnett as Senior Detective Terry Seattle,  Haneefah Wood as Chief Rhonda Jenkins-Seattle, Lilan Bowden as Amber Kang, Phillip Smithey as Det. Darren "Daz" Phillips
Runtime: 30 minutes per episode, 6 episodes in total
Annie Murphy
Conan O'Brien
Ken Jeong
Kumail Nanjiani
Marshawn Lynch
Sharon Stone
Review
Watch it on  Netflix
The Show structure is based on the BBC Three hit Comedy Murder in Successville, which aired between 2015 and 2017 on BBC Three. Tom Davis, who starred as DI Sleet in the show, has his input as an executive producer of Murderville.
In Murderville, we see six episodes, each lasting approximately 30 minutes. The Celebrity guests that join Arnett are Conan O'Brien, Marshawn Lynch, Kumail Nanjiani, Annie Murphy, Sharon Stone and Ken Jeong.
So how is it?
Well, it's funny at times very funny. Unfortunately, the structure makes the show pretty predictable. I think it would struggle in future episodes without a bit of reformatting, something that I would look forward to seeing if a second series is released.
Will Arnett is excellent. He struggles to contain his laughter on many occasions, which adds to the hilarity. Each celebrity brings a different spin to the show, and Will Arnett get the best out of them each time.
The clues given to the celebrities are well placed, making it enjoyable for the viewer to guess who the murderer is, which adds another great layer to the show.
They have added some new features to the Original Murder In Successville, and some are better than others.
The show is an effortless watch, don't get me wrong, there is room for improvement but still a delightful experience.
I can happily give this show a 4/5 and hope they return with a new series.