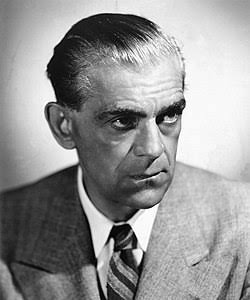 Early Years
The famed horror actor Boris Karloff was born on 23 November 1887 at 36 Forest Hill Road, Dulwich, London, England. His parents, Edward and Eliza Pratt gave him the birth name William Henry Pratt. Edward, a high-flying diplomat of Indian extraction, met the frail and sickly Eliza, in India. Karloff's maternal great aunt was Anna Leonowens, who famously served in the court of the King of Siam (Thailand). The story of Anna's life as a teacher to the king's children became the inspiration for the musical The King and I.
Karloff grew up in Enfield, the youngest of nine children. His father abandoned the family to live in France when he was 5-years old. Following the death of his mother in 1893, Karloff was brought up by his elder siblings. After completing his tertiary education he went on to attend King's College London. Karloff's studies were all directed towards him taking a job in the diplomatic service. However, in 1909, aged 21, William dropped out of college and emigrated to Canada. Once there, he worked as an itinerant farm labourer and odd job man until he came across acting.
Early Career
Bow-legged, with a lisp and stutter, William Pratt was not the most obviously candid for a stage career. However, it did not stop him from joining a touring theatre company based out of Ontario. Sometime soon after Pratt changed his professional name to Boris Karloff. Reportedly, he took the name from a distant Slavic relative, though his daughter would later dispute any such heritage. For the next decade, he toured small-town North America in a variety of low-budget shows. By 1919, Karloff had drifted to Hollywood. However, it was as a penniless hired hand rather than as an established actor.
While pursuing his acting career, Karloff subsidised his meagre salary with a series of menial jobs. In 1919, he made his debut as an extra in the silent film The Lighting Raider. He featured in his fifth film The Deadlier Sex in 1920. The film was fully restored in 2014, the earliest of Karloff's that still exists. He got his first co-star billing in 1924 when he was cast in the drama Dynamite Dan. By this time he had made at least 20 big-screen appearances. However, even by 1930, Karloff, now in his early 40s, was still supplementing his acting income with a variety of other jobs. Now, even with more than 80 movies under his belt, he was still relatively unknown.
Film Stardom
It was in the early 1930s that Boris Karloff's fortunes began to change. In 1931, he was cast in a featured role in the Howard Hawks' prison thriller The Criminal Code. Up-and-coming director James Whale was particularly impressed with Karloff's menacing performance. So much so that he cast him in the role of Frankenstein's monster in Frankenstein (1931). It was the film that made Karloff a Hollywood star. In 1932, Karloff played another iconic scary character, Imhotep in The Mummy. Later that year, he co-starred with Charles Laughton in The Old Dark House and then starred in the titular role in The Mask of Fu Manchu.
In 1935, Karloff reprised his most iconic role as Frankenstein's monster in the Bride of Frankenstein and again in 1939 in Son of Frankenstein. Both films were given critical acclaim and big box office successes. He also starred alongside rival horror actor Bela Lugosi in some of his most memorable films. These films included the likes of The Black Cat (1934), The Raven (1935), The Invisible Ray (1936), Black Friday (1940), and The Body Snatcher (1945).
While horror had now become Karloff's primary genre, he also gave a string of acclaimed performances in other film roles during his career. For instance, between 1938 and 1940, he appeared in a series of five films as the Chinese detective Mr Wong. He also turned up as Mord, the murderous henchman of King Richard III, in the Tower Of London (1939).
A Diverse Career
Karloff was not just a prolific on the big screen, he was also an enthusiast performer of radio, TV, and stage. In 1941, he appeared on Broadway stage in the original production of Arsenic and Old Lace, to much acclaim.  After the war, a decline in the popularity of horror saw Karloff switch to other film genres. In 1947, he made a brief but notable appearance as Dr. Hugo Hollingshead, in the comedy 'The Secret Life of Walter Mitty', starring Danny Kaye. A busy year, he also had supporting roles in the film noir 'Lured', the American period drama 'Unconquered', and 'Dick Tracy Meets Gruesome'. He then co-starred in the Western 'Tap Roots' (1948), and the comedy 'Abbott and Costello Meet the Killer, Boris Karloff' (1949).
In 1949, he was both host and star of 'Starring Boris Karloff', a combined radio and TV anthology series, for America's ABC network. In 1950, he appeared as the Captain Hook in the highly acclaimed Broadway musical adaptation of Peter Pan, with music and lyrics by Leonard Bernstein. During the 1950s, with the popularity of horror at an all time low, Karloff worked mostly in television and radio. He guest-starred in a number of radio/TV anthology horror shows and hosted several more of his own, most notably 'Thriller' and 'Out of This World'. However, he still managed a number of memorable big screen performances, notably in 'The Haunted Strangler' (1957) and 'Corridors of Blood' (1958).
A Late Resurgence
The 1960s, saw a re-emergence of horror as a popular film genre, which led to a late flourish in Karloff's career. He went on to star in the likes of 'The Raven' (1963), 'The Comedy of Terrors' (1963), and 'Die, Monster, Die!' (1965). The mid-1960s, also saw him narrate the animated Dr. Seuss TV film 'How the Grinch Stole Christmas' to great success. His narration and voicing of the Grinch, later earned him a Grammy Award. In 1968, Karloff played Professor Marsh in a British film production 'The Crimson Cult'. It proved to be the last in which he appeared to be released during his lifetime.
In 1968, Karloff finished his career by appearing in four low-budget Mexican horror films: Isle of the Snake People, The Incredible Invasion, Fear Chamber, and House of Evil. During filming, Karloff needed oxygen between takes because of his very poor lung condition. All four films were released posthumously, with the Incredible Invasion not hitting the big screen until 1971, two years after Karloff's death. Cauldron of Blood, shot in Spain in 1967, was also released after his death. In all, Boris Karloff's complete filmography, which spans some six decades, stretches to some 170 films.
Personal Life
Though Karloff wed six times, his marriages produced only one child. His first marriage was to Grace Harding in 1910 but they divorced three years later. By 1928, he had been married and divorced a further three times. His daughter, Sara Karloff was born in 1938, to his fifth wife, Dorothy Stine. His sixth and final marriage was to the actress Evelyn Hope Helmore. They married in 1946 immediately after Karloff's fifth divorce. They remained wed for 23 years, right until the time of Karloff's death in 1969.
Unlike many of his fellow actors Karloff never legally changed his name. He stuck with the name he was given at birth throughout his life. However, he did sign official documents as William H. Pratt, aka "Boris Karloff."
In 1933, Karloff became one of the nine founding members of the Screen Actors Guild. The organisation was established to look after the rights of film actors. Other philanthropic activities included, from 1940 onwards, dressing up as Father Christmas to distribute gifts to disabled children.
In 1960, Boris Karloff was awarded two stars on the Hollywood Walk of Fame. The first was for his contribution to motion pictures, and a second, similarly, for television.
Ill-health and Death
In 1959, Karloff returned from America to live back in London. In 1966, he bought a house in Kensington, and a cottage in the village of Bramshott, Hampshire. However, Karloff did not give up working, even though he was dogged by ill-health. Plagued by back problems for much of his adult life, he wore a brace on his left leg. In 1944, he faced acute arthritic problems and underwent a spinal operation.
A heavy smoker for most of his adulthood, he went to develop emphysema later in life. The disease left him with only half of a functioning lung. In 1968, he contracted bronchitis and was hospitalised at University College Hospital. He died of pneumonia at the King Edward VII Hospital, Midhurst, Sussex, on 2 February 1969, aged 81 years old.
Following a requested modest service Boris Karloff was cremated at Guildford Crematorium, Godalming, Surrey. A commemoration plaque bearing his name was erected at the Garden of Remembrance. A memorial service was later held at St Paul's, Covent Garden, London.
Header Image Credit: Wikipedia Commons