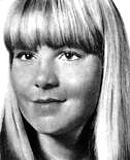 Slawson was last seen in Portland, Oregon on January 26, 1968.
She lived with her mother and siblings in Aloha, Oregon and had a job selling encyclopedias door-to-door. She was selling her encyclopedias in southwest Portland the day she vanished.
Slawson was the first confirmed victim of the serial killer Jerome Henry "Jerry" Brudos, who later confessed to murdering four young women between 1968 and 1969.
He told investigators that Slawson had approached his home and he offered to buy a set of encyclopedias and invited her inside, then killed her and threw her body into the Willamette River, off the Wilsonville Bridge on Interstate 5. It was never recovered.
Brudos was arrested in June 1969 and subsequently pleaded guilty to three counts of murder in the deaths of Jan Susan Whitney, 23, who disappeared in November 1968; Karen Elena Sprinker, 19, who disappeared in March 1969; and Linda Dawn Salee, who 19, disappeared in April 1969.
He was charged with murder in Slawson's disappearance as well, but the charge was dropped for lack of evidence in July 1969. He was sentenced to three consecutive terms of life in prison for the other murders. By the time of his death in 2006, he was Oregon's longest-serving prisoner.
Slawson is the only known victim of Brudos whose body was never found. Foul play is suspected in her case due to the circumstances involved.
Information courtesy of The Charley Project.