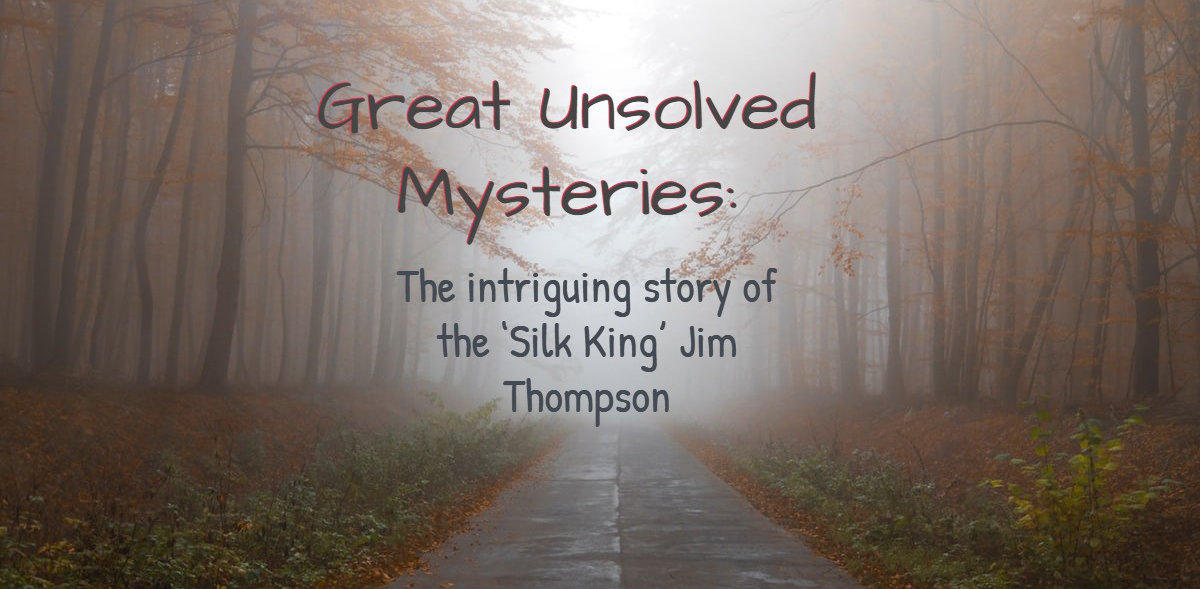 The Intriguing Story of the 'Silk King' Jim Thompson
On Sunday, 26 March 1967, Bangkok-based, high profile, American expatriate and entrepreneur, Jim Thompson, went for an early afternoon stroll. This was during a stay with close friends in Malaysia's jungle-clad Cameron Highlands. However, he would never return from that seemingly innocuous walk, disappearing without a trace. Some 53 years later, the intriguing disappearance of the 'Thai Silk King' still arouses great interest for many people from around the world. So, what is the Jim Thompson story? And, what were the circumstances which led to his bizarre disappearance?
Early Life
James ''Jim'' Harrison Wilson Thompson was born in Greenville, Delaware, the USA in 1906, the youngest of five children. He was the son of Henry Thompson, a wealthy textile manufacturer. His mother Mary, was the daughter of James Harrison Wilson (1837–1925), a renowned Unionist general during the American Civil War.
Thompson spent his early years of education at St. Paul's School, the highly selective college-preparatory boarding school in Concord, New Hampshire. He undertook his degree studies at Princeton University, graduating in 1928. He went on to represent the United States in the 6-Metre Sailing event at the 1928 Summer Olympics in Amsterdam. Post-graduate studies followed at the University of Pennsylvania's School of Architecture. Although he failed to complete his Architectural Studies, he still went on to practise as an architect.
A Promising Career
Between 1931 and 1940, Thompson worked in New York for the prestigious Holden, McLaughlin & Associates, being mostly involved in the design of homes for the East Coast rich. Very much  'man about town' Thompson led an active social life. With a sizeable inheritance, he was able to indulge his great interest in the Arts, sitting on the board of the Ballet Russe de Monte Carlo. In 1938, he became a director of the Monte Carlo Ballet Company, which was the forerunner of the New York City Ballet. However, at the end of the decade, Thompson suddenly withdrew from New York's social scene. Now critical of those who pursued such a lifestyle, he then became somewhat of a recluse.
In 1941, Thompson quit his job and enlisted as a private in the Delaware National Guard. On completion of his training, he received a commission and served for a year in a coastal artillery unit. It was then that he was recruited by the Office of Strategic Services (OSS), the forerunner of the Central Intelligence Agency (CIA).
In 1942, Thompson married an ex-John Powers model, Pat Thraves, who shared his artistic interests. However, they were only married for 6 months, before he was shipped to North Africa to assist the French war effort. His training and experience in guerrilla warfare then took him to Europe. Whilst there he was selected to lead a Special Unit that would parachute into the jungles of Thailand. They were then to link up with the Free Thai resistance and attempt to overthrow the pro-Japanese government in Bangkok. However, en route to Thailand, Thompson received word that the Japanese had surrendered. Thus, when he arrived in Bangkok, it would now be as the OSS's Chief of Station.
 Arrival in Thailand
On arriving in exotic Bangkok, with its unique culture and customs, Thompson was immediately captivated by Thailand and its people. One of the first friends he made after his arrival in Bangkok, was a young Eurasian widow, Connie Mangskau, who was working as an interpreter for the Allied Forces.  They soon established a close personal friendship that lasted right up until the very day of his disappearance. According to colleagues, within a few days, he had already started talking about abandoning his old life in America altogether and making his long-term future in Thailand. In a letter to his sister, Elinor, Thompson wrote: "I am afraid that I like backward places that need to be developed far better than all the high-powered superhighways, motels, and great cities back home. There is so much to see and learn here."
With the war over, military operations were wrapped up in Thailand by 1946. Thompson then headed back to America to pursue a discharge from the army. It was while he was back in the United States that he also got a divorce from his wife, Pat. Thompson offered her the opportunity to join him in his new life in Thailand, but she reportedly had no interest in moving to live on the other side of the world. However, it was also rumoured, that by this time his wife had discovered that he was bi-sexual, which was perhaps another reason why she refused his offer. Though the claim about Thompson's sexuality has never been substantiated.
Establishment of the Silk Business
On Thompson's rapid return to Thailand, he and five associates bought Bangkok's world-renowned Oriental Hotel. The former palace had famously featured in the works of famed writers such as Conrad, Coward, Greene and Maugham. While the hotel's restoration was in progress, Thompson fell out with the other investors resulting in him relinquishing his shares. He then switched his focus away from the hospitality industry to look for a new investment opportunity. Subsequently, in 1948, he partnered up with George Barrie to establish the 'Thai Silk Company'. With a relatively small investment, they each took 18% of the company shares. The remaining 64% was sold to both Thai and foreign investors.
At the time, the long-established Thai silk industry was in the doldrums, lacking any leadership, ideas, and investment. Although Thailand had the necessary local infrastructure and skills for silk production, much of the finished product was being imported from abroad. Thus, Thompson saw the industry's great untapped potential in the country. However, it was two great strokes of luck and timing that helped rocket the company to early success. Firstly, in 1950, Thompson was introduced to the Vogue magazine's editor Edna Woolman Chase through a mutual friend. Chase loved Thompson's contemporary designed fabrics and featured them in the magazine. In 1951, the firm achieved another coup, when designer Irene Sharaff used the company's silks in the Rodgers and Hammerstein Broadway production of the musical 'The King and I'. From then onwards, Thompson's Thai silk became an international 'must-have' commodity.
The Rise of the Silk King
Thompson is widely credited with almost single-handedly rescuing and reinvigorating the Thai silk industry. He providing much-needed employment opportunities for locals and greatly helping to kick-start the failing economy. It wasn't too long afterwards that Thompson was dubbed the 'Thai Silk King'. With the great success of the business, Thompson soon became a major player on the Bangkok high society scene. In the late 1950s, he used his architectural expertise to design and construct a luxury mansion for himself in Bangkok. The building consisted of six authentic teak houses of traditional design, which were up to 200 years old, re-arranged and rebuilt on-site to give a unique structure. Thompson sought out the individual houses himself. He then arranged for them to be dismantled and transported to Bangkok from various parts of the country.
The reconstructed grandiose building with fine gardens was erected in the Pathum Wan District of Bangkok. Completed in Spring 1959, art enthusiast Thompson, soon filled his new home with an extensive collection of priceless fine art. The house soon became a much talked about and well-known landmark in the city. Thompson decided to open the house to the public. He donated the proceeds to Thai charities involved in the protection of the country's cultural heritage. His home also quickly became a frequent venue of high society parties for Bangkok's elite.
By the early 1960s, the Thai Silk Company had opened its first shop on Surawong Road in the prestigious Silom District of Bangkok. It very much seemed that Jim Thompson 'had it all'. He was earning 'big bucks', running a successful business in exotic Thailand, a country he adored. What could possibly go wrong?
Click here for photo credit.
The Disappearance of Jim Thompson
Arriving from Bangkok, on Thursday 23 March, Jim Thompson met up with his old friend, Constance Mangskau, in Penang, Malaysia. The following day, they headed for the Malaysian Cameron Highlands, which lie about 140 miles north of the country's capital, Kuala Lumpur. They were taking a short holiday at the 'Moonlight Cottage' at Jalan Kamunting, joining mutual friends, Dr. Ling Tien Gi, a Singaporean-Chinese chemist, and Helen Ling, his Caucasian American-born wife.
On Sunday, all four got up early to attend the morning services at the local All Souls' Church. While his friends were getting ready to attend church, Thompson informed them he was going to take a walk along the bungalow's access road to the main road, the A45 Kamunting Road, a distance of about one mile (1.5 km).
It was the first time he'd been alone over the weekend. An observer at the Lutheran Mission bungalow, which was located close to the access road ends with the A45, said Thompson spoke to the driver of a stationary white car, but after a brief exchange of words, the car drove off. Shortly afterwards, he met up with his friends, and they all drove to church together, as planned.
The church Easter service lasted for just over an hour, ending around noon. The foursome then returned to "Moonlight" for lunch. At 1:30 pm, Thompson announced he was going to take an afternoon stroll. Before leaving, he spoke briefly with Mrs Ling and Mrs Mangskau. They last saw him depart along the estate's only access road, which was bordered by dense jungle. Thompson was last seen around 4 pm by a cook from the Lutheran Mission bungalow, who saw him leaving one of the chalets. By 6 pm, he had failed to return to the 'Moonlight', giving his friends a good reason for concern. (Click here for photo credit.)
Given Thompson's high profile and status, it is perhaps unsurprising that one of the largest manhunts that Malaysia had ever seen followed his sudden disappearance. More than 500 people were involved in the hunt, which included Malaysian army and police personnel, local tribesmen, reward hunters, tourists, residents, mystics, scouts, missionaries, school students and British servicemen. The official hunt lasted for 11 days but sporadic informal searches continued for many months after the disappearance. However, at the end of it all, not a single trace nor clue of Thompson's possible fate were unearthed.
In the meantime, the case had generated great worldwide publicity and had hit the headlines. It wasn't long before a great deal of speculation and conspiracy theory was generated amongst the masses. The conjecture has continued right up until the present day.
Conjecture and Conspiracy
The mystery of the high-profile Jim Thompson's disappearance generated worldwide publicity. Inevitably a great deal of speculation and conjecture has followed the incident in the international media. In 1967, the press cited tens of reasons why Thompson had disappeared, although some were not even remotely plausible. Most of the initial credible reports contended that Thompson must have been either kidnapped, murdered, arranged his own disappearance, or had been eliminated by business rivals. In the aftermath, a number of books written about Thompson's fate produced theories that ranged from a tiger attack to an arranged killing by the CIA.
One of the initial frontrunner theories was that Thompson had been murdered by the CIA. Rumour had it that he was strongly opposed to the Vietnam War, had been running supplies to the Viet Gong. However, this theory is based on the statement given by a single eyewitness. They said they saw Thompson leave Moonlight Cottage in a suspicious black car, which had some connection to the Vietnamese. However, there are no records of any kind to remotely suggest that Thompson was at any time working against the interests of the USA. On the contrary, there is a counter-theory that suggests Thompson was actually working for the CIA. And, that he got involved in an operation that went disastrously wrong. However, this speculation, not unsurprisingly, has been vehemently denied by the USA.
Although, a hero to many, Thompson was not universally well-liked in Thailand, so the theory that he was eliminated by rivals seems very possible. Thompson's rapid resounding business success and certain aspects of his behaviour made him enemies, especially amongst certain elements of the Bangkok elite. As well as the inevitable resentment of his achievements, Thompson was known to have generated animosity from some other quarters. His incredible collection of ancient artefacts and artwork, were by all accounts not always obtained from the most ethical and legitimate sources. Thus, there were some in Thailand who might not have shed too many tears for Thompson should he be eliminated. Some conspiracy theorists have even suggested that it was the Thai government itself, who was the perpetrator. However, there is no evidence whatsoever to suggest Thompson was ''taken out'' by jealous peer groups.
More Theories
Another theory supports the idea that Thompson was executed by a hired hitman as the result of an affair with the partner of a high-powered official. It's rumoured that even during his short-lived 3-year marriage to Patricia Thraves, Thompson had numerous affairs. It is claimed Thompson was having a fling with the wife of the United Nations Ambassador, Charles Yost, at the time of his disappearance. It is said that when Yost found out of his wife's year-long affair with Thompson, he was so enraged, that he ordered him to be killed, immediately. The affair, according to the police investigation, was just one of Thompson's many illicit, including homosexual, encounters. However, there was absolutely no proof uncovered that linked his death as a result of his outrageous love-life.
Another suggestion is that Thompson was kidnapped by the local criminals or terrorists for a ransom fee. He was then accidentally killed or died of illness while in captivity. While kidnapping was not an unusual practice throughout the region at that time, no ransom note or demands were ever forthcoming. The police also contacted all criminal gangs throughout Malaysia about Thompson's disappearance. They received assurance from all groups that they had no involvement in the incident.
Another seemingly unlikely theory is that Thompson arranged his own disappearance. According to some speculators, he had grown weary of the life he had created for himself in Thailand and wanted to start a new life elsewhere. Another theory along the same lines suggested he disappeared so he could travel incognito to Vietnam to take part in secret peace efforts.
Yet, another theory suggested that Thompson was depressed and simply killed himself, but in such a way that he could never be found. However, there is absolutely no evidence to support the theory that Thompson wanted to disappear. He was a wealthy man, doing what he loved and living in a country he adored – he was living the dream! Why would he want to disappear? However, the self-engineered theory of his disappearance gained traction. Especially, when a supposed sighting of Thompson was made in Tahiti several months after he vanished.
The Likely Story
The theory that perhaps makes the most sense and is the one supported by Thompson's friend, Dr Ling. He thought that he simply wandered off and got lost in the jungle, ultimately succumbing to the dangers of the bush. This includes the possibility he could have been killed by a wild animal, most likely a tiger. Thompson was a keen trekker, not adverse to taking risks. However, he was also in relatively poor health, has he had a failing gallbladder and a weak heart.  Dr Ling suggested Thompson could have fallen into a ditch, or similar, in thick dense cover, from which the wet muddy conditions would make it difficult to escape. With frequent mudslides occurring in the forest, the body could have quickly been covered up.
In 2015, a scientific analysis of the search and rescue effort was carried out in the targetted search area. It concluded that there was only a 40% probability, at best, that Thompson's body would have been found. However, the counter-argument was that Thompson was a very experienced forest trekker, and former soldier, who was trained in the art of jungle survival. Testimony from the jungle's native people stated that no sight nor trace of Thompson was ever made by them during his disappearance.
Adding to the strangeness of Thompson's disappearance was the fact that his sister was found dead in her home just a few months after he vanished. She had been brutally beaten to death. However, there was no evidence to suggest that the two incidents had in any way been related.
The Continuing Saga
In 1985, bone fragments found in the Cameron Highlands were initially thought to be those of Thompson. The remains were discovered by Orang Asli people in a grave at the edge of the main road in Brinchang. The remnants became known locally as "the bones of Jim Thompson". However, the bones were never even proved to be human and have since disappeared.
In 2017, the notion that Thompson could have been killed by terrorists was resurrected, when filmmaker Barry Broman released a 2-hour documentary called "Who Killed Jim Thompson". The documentary focused on a former member of the Communist Party of Malaya (CPM). He made a deathbed confession claiming that it was the communists who had captured and executed Thompson. Broman said a friend, Xuwicha 'Noi' Hiranpruek had contacted him in 2012 about Thompson's death. He had told him of the deathbed confession made by his friend's uncle Teo Pok Hwa, who had served with the CPM.
At the time, the Cameron Highlands was a hotbed of communist activity. Ironically, Moonlight Cottage, where Thompson stayed, had once served as the CPM headquarters. Pok Hwa said that Thompson had requested to meet with CPM leader, Chin Peng, the most wanted man in Malaysia. This had lead to the organisation unveiling Thompson's past as a secret service agent. Suspicion aroused, the communist CPM had then decided to terminate Thompson. It's supposed that Thompson may have requested the meeting as a favour to deposed Thai PM, Pridi Banomyong. He was a known communist sympathiser, who had wanted to make contact with the CPM. While the assertion sounds reasonable, the CPM was well-known for claiming responsibility for their deeds, especially those which involved high-profile individuals. Thus, this has given rise to doubt about the authenticity of the claim.
The case of Jim Thompson has been mired in debate, speculation, conjecture and conspiracy theories for more than fifty years. There are still plenty of unanswered questions that surround the case. Ultimately, it would seem these answers will never be determined. It seems very much that the fate of Jim Thompson will remain a mystery for time immemorial.
The Jim Thompson Legacy
In 1976, the Thai Court appointed an executor to deal with the estate of Jim Thompson. The administrator was given permission by the Government of the Kingdom of Thailand to establish the James H.W. Thompson Foundation. The organisation is committed to the preservation of the arts and rich cultural history of Thailand. Today, the Foundation supports a variety of research, seminars and publication of material in the furtherance of this objective.
In 2020, the Jim Thompson company is a leading manufacturer in Thai silk as well as being a producer of a wide selection of other high-quality fabrics and fibres. The world-renowned Jim Thompson products can be found at numerous high-end locations, including top hotels, private residences, yachts, etc., all over the world. The company has expanded its workforce from around 100 employees in 1967 to more than 3,000 today. It also boasts a number of retail outlets at prestigious venues throughout Thailand and abroad, as well as a string of first-class restaurants.
If you happen to be in Bangkok, the original house built by Jim Thompson still stands on Soi Kasemsan 2, Rama 1 Road, opposite the National Stadium. Although quite small, it's one of Bangkok's most popular museums. The house still has much of Jim Thompson's original furniture, fittings, and artefacts. A guided tour and takes about 45 minutes and costs THB 200 (2020), approximately £5 or US$7.
Getting to the Jim Thompson Museum is pretty easy. Jump on the BTS (sky train) and make your way to the National Stadium, the terminus station on the Silom Line. Take Exit 1 on leaving the BTS and look for the sign for Soi (small street) Kasemsan 2.
Editorial photo credit – Dana Ward/ Neenawat Khenyothaa/Shutterstock.com