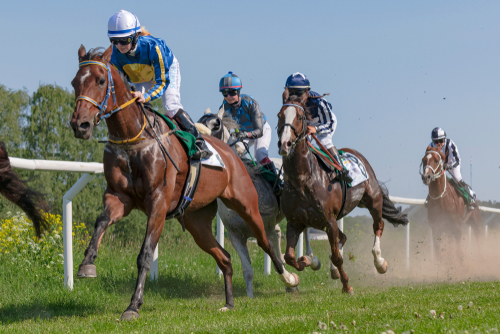 To earn the accolade of greatness in any field is obviously a subjective matter. Shakespeare's take on the subject was "Some are born great, some achieve greatness, and some have greatness thrust upon them." How about great racehorses? In no particular order, here's a brief narrative on what can be considered five of the greatest British racehorses of all time:
Red Rum (1965 – 1995)
The Grand National is often described as "The world's greatest steeplechase". For no other reason than the 4 ½ mile Aintree (Liverpool) course has some of the toughest jumps on the planet. Thus, it's recognised in racing circles that it takes an extra special horse to win the 'National'. The Irish champion thoroughbred 'Red Rum' was such a horse.
Red Rum is the only horse to win the Grand National three times. He achieved the historic treble in 1973, 1974, and 1977, as well as finishing second in 1975 and 1976. And, while six horses have won both the English and Scottish Grand Nationals, Red Rum is the only one to do so in the same year (1974). Renowned for his great jumping ability, he never ever fell in any of his 100 races.
The 1973 race saw Red Rum snatch victory after coming from 30 lengths behind, in what is by many considered by many to be the greatest Grand National ever. His historic third triumph in the 1977 Grand National, winning by 25 lengths, is seen as one of the greatest sporting moments of all time. He retired from racing in 1978 and died in 1995, aged 30. In memory of the great horse, a life-size bronze statue has been erected on the grounds of the Aintree racecourse. Red Rum himself is buried opposite the winning post of the world-famous racecourse.
Arkle (1957 – 1970)
Born in 1957, Arkle was an Irish Thoroughbred racehorse that competed in both flat and jump races. Overall, the great horse won 27 of the 35 races in which he competed. Twenty-two of the wins came in the 26 steeplechases where he came under starters orders. Furthermore, he was placed in the other 4 races. Arkle's major wins include three successive Cheltenham Gold Cups (1964 – 1966), the King George VI Chase (1965), the Irish Grand National (1964), the Hennessy Gold Cup (1965) the Gallaher Gold Cup (1965), and the Whitbread Gold Cup (1965).
Arkle ran his last race on 27 December 1966 in the King George VI Chase at Kempton Park. He fractured a bone in his foot during the race but still managed to finish second. His leg was placed in plaster for four months and he made a good recovery but never raced again. He was retired to Bryanstown, County Louth, Ireland by his owner. By 1969, Arkle's physical condition began to deteriorate. With his hind legs showing signs of arthritis, he appeared to be in pain and found walking increasingly difficult. Arkle was put to sleep, aged 13, and buried in Bryanstown in May 1970.
Shergar (1978 – 1983)
Shergar arguably has the most ill-fated reputation of any racehorse in history. He was foaled on 3 March 1978 at Sheshoon, County Kildare, Ireland. The Irish-bred Thoroughbred racehorse was trained at Newmarket, England for his owner the Aga Khan. His first race was as a 2-year-old at Newbury on 19 September 1980. Ridden by Lester Piggott, Shergar won the race by 2 ½ lengths. Later that year, again ridden by Lester Piggott, he finished second at Doncaster. In 1981, he went on to win five of the six races in which he competed. These races included the Epsom Derby, Irish Derby, and the King George VI and Queen Elizabeth Stakes.
After Shergar's successful 1981 season, the Aga Khan decided to retire him to the Ballymany Stud in County Kildare, Ireland. In 1983, he was stolen from the stud farm in what resulted in a blaze of media coverage. The kidnappers requested a £2 million ransom fee but the demand was never met. Negotiations with the thieves gradually broke down and not a single trace of Shergar has ever been found. However, in 1999, a former member of the para-military group, the Provisional Irish Republican Army (IRA), alleged that it had been them that stole the horse. However, the IRA has never admitted to any part in the theft of the infamous horse.
Nijinsky (1967 – 1992)
Nijinsky is regarded by many pundits as one of the greatest 'flat' racehorses of the 20th century. He was foaled on 21 February 1967 at E. P. Taylor's Windfields Farm in Oshawa, Ontario, Canada. In 1969, the Irish-trained thoroughbred had an outstanding first racing season, as a two-year old, unbeaten in his first five outings. In 1970, Nijinsky took the *English Triple Crown, a feat which had been not accomplished since 1935, and (as of 2023) has not been repeated since. The great horse also won the Irish Derby and King George VI and Queen Elizabeth Stakes, the same year. In October 1970, undefeated in 11 outings, Nijinsky lined up in France's most prestigious race, the Prix de l'Arc de Triomphe at Longchamp in Paris. Ridden by Lester Piggott, he finished second to Sassafras, losing by a head, in a race many pundits thought he probably should have won.
Two weeks after his defeat in the Arc, Nijinsky ran his last race at Newmarket, this time beaten by 3/4 of a length. He was retired after the race and sent stud at Claiborne Farm near Paris, Kentucky, USA. Nijinsky remained at the farm until his death in April 1992, aged 25. In 1970, a film documentary was made about the world-famous racehorse, entitled A Horse Called Nijinsky, narrated by Orsen Welles. Bronze statues of in honour of Nijinsky have been erected at Ireland's Ballydoyle racehorse training facility and Curragh racecourse. In a 2000 British poll, Nijinsky was voted "Horse of the Millennium".
* The Derby, 2,000 Guineas and St. Leger
Frankel
The champion British Thoroughbred racehorse Frankel was foaled on 11 February 2008 at Banstead Manor Stud, Cheveley in Cambridgeshire. He is named after the famed American racehorse trainer Bobby Frankel. In 2010, Frankel began his racing career on 13 August in a one-mile maiden race at Newmarket, winning by 1/2 length. He went on to finish the season undefeated with four wins under his belt. In 2011, Frankel claimed notable victories in the 2,000 Guineas and Queen Elizabeth II Stakes, taking his tally to 9 wins in 9 starts by the end of the season. The following season he went on to gain 5 more wins, his final victory being the Championship Stakes at Ascot on 20 October 2012. Thus, Frankel remained undefeated in his 14-race career.
Both Timeform and The World Thoroughbred Racehorse Rankings Committee rated Frankel as the best horse they had ever assessed. After his last race in 2012, Frankel was sent to stud back at Banstead Manor, the place where he had been born. In June 2014, Frankel's first foal was sent to auction and sold for well over £1 million. In 2021, Frankel was inaugurally inducted into the British Champions Series Hall of Fame for his contribution to horseracing, alongside the legendary jockey Lester Piggott.
Header image credit: Stefan Holm/Shutterstock.com