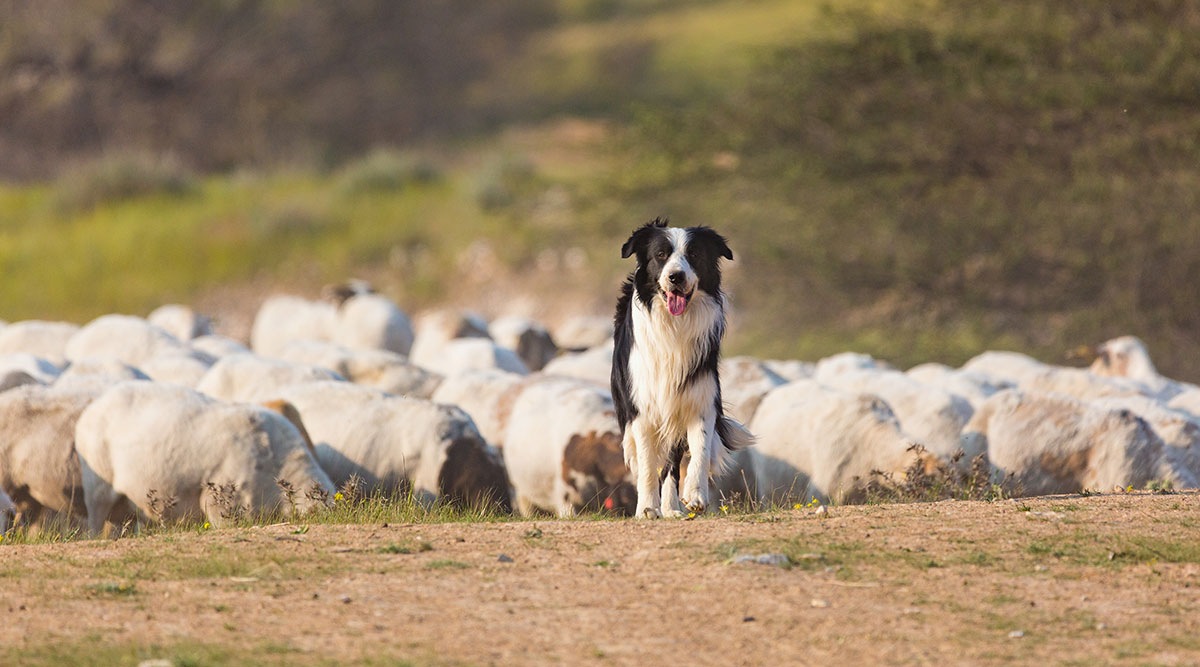 | Name | Border Collie |
| --- | --- |
| Size | Medium |
| Grooming | Moderate |
| Training | Easy Used to Commands |
| Exercise |  Twice a day Minimum |
| Origins | UK Borders |
The Border Collie - The dog most British people visualise when you say "Sheep Dog"
The Border Collie A World-Class Sheepdog and widely recognised breed
Quick Overview
Name:                                                                                  The Border Collie
Size:                                                                                      No more than 56 cm tall
Weight:                                                                                Up to 20 kg (agile and lean)
Grooming:                                                                          Moderate 2-3 times a week
Training:                                                                              Highly susceptible to commands
Exercise:                                                                              As much as possible
Temperament:                                                                 fun and intelligent, often bouncy
Lifespan:                                                                              Up to 15 years
Origins:                                                                                 The English/Scottish border region
Breed Type:                                                                        Pastoral/Herding
The history behind the renowned Border Collie
Collies were always a native breed in the British Isles. From north to south, east to west, the old native collies had a home on any farm. It is thought that the etymology behind their name comes from the old Scots Gaelic language, where a collie was a thing that was useful to have around the home.
The first mention of this lovable breed name was in the early 1800s. Unlike other breeds, we know exactly where the border collie started. It had its origins in the English borders, where a single stud was used to breed litter after litter of border breed dogs. That stud was known as Old Hemp, and you can read all about him, here.
Where did those native dogs come from, though? It is widely agreed that the Roman invasion back in 40 AD (ish) was the prime time for dog breeders. They brought over their own dogs when they invaded, which were later interbred with the dogs the Vikings brought with them… couple this with the dogs the Norman invaders had by their sides, and you can start to see why there were so many different types of native dog breed in the British Isles… they have everything from terriers to pointers.
Old Hemp was where it really started for this breed, though. It was this dog that made the difference between the old breeds of Scotch and Welsh collies that graced the countryside. In 1915, one of the members of the international sheep dog society decided they needed a new term to differentiate the border collies from all the other British collie breeds. The Border was born, the breed standard devised, and the collie shortly found its way to the ranks of the AKC, the UKC, and the UKKC.
Fun Facts about this Dog Breed!
So if you have just brought your new Border Collie puppy home with you, here are the Five Minutes Spare fun facts that you can bring out at parties to keep everyone entertained. Puppies, though, tend to do a great job of that on their own.
Border Collies are the best sheepdog herders by far. They consistently win the sheepdog trials and perform at CRUFTS.
They were first called the Scotch Sheep Dog before the breed standard was set.
A border collie is displayed on the International Sheepdog Society badge – it was known as Wiston Cap.
There are an active group of protestors that don't believe the working collie should be seen as a show dog. We say every dog is a show dog… purebred or not.
And there you are! Your new Border Collie puppy is going to worship you when it grows up. They are highly intelligent, energetic bundles of fun that will show you unconditional love. What's not to like? They will even round up your sheep when they escape, what more do you want?
Do they need lots of Exercise?
When buying any breed of former working dog, you really do need to think about their energy level. The collie will happily trot around on your heels all day if you take them to work with you. If you leave them in your house all day, they will get bored and might well chew up your couch. On the other hand, if you take them a couple of long walks a day, they will be happy as Larry… whoever he is.
How Often do I Groom my Border Collie?
You won't need to brush your new puppy every day, but twice a week is a minimal requirement. Your new puppy and you will have great bonding time during the brushing, so it shouldn't be anything you are forced into. Likewise, ensure his or her teeth are brushed at least once a week, and go to the effort of clipping their claws if they need it.
How Easy is it to Train a Border Collie?
They are notoriously eager to learn everything you can teach them. Many sources, studies, and reports have cited the Border Collie as having the same intelligence of a young child. Never before did treating your new puppy like a toddler make more sense… Science Daily say their intelligence is similar to that of a two year old.
Are they Generally Healthy Dogs?
Not really. Alas, a working dog exposed to the trials and tribulations of the British weather is going to have all sorts of joint issues. Patellar luxation, elbow and hip dysplasia, and other issues. The Collie might have bad skin, ears, or eyes. It might suffer from allergies – or it might be entirely healthy.
Where Can I Buy a Border Collie?
You should always buy any new puppy from a registered trader. These can be found courtesy of your local kennel club and should not be spotted from Craig's List or anywhere of less repute. Puppy farmers are everywhere, hurting animals and breeding dogs to death. Don't contribute by accidentally buying one of their hurt puppies. You might well be able to find one in your local shelter since they are a popular breed in the UK. Unfortunately, this is not a guarantee. If you can, however, it is always best to rescue a dog than buy a new puppy… nothing in your life will ever love you as much as a rescue dog does!
Got Five Minutes Spare?
If the Border Collie isn't the right dog breed for you – that's fine. There's no need to panic! We have hundreds of other dog breeds in our doggy directory, right here at Five Minutes Spare… so take some time, browse the puppies, and we're quite sure you will find the perfect pooch for you in just a few clicks.