Public Group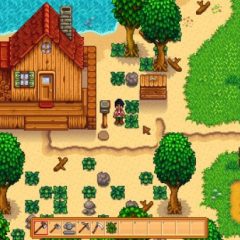 Stardew Valley
Created 1 year, 1 month ago
Last activity was
active 7 months, 3 weeks ago
Stardew Valley is a game created by Eric Barone AKA Concerned Ape. This Group has no Affiliations with the developer and is not Endorsed by the Developer.
This is Simply a casual group where you can all share your farms and asks questions about the game in case you need some help learning about it. Feel free to discuss and share your Stardew knowledge.
Group Type: Gaming group
How to get Copper?
Author

Posts

Lewis Walker

Participant

Copper Ore can be found from floor/level 2 of the mines.

You can occasionally obtain copper from opening geodes at the blacksmith, may drop when breaking rocks and may occasionally be picked out of the ground, but the best way to obtain copper is mining between floors 2 and 39. Apparently, between floors 31 and 39 is where copper is most likely to be found.

To create a copper bar you will need to smelt 5 x copper ore in a furnace with one Coal

Author

Posts
You must be logged in to reply to this topic.