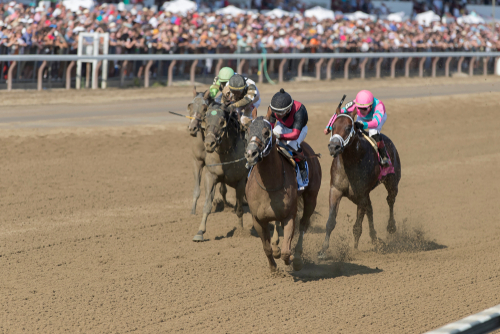 In no particular order, here's a brief narrative on what many would consider five of the greatest American racehorses of all time:
Seabiscuit (1933 – 1947)
Seabiscuit was an American champion thoroughbred racehorse who was foaled in Kentucky in 1933. The relatively small bay stallion stood only 15.2 hands high. His 5-year racing career, which began in 1935, saw him win 33 races from 89 starts. However, Seabiscuit's career got off to a fairly inauspicious start, which saw him win just 10 of his first 40 races. However, a year later, Seabiscuit was sold to a new owner and was subsequently assigned another trainer. It was then that his career really began to take off. In 1937, he won 11 of his 15 starts and was the USA's leading money winner for the year.
Through 1938, Seabiscuit's great run of success continued. In November 1938, he was pitched against War Admiral in a head-to-head contest dubbed "Race of the Century." Seabiscuit was the underdog as the race's firm favourite had just claimed the Triple Crown. However, against the odds Seabiscuit triumphed, winning the race by four lengths. He went on to be named the USA's 'Horse of the Year' and also became the highest-earning racehorse of all time in the process.
In April 1940, Seabiscuit retired from racing to the Ridgewood Ranch near Willits, California. He died of a suspected heart attack 7 years later, just 6 days short of his 14th birthday. Two blockbuster films have been made about Seabiscuit's life: The Story of Seabiscuit (1949) and Seabiscuit (2003). The latter was based on the best-selling book, Seabiscuit: An American Legend, authored by Laura Hillenbrand and published in 1999.
Man o'War (1917 – 1947)
Man o' War nicknamed Big Red, was foaled in 1917 at the Nursery Stud in Lexington, Kentucky. Many pundits consider the American Thoroughbred stallion to be the greatest racehorse of the 20th century. However, his career was brief, only lasting two seasons, 1919 and 1920, In his first season, Man o' War, as a two-year-old, won 9 of his 10 starts. The victories included two of the USA's most prestigious races of the time, the Hopeful Stakes and Belmont Futurity. Losing by a neck, his only defeat came at the hands of the fittingly named 'Upset' at the Saratoga Racecourse.
In the following season, in 1920, Man o'War won all 11 of the races in which he started. Additionally, he set seven-course speed records and accumulated record-breaking winnings for a horse of his time. His racing days ended with what was dubbed by the media as the "race of the century".  He triumphed over triple crown winner Sir Barton in a one-to-one race in the Kenilworth Park Gold Cup in Windsor, Ontario, Canada. After an undefeated season, the three-year-old Man o' War retired to stud in Lexington.
In stud, Man o'War, amongst others, sired the great champion War Admiral and was grandsire to the phenomenal Seabiscuit. Man o' War died on 1 November 1947, aged 30, from a suspected heart attack. His funeral was broadcast live on NBC Radio.
Secretariat (1970 – 1989)
Secretariat was foaled on 30 March 1970 at the Meadow Stud in Caroline County, Virginia, USA. Nicknamed Big Red, the champion American thoroughbred was the ninth horse to hold the *American Triple Crown. He not only set the fastest time but still holds the record for all three of the constituent races. In 1972, he finished fourth in his first race at the Aqueduct in New York City. However, he won seven of his remaining eight starts for the season, his only defeat after being penalised and placed second in the Belmont Stakes.
The following year, Secretariat's second and final season, he won 9 of his 12 starts, which included his famed Triple Crown. His record-breaking victory in the Belmont Stakes saw him win by an almost unbelievable 31 lengths. The race is regarded by many pundits as one of the greatest in history.
Secretariat's last race was in the Canadian International Stakes at Toronto, Canada in October 1973, which he won by 6 1/2 lengths. Shortly afterwards, he retired to stud at Claiborne Farm, Paris, Kentucky. In all, Secretariat had won 16 of his 21 races, with three seconds and a third place. In 1974, Secretariat was elected to the USA's National Museum of Racing and Hall of Fame.
In 1989, Secretariat became troubled with laminitis, a painful and debilitating hoof condition. Unfortunately, he failed to respond to treatment and was euthanized on 4 October, aged 19. He was buried at the Claiborne Farm in Kentucky. In 1999, Secretariat came second to Man o' War in the Blood-Horse magazine's listing of the Top 100 U.S. Racehorses of the 20th Century.
*Belmont Stakes,  Kentucky Derby, and the Preakness Stakes
Affirmed (1975 – 2001)
The champion American Thoroughbred 'Affirmed' was foaled at Harbor View Farm in Marion County, Florida on 21 February 1975. He famously became the eleventh winner of the American Triple Crown in 1978.
In May 1977, Affirmed won his maiden race at Belmont Park. He went on to win a total of 7 wins in 9 starts and was named America's Champion Two-Year-Old Colt for the season. As a three-year-old, Affirmed won 8 of 11 starts, finished second twice, and had one unplaced finish. It was also in 1978, that he also achieved his famous Triple Crown victory. The achievement led to Affirmed being named both 'Horse of the Year' and the 'American Champion Three-Year-Old Male Horse'.
In Affirmed's third season, as a four-year-old, he won 7 of his 9 starts and was placed in the other two races. He won his very last race on 6 October 1979, winning the Jockey Club Gold Cup at Belford Park. It brought Affirmed's career wins to 22, with five seconds and a third place from a total of 29 starts. He was once again named Horse of the Year, in addition to being American Champion Older Male Horse.
Shortly after his last race and US$ 2.4 million in earnings, Affirmed was put to stud at the Jonabell Farm, near Lexington, Kentucky. In 2001, aged 26, Affirmed was euthanized after becoming seriously ill with laminitis, a hoof disease. He was buried at the Jonabell Farm in Kentucky.
Seattle Slew (1974 – 2002)
The champion American Thoroughbred 'Seattle Slew' was foaled at White Horse Acres in Lexington, Kentucky on 15 February 1974. The tenth winner of the American Triple Crown (1977), he was the first horse to achieve the feat without being previously beaten.
Seattle Slew won his maiden race by 5 lengths at Belmont Park on 20 September 1976. He finished the season undefeated and despite coming under starters order only 3 times was named Champion Two-Year-Old. The following season (1977), Seattle Slew won 6 of his 7 starts, which included taking the American Triple Crown. He went on to be named champion three-year-old and American Horse of the Year.
Early in the 1978 season, Seattle Slew experienced a number of health problems and his owners considered sending him to stud. However, he finished the season with a highly respectable 5 wins and 2 seconds from 7 starts. He ran his last race on 11 November in the Stuyvesant Handicap at Aqueduct Racetrack. Starting the race as 1/10 favourite, he won the race by 3 1/4 lengths.
Seattle Slew then went to stud at Spendthrift Farm in Lexington, where he remained for seven years. In 1985, he moved to the Three Chimneys Farm in Midway, Kentucky. In 2000, he underwent spinal surgery and had a second operation for the same condition two years later. He was moved to the nearby Hill 'n' Dale farm to recover but died in his sleep on 7 May 2002, aged 28. It was 25 years to the very day after he'd won the Kentucky Derby.
Header image credit: Dennis W Donohue/Shutterstock.com