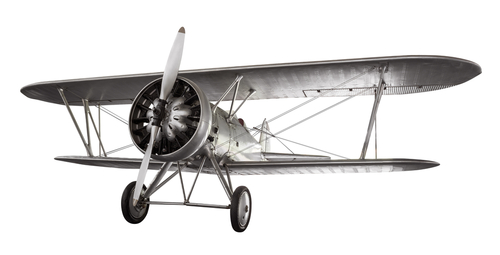 On 17 December 1903, the Wright brothers famously flew the very first powered aeroplane at Kitty Hawk, North Carolina. The best flight of the day covered a total distance of 256 m (852 ft) in 59 seconds. The ground-breaking feat heralded the beginning of the pioneering age of aviation. While the bravery and courage of those early fliers cannot be denied, it was, for the most part, the preserve of relatively wealthy white men. However, there was a small band of female pilots who managed to buck the trend. Here is a brief narrative on five of the most influential and daring women fliers from the heady days of the world of early aviation:
Amelia Earhart
One of the world's first female pilots, Amelia Earhart (1897 – 1937) also happens to be one of the most famous aviators of all time. The adventurer, feminist and writer, was born in Atchison, Kansas, USA on 24 July 1897. At a time when young women were expected to become mothers and homemakers, Earhart decided to take to the skies. In 1921, she bought her first plane, a Kinner Airster. Two years later, she became only the sixteenth woman in the USA to be issued a pilot's license.
In October 1922, Earhart flew the Airster biplane to an altitude of 14,000 feet (4,300 m), setting a new world record for a female pilot. In 1928, she became the first female to cross the Atlantic by air, onboard a plane piloted by Wilmer Stultz. The feat brought her instant celebrity and national heroine status. In May 1932, she became the first female transatlantic soloist, making the flight in world record time. Within a few years, she had made a number of other world record-breaking flights.
In 1937, Earhart set out, in a twin-engine Lockheed Electra, in an attempt to become the first pilot to circumnavigate the world. On 29 June, Earhart and navigator Fred Noonan, landed at Lae, Papua New Guinea, having completed some 22,000 miles (35,000 km) of their journey. They took off again, 3 days later, bound for the tiny coral atoll, Howland Island, around 2,600 miles away. Nothing was ever heard of again from either of the adventurers. On 19 July 1937, the extensive sea search operation was called off, with the pair being declared "lost at sea". Inevitably, their disappearance was subject to much speculation but the mystery of their final days remains unsolved to this day.
Amy Johnson
Amy Johnson (1903 – 1941) was born on 1 July 1903 in Kingston-upon-Hull, Yorkshire, England. She became interested in aviation after finding work in London as a secretary. She soon began taking flying lessons and gained her pilot's license in 1928. With relatively little flying experience, Johnson decided she wanted to make a world record attempt on a soloist flight to Australia.
On 5 May 1930, Johnson flew out of Croydon Airport in a second-hand Gipsy Moth, bound for Darwin in Australia's Northern Territories. With no radio link to the ground and little reliable weather information, Johnston's plan was to fly the arduous straight-line route to her planned destination. After she landed in India in record-breaking time, the world press began to take notice. Though she ultimately missed the world record for the flight by 3 days, Johnson's spirit and daring won her a legion of admirers across the world. She was dubbed "Queen of the Air" by the British media.
Johnson went on to make a number of other record-breaking long-distance flights across the world. In 1931, she set a record for the flight from Siberia to Tokyo. And, in 1932, she broke the record for a solo flight to Cape Town, South Africa. In 1933, she and her husband, Jim Mollison, crossed the Atlantic at another record-breaking time, landing in Connecticut. Her last major flight came in May 1936 when she regained the record for the fastest flight from England to South Africa.
In 1940, Johnson joined the Air Transport Auxiliary ferrying planes around the country for the RAF. On Sunday 5 January 1941, she left Blackpool in an Airspeed Oxford, which she was to deliver to RAF Kidlington, near Oxford. She was never seen again! However, there is evidence to suggest her plane went down in the Thames Estuary, somewhere near Herne Bay. A Royal Navy vessel in the area reported a possible sighting of Johnson afloat and made a belated rescue attempt. Speculation surrounding her death has inevitably remained rife throughout the years. However, the final hours of Amy Johnson's life remain as much a mystery today as they were more than 80 years ago.
Bessie Coleman
Elizabeth "Bessie" Coleman (1892 – 1926) was born in Atlanta, Texas on 26 January 1892, the tenth of thirteen children. The mixed-race adventurer is credited with being the first African-American woman and Native American to hold a pilot's license. After attending University in Oklahoma, she moved to Chicago in 1915, aged 23, to take up work at a laundry. While there, she became fascinated by World War I pilots and was inspired to pursue a pilot's career.
Europe's more liberal attitude towards both women and ethnic minorities enabled Coleman to overcome racial and sexist barriers. She quickly learned to speak French and moved to Paris in pursuit of her goal. On 15 June 1921, she was awarded her pilot's license from the Federation Aeronautique Internationale. Three months later she moved back to the USA. She quickly established herself as a daring performing sensation at air shows and exhibitions. She became popularly known as "Queen Bess" or "Brave Bessie".
On 30 April, Coleman was in Jacksonville, where she was due to perform the following day. Her mechanic, William D. Wills, had flown her newly purchased Curtiss JN-4 biplane from Dallas to Florida the previous day. He had to make three forced landings en route and warned of the plane's poor maintenance condition. However, Coleman insisted on flying a scouting mission for the show that day. Ten minutes into the flight, at some 3,000 ft, the plane went into a sudden dive and then a spin. Coleman was thrown from the plane at 2,000 ft and died instantly after hitting the ground. Wills died after the plane made impact, exploded, and burst into flames.
A funeral service was held in Florida for Coleman before her body was sent back to Chicago. News of her death was  not widely reported in the media, except in African-American press. Ten thousand mourners attended her memorial service in Chicago. Her main legacy was to inspire other aviators from ethnic minorities. In 1995, a 'Bessie Coleman' stamp was issued in her honour. And, in 2023, the U.S. Mint released a special quarter that also featured Coleman.
Raymonde de Laroche
Elise Raymonde Deroche (1882 – 1919) was born on 22 August 1882 in Paris. She is thought to be the first woman ever to pilot a plane, being awarded her pilot's licence in 1910. In adolescence, she showed a strong interest in motorcycles and automobiles. However, in her early '20s, she decided to pursue an acting career, adopting the stage name "Raymonde de Laroche".  A romantic liaison with the aviator Ferdinand Léon Delagrange sparked de Laroche's initial interest in aviation. However, it was her meeting with the Wright Brothers in Paris, in 1908, that inspired her to become a pilot.
Raymonde proved to be a fast learner and excelled in her flying lessons. On 8 March 1910, she became only the 36th person, and first woman, to be issued an official pilot's licence. However, in July 1910, while participating in the Reims airshow, de Laroche crashed her plane and suffered severe injuries. It took her two years to recover well enough to be able to get back to flying. However, in September 2012, adversity struck once again when she was then involved in a serious automobile accident. Undeterred by bad luck, de Laroche was determined to fly again – and, she did! On 25 November 2013, she wrote her name in to the history books with a 4-hour non-stop flight.
During the WWI, de Laroche was not permitted to fly in the French military so she decided to serve as a military driver. After the war, she took to the skies as quickly as she could. In June 1919, it is believed she set both altitude and long distance flying records, though the feats were never officially recorded. On 18 July 1919, de Laroche travelled to the Le Crotoy airfield on the northern coast of France. She was to co-pilot a new aircraft and had high hopes of becoming Frances first female test pilot. Unfortunately, both she and the co-pilot were killed when the airplane took a dive and crashed on the landing approach. A statue commemorating de Laroche has been erected at France's Bourget airport.
Lydia Zvereva
Lydia Zvereva was born in St Petersburg on 13 August 1890 into a military family. She was educated at the Czar Nicholas I Institute for Girls. It was a succession of 1910 exhibitions held in Russia by European pilots that initiated Zvereva's interest in flying. However, it was one pioneering pilot in particular that sparked Zvereva's imagination. Her name was Raymonde de Laroche. Inspired, it only took Zverava just a year to earn her pilots license. Thus, on 22 August 1911 she became the first Russian woman to be granted a pilot's license and only the 8th female worldwide.
By 1912, Zvereva, along with her pilot husband, Vladimir Slyusarenko, was earning a living performing at airshows and aviation exhibitions. In 1913, the couple opened their own flying school in Riga providing the lowest cost of pilot training within the Russian empire. They went on to start their own airplane repair and manufacturing business. Zvereva proved to be a talented aircraft designer and entrepreneur. Her exceptional ability was soon recognised within the industry, which saw her offered work in Europe. However, Zvereva decided to stay in Russia.
On 19 May 1914, Zvereva co-piloted a Morane monoplane at an exhibition at the Hippodrome Stadium in Riga. The aircraft undertook a "loop" during the show, albeit with the experienced Evgeny Spitzberg at the controls. However, it meant Zverera had become the first female pilot in the world to experience the manoeuvre – very much to the delight of the spectators. The outbreak of WWI, saw Zvereva moved back to St Petersburg with her husband. They also relocated and expanded their aviation business there, which saw Lydia work as a test-pilot.
In April 1916, tragedy struck when Zvereva contracted typhoid. She never recovered from the disease and died on 1 May 1916, aged only 25. She was buried soon afterwards at the Alexander Nevski Monastery in St Petersburg. An aircraft formation piloted by friends and former students overflew the cemetery during the burial in her honour.
Header image credit: fotoslav/Shutterstock.com