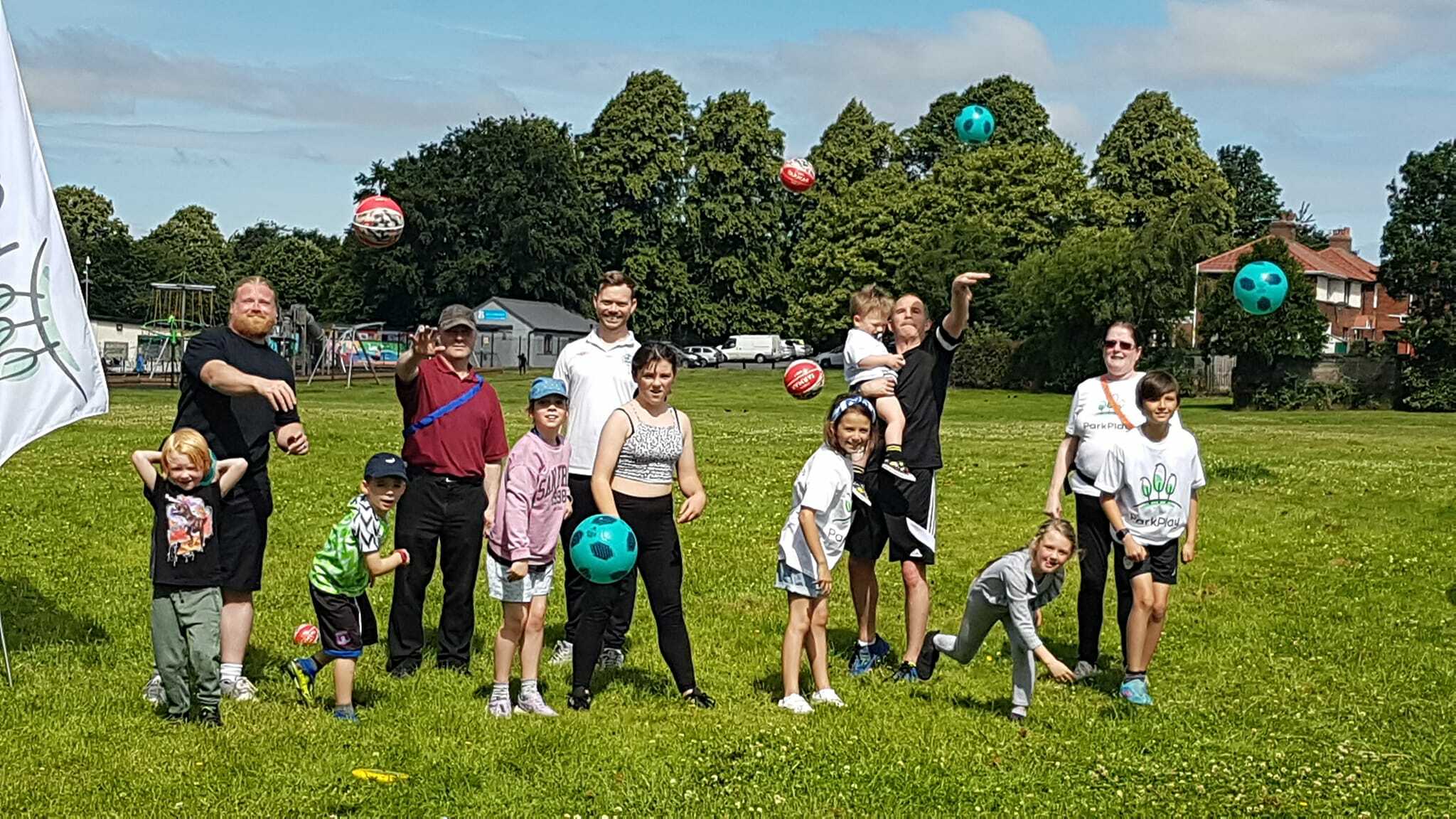 ParkPlay is a national organisation founded in July 2020 after four friends, Jemima, Steve, Steve (Mitch), and Matt, set out to create a fun, safe place for people to enjoy physical activities beyond just playing sport. 
ParkPlay has grown and is now in 33 Parks across the UK. 
So, to see what was going on, on Saturday, my two little ones and I wandered down to Hammonds pond park in Carlisle, Cumbria. 
The kick-off time is at 9.30 am every Saturday, so it's not too early to have to rush about and as it is a 2-hour session, not too late that it swallows your whole day. 
The Group were easy to find, all we needed to do was locate the big park play flags, and on arrival, we were met with the very friendly face of Leanne, the ParkPlay Group Leader. 
We checked in and were ticked off the register (you must register before visiting, and you can do that here), and straight away, my two kids were running off to play with the mountains of what looked like brand-spanking-new sports equipment.
Shortly after our arrival, Leanne rounded everyone up to start the activities. 
An excellent Ice-breaker and introduction kicked off proceedings, followed by some games like duck, duck, GOOSE! and snake, some games of handball followed with races and other events scattered in-between. 
Before I knew it, the 2 hours had passed, and my two were thoroughly disappointed the fun had to end. However, promising that we would attend again next week quickly took them away from their sulking. 
So how was it?
It was brilliant, the kids loved it, and it allowed me to be a fun dad without having to organise a thing. 
Leanne, the group leader, is welcoming to everyone. She does a fantastic job and ensures inclusivity throughout, which creates a wonderful atmosphere. 
The guys at ParkPlay are on to a winner in building something that builds that community spirit. We plan to attend our local ParkPlay every Saturday, and I can't wait to see how it evolves going forward. 
If you want to find your local ParkPlay, head over to their website to find out more.