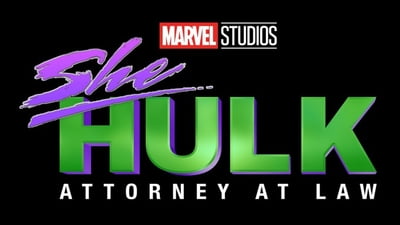 She-Hulk Season 1 Episode 1 Review
She-Hulk: Attorney at Law is the new series from the Marvel Cinematic Universe available to stream on Disney+.
*Contains Spoilers*
The Plot of Episode 1, "A Normal amount of Rage."
We are first introduced to Jennifer Walters as she addresses the viewers, seemingly breaking the fourth wall, which later transpires to be Jennifer addressing colleagues.
Straight away, Walters sets the episode's theme by questioning the role of those with power. Whether the obligation of those with is to refrain from the misuse of that power or whether they have to protect those without power.
This is her closing argument for her speech at a trial where she has been instructed to act for the prosecution.
We are introduced to Nikki Ramos and Dennis Bukowski. Nikki is a paralegal in the Los Angeles County District Attorney's office and is Jennifer's best friend. Dennis Bukowski is a fellow lawyer at the same office and is critical of Jennifer's rehearsal of the closing argument with misogynistic overtones. This theme will flow through the series.
Nikki identifies that at this point, Walters already has the Power of She-Hulk, leading to Walters breaking the fourth wall to address the audience and introduce a flash-back on how she became She-Hulk.
How Has Bruce Banner Returned To Human form?
We are then taken to the flashback explaining the origin of She-Hulk, and the first time we see Bruce Banner in the series. Bruce and Jennifer are on a road trip. Bruce Banner is explaining that he has created a device that he wears on his arm, which keeps him in human form. This Device has also contributed to the slow recovery of his arm that was damaged in Avengers: Endgame after using the infinity stones as "Smart Hulk" to repair the damage caused by Thanos and bringing the 50% of the population that disappeared within the "Blip".
Jennifer is explaining her theory that Captain America died as a Virgin.
The Creation of She-Hulk
At this point, a spaceship, that is later explained to be a Sakaaran Class-Eight Courier Craft (originating from the planet Sakaar, where Hulk is the mighty warrior and one of the main focal points of Thor: Ragnarok) appears in front of the car, forcing Jennifer to veer off the road. The Car flips and crashes, injuring them both. Jennifer escapes and removes Banner from the car, inadvertently causing his blood to enter a cut on her arm. This infusion of Banner's blood causes Jennifer to transform into She-Hulk.
Banner also transforms into the Smart-Hulk due to damage caused to the device on his arm.
She-Hulk storms off in an apparent fit of rage.
Let the Training begin.
In the next scene, Jennifer wakes up in a forest and makes her way to a sports bar. After an interaction with women in the bathroom, she exits and is catcalled and approached by men. After making misogynistic advances and comments by the men, Jennifer again transforms into She-Hulk and then is tackled by Smart-Hulk.
Jennifer then wakes up in Mexico in a bar and lab created by Bruce Banner and Tony Stark. Whilst there, Smart-Hulk explains the Genetic mutations they share and that Jennifer's new mutations allow Smart-Hulk to inject her blood into his arm to heal it completely.
Smart-Hulk then goes on to test Jennifer's triggers for transforming into She-Hulk and teaches her how to use her new powers and control her rage. However, it is apparent that Jennifer is able to control her emotions and rage much more efficiently than Bruce Banner, the difficulties that women face daily being the contributing factor.
The two end up fighting and destroying the bar in the process and making up whilst rebuilding the bar. Jennifer then returns to her life as a lawyer.
The Introduction to Titania
Back in the present, the court case where Walters is reading her closing arguments is interrupted by a woman violently bursting through a wall. Walters transforms and easily defeats her. The Identity of the woman is not yet revealed.
Review of She-Hulk
She-hulk, unlike other series that have recently been released by Marvel onto the disney+ platform, has a 32-minute runtime, which is significantly shorter than the other series episodes.
This created a noticeable rush to get important information over to the viewers. The prominent examples are the initial transformation of Jennifer Walters into She-Hulk and the Sakaaran spaceship, which are hoping is going to deliver a message to Banner about the Hulk's Son and maybe thus igniting of the World War Hulk Storyline.
However, this doesn't make the opening episode terrible by a long stretch. This is enjoyable, and with the confirmation of Matt Murdock / Daredevil joining the series at some point, I cannot wait to see what this season will have in store for us.
After the concerns that arose out of trailers relating to CGI, I can happily confirm that these were fixed at least mostly, and therefore visually, the scenes are just as good as what we expect to see from a full motion picture release.
This has been my most anticipated series from the MCU since Loki, and I have fingers and toes crossed that it won't disappoint.