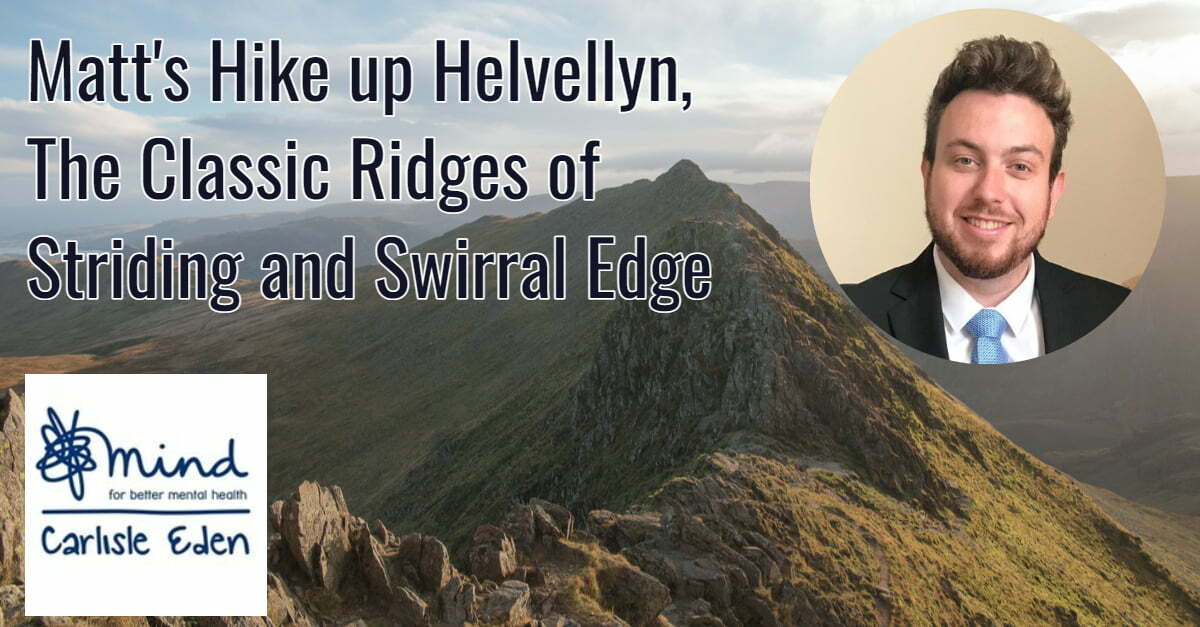 Our Very Own Matthew is taking a Hike! more specifically he is taking a hike up Helvellyn, The Classic Ridges of Striding and Swirral Edge. He is doing it all for a fantastic cause, which is to raise money for the charity Carlisle Eden Mind.
Why donate? well this is what Matthew says on his just giving page
I think it goes without saying that people now more than ever need access to mental health care. So many people were and still are affected by isolation, a change of routine or much worse because of the coronavirus pandemic. Due to the reduction in funding for mental health care services nationally the not for profit sector has been under immense pressure to do its bit in supporting vulnerable people. 

 

Even today, mental illness in our society is still treated with a negative stigma and misconceptions, and it needs to stop. Having a mental illness is many times invisible to those around you, especially when  dealing with high-functioning types of mental illness. 

1 in 4 people will experience a mental health problem of some kind each year in England. Reports from both England and Wales suggest that only 1 in 8 adults with a mental health problems are getting any sort of treatment and the most common treatment is medication [1].

It is organisations such as Carlisle Eden Mind that actively campaign for change whilst providing and working in close  conjunction with other local organisations to ensure that people get the help they need. If you want to donate please use this platform to make your donations. I can also take cash payments for donations from you which I would then put through this platform and give you full credit for in the side panel. I know that was easier for some of you last time.

All your donations are greatly appreciated! 
If you would like to support Matthew please click on the link below to visit his just giving page using the link below
https://www.justgiving.com/fundraising/mw-helvellyn-hike-2022