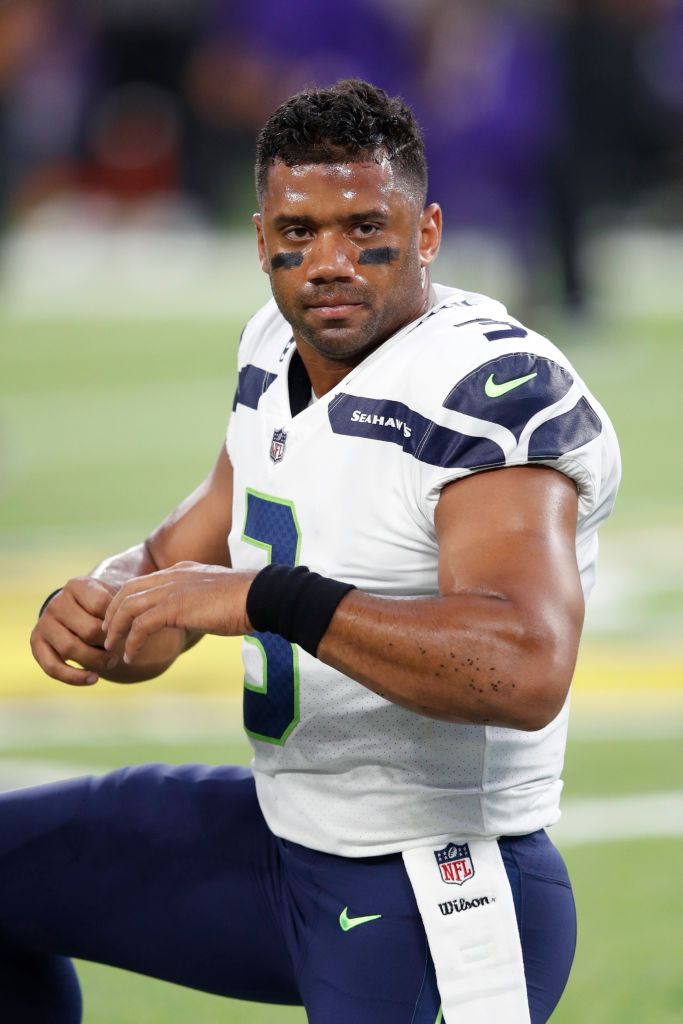 Not what you want to wake up to at 5:30am in the UK, your team has traded their star QB to Denver and has released a perennial pro bowl linebacker with 170 tackles last season.  There's so much to consider in the Russell Wilson trade that the Bobby Wagner release will have to wait for another day.
The Seahawks sent Wilson to Denver for two first round picks, two second round picks, a fifth rounder and three players (QB Drew Lock, DT Shelby Harris and TE Noah Fant), while sending a fourth round pick back to Denver.
The fourth round pick first, surely Denver wanted Wilson enough to be able to avoid giving them anything in return!  Not a big deal but just feels weird.
Wilson is 33 and is a 10 year veteran with a Superbowl win, another Superbowl appearance, all pro and Pro Bowl honours.  He has a no trade clause in his contract which he has to waive to be traded to the Broncos and that effectively meant that he got to choose who he was going to if a trade arose.
Apparently the Washington Commanders were also in trade talks and may have offered an even more lucrative package but why would Wilson want to spend his latter years at a disfunctional organisation in a humdrum division?  As it stands he will be competing in the best QB division in football, meeting Patrick Mahomes, Justin Herbert and Derek Carr twice every year.
As far as Wilson is concerned, I am not sure that the Broncos are quite as close to the Superbowl as the Rams were last year when trading for a QB the same age as Wilson in Matthew Stafford.  The Rams were willing to part with two first round picks a third round pick and QB Jared Goff for Stafford.  In comparison the Seahawks have gained more picks and players but Goff had taken the Rams to a Superbowl and is a serviceable NFL QB whereas Drew Lock clearly isn't.
The Rams had been a winning team four seasons in a row before Stafford arrived whereas the Broncos have had a losing record 5 seasons in a row.  Plenty of teams without star quarterbacks have had winning seasons in that stretch and I am not convinced that they are in "win now" mode to the extent that seems to be the common belief.  They do however, need a star quarterback even to compete in the AFC West and Wilson clearly improves them.
The million dollar question, what were the Seahawks thinking by trading away a top 10 quarterback in a league where you need one to have any chance of winning the biggest prize?  Here are my best guesses:
They see slight decline in Wilson and realise they don't have a strong enough roster to win a Superbowl. They didn't have significant draft capital (more on the reasons for that and what they might do with their new found picks below) or cap space to improve the team sufficiently to win in the next few years and thought that cashing in on Wilson now was the best long term move for the franchise.
Wilson just became too much like hard work in terms of his annual offseason trade rumours to take the risk of him declining and not getting a big haul in a trade. If he was playing like a top 3 QB I don't think they would have let him go but he has been up and down to some extent in recent years and doesn't justify that billing.
They have decided to go into a full rebuild despite Pete Carroll previously stating that he wanted no part of a rebuild in his 70s.
I guess it is probably a combination of a lot of factors but the Seahawks now find themselves with cap space, picks and a big hole and the most difficult position in professional sports. 
Draft capital is one thing but the ability to transform a team with it is quite another.  Just look at the list of sure thing quarterbacks over the last few years who have failed to even make it as regular starters let alone the transformative players they were billed to be.
And then there is John Schneider's recent record in the first round of the draft, Germain Ifedi, Rashad Penny and L J Collier being 3 of the last 4 with Jordyn Brooks the other.  Yes he has picked up value lower down the draft but this is the sharp end where it matters this time.
The Defence has suffered in the last few years with the loss of Jarran Reid and Frank Clark who have been going to Championship games and Superbowls with the Chiefs and a failure to address weakness at cornerback.  The salary cap issues that come into play in making those decisions are of course dependent on the amount of the cap taken up by the QB and whether that player is worth the sacrifice.  Wilson undoubtedly has been for most of his career, the winning seasons and playoff appearances are proof of that, but the concern must be that the curve is flattening out.
We will see soon enough what the Seahawks have planned, a trade for another veteran would seem strange given that none available are likely to be an improvement on Wilson.  The draft is widely viewed as the weakest QB class for a number of years.  Malik Willis has the arm and athletic traits that are the key to the modern game but by all accounts (including his own) is at least a year away from being able to start in the NFL.  Despite that, he may not be there at pick number 9 given the inflated value of any QB prospect in the current pass-centric climate.
Another option could be to build the roster and then add a QB a year or two down the line on a rookie deal which is the model the Seahawks followed when Wilson first joined the team
I generally don't like change and the thought of how difficult it is to find a top quarterback is a daunting one, however, it adds a bit of unpredictability and excitement to the next couple of years as a Seahawks fan.  The Seahawks weren't going to win another Superbowl with Wilson and the current roster (especially with his need for a new deal in a year or so), whether the trade will improve our chances time will only tell.  In John and Pete we trust!!