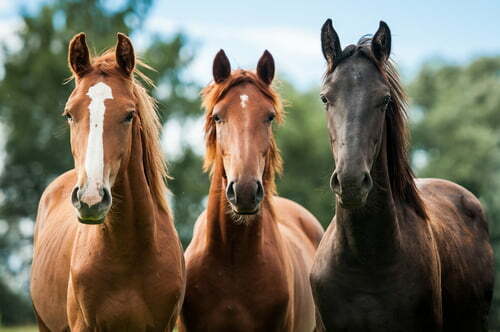 The horse is a hoofed herbivorous mammal of the Equidae family. But did you know that family comprises of a single species, Equus caballus?
There are well over 400 officially recognised breeds of horse and pony worldwide. A pony is simply a small horse where a full grown adult does not grow to more than 1.45 m (14.1 hands) high at the shoulder. There are around 17 native British breeds of horse and pony, as listed below:
Cleveland Bay
Clydesdale
Connemara
Dale Pony
Dartmoor Pony
Eriskay
Exmoor Pony
Fell Pony
Hackney
Highland Pony
New Forest Pony
Shetland Pony
Shire
Suffolk Punch
Thoroughbred
Welsh Cob Pony
Welsh Mountain Pony
Do you know your horses and ponies?  From the photographs provided in the quiz can you identify twelve of the listed horses and ponies?
Quiz Maker – powered by Riddle
That's one of our latest animal and wildlife quizzes. If you enjoyed taking the quiz, why not try some of our other wildlife and general knowledge quizzes? While you are here don't forget to sign up and join our growing community it's free and there could be a few rewards chucked in later on.
Header photo credit: Rita_Kochmarjova/Shutterstock.com