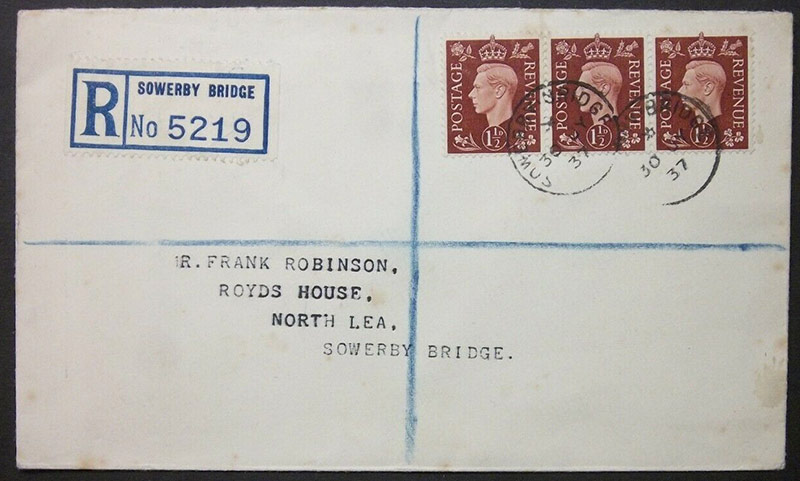 King George VI Definitive Set of 15 Stamps

The low-value George VI definitive issue may not have a great deal of thematic appeal, however, its classic design makes it a worthy addition to a general collection. The initial issue was only three stamps, however, the set would eventually span 15 issues and it took over 10 years to complete.
Getting the basic set is fairly straight, with used ones being common. Mint sets are a bit more expensive but even MNH are easily obtained.
This set is sometimes referred to as the dark colours set, as the six low values were reissued in a much lighter shade in 1941. Then in 1950, the six values were issued in different colours. Although they are part of the same design they are regarded as being separate sets.
Basic Set
The stamps were printed by Harrison & Sons who were responsible for most of the British stamps issued around that time and each is perf 15 x14.
The first three issues from the set were made available on 1oth May 1937. This was two days before his actual Coronation and the initial issue comprised the three values shown below.

The remaining values were issued on the following dates:
30th July 1937 1½d Red Brown
31st January 1938 2d Dark Orange & 3d Bluish Violet
21st November 1938 4d Blackish Green & 5d Brown
30th January 1939 6d Purple
27th February 1939  7d Yellowish Green & 8d Carmine Red
1st May 1939 9d Greenish Olive, 10d Turquoise Blue & 1 Shilling Ochre
29th December 1947 11d Plum
No additional Definitive values were issued during his reign.
First Day Covers
Putting together a full set of all eight separate FDCs you would need is considerably more challenging than getting a set. The original three stamps issued are quite common as such however it is a real challenge getting all 15 values.
Virtually all will be plain covers and at the time of writing, we have never managed to obtain the 6d value in any guise. If you are reading this and are lucky enough to have one please send us a picture of it.
A full set would make a great display and it's worth looking out for more interesting ones such as the registered one below.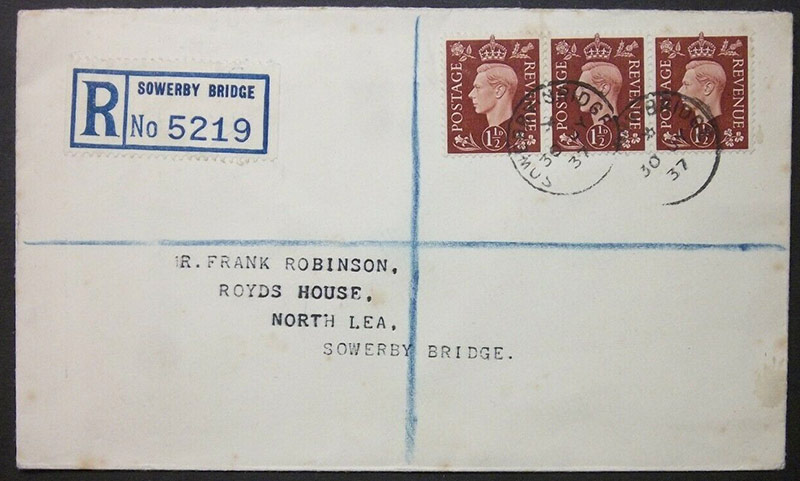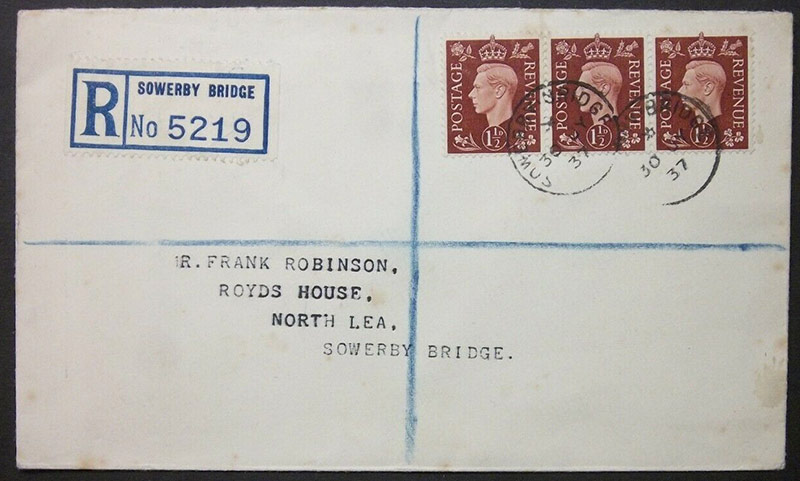 Commercial covers are quite common, but again getting the higher values with genuine postal usage can be tricky.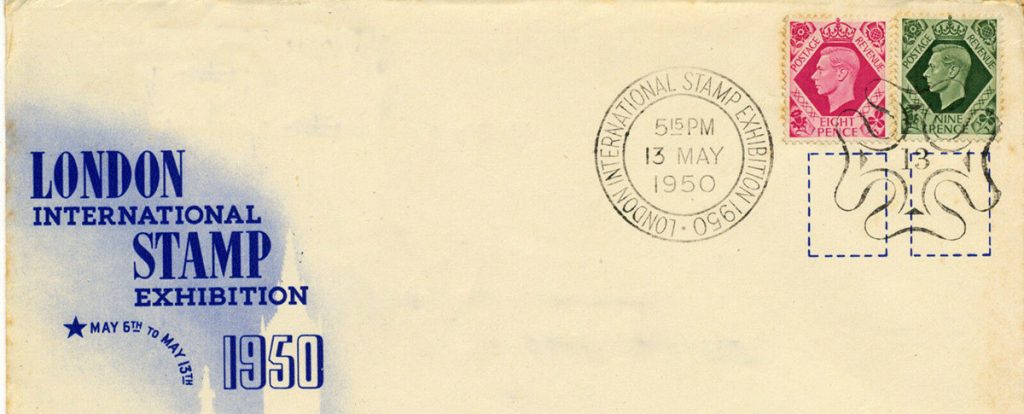 Most used higher values will be on philatelic covers such as above or ones sent by airmail.
Other Additions To The Collection
There are a few interesting varieties that can be added to any collection of this set and these vary greatly in price and availability.  These include…
Watermark Variations
The 1/2d -2 1/2d values all exist with both Sideways & Inverted watermarks, which although not instantly visible do appeal to the specialist. These are much more expensive than the five base values as normal stamps. Currently sets command 40-50 times more than the base stamps UM with untrimmed perforations.
Given they don't look any different from the front they are for the completest or investor only. These came from Booklets which are also highly collectable. Speaking of which…
Booklets & Booklet panes
There are a number of different booklets to collect and the individual panes are also very sought after. The latter are commoner and easier to display, however, if you are lucky enough to come across a booklet please keep it intact as they are becoming uncommon.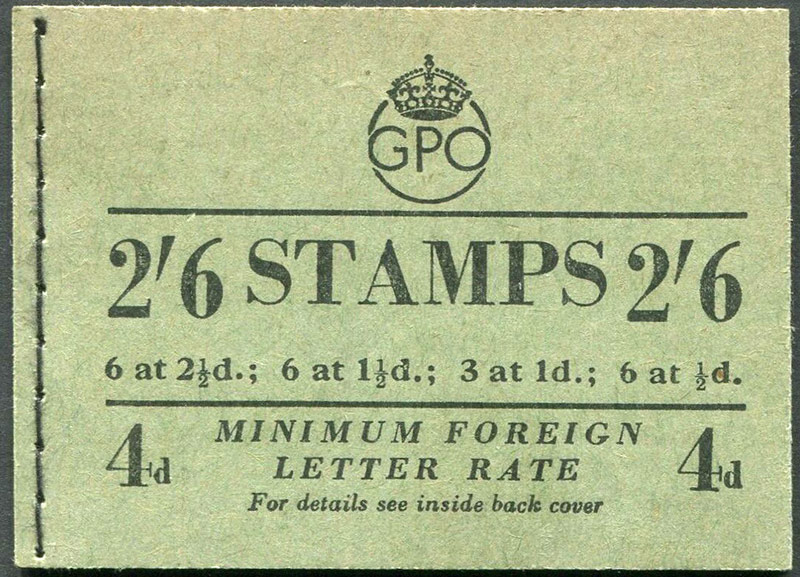 The above is one of the many issued during GVI's reign.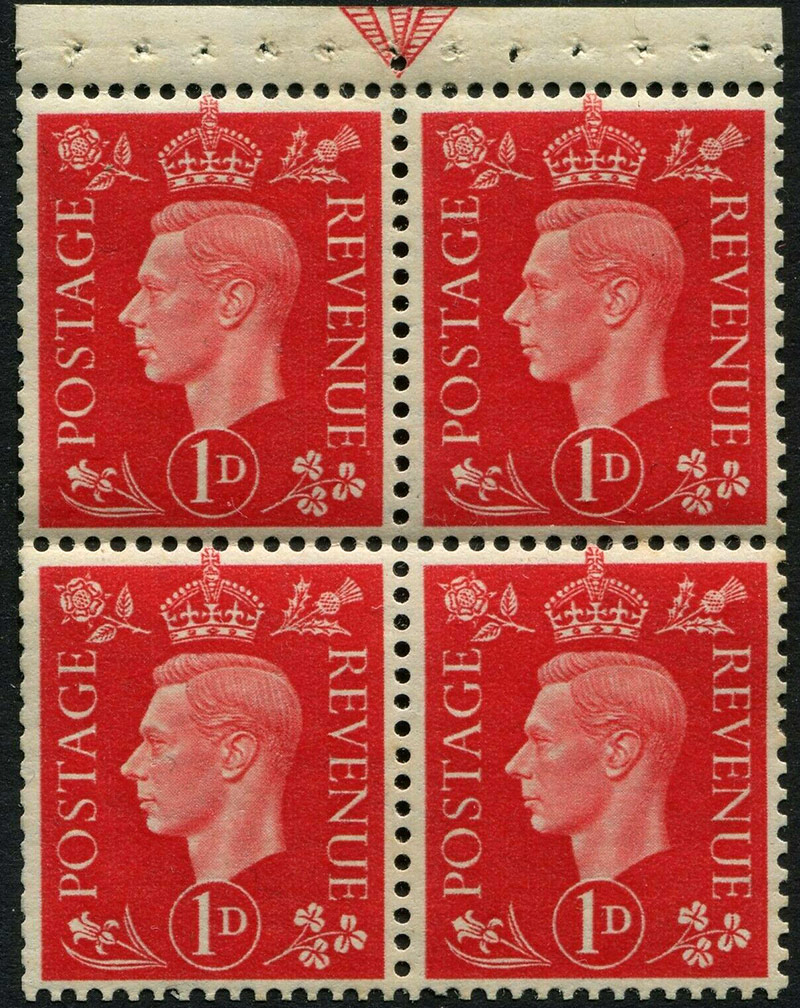 Booklet panes almost invariably show some degree of perforation trimming as above. Expect to pay a substantial premium for one with perfect perforations.
Cylinder Blocks
Again the lower values are often offered as cylinder blocks (usually of six stamps). There are a number of these and you could spend a few years trying to track down every variation. Still one of each value would make an attractive display.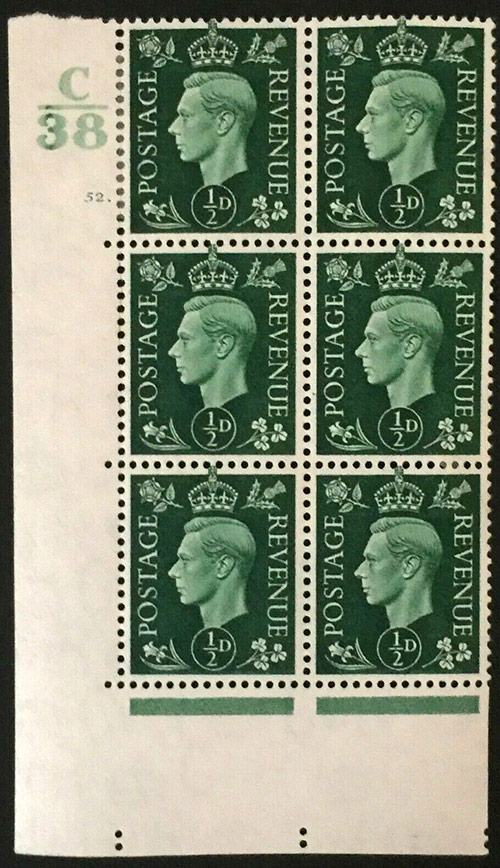 Exhibition Quality Items
If money (and Patience) is no object then you could add the rare imperforate values…
The 1937 1½d Red Brown exists imperforate on three sides (SG Catalogue number 464e) these are normally offered as mint pairs and the 2022 catalogue value as such is £6,500. The 4d Grey Green exists as above (468b), and also imperforate all round (468a). They are priced at £9,500 & £9,000 respectively.
The 5d Brown is similarly available (SG469a & b) and priced the same while the 7d Emerald Green (SG471a)is found imperf on three sides and is also priced at £9,000.  However, if you have just won the lottery and really want to push the boat out then you could seek out the elusive 10d Turquoise Blue (SG 474aa). They are listed but unpriced and we can't find any record of a pair having been sold recently.
If you are looking for a relatively affordable centrepiece you might want to consider the 1 shilling Ochre overprinted specimen (SG475s) They are hard to find but the price tag of £160 is more realistic for 99% of collectors.
Looking for more
We have plenty more articles on thematic stamps and even some quizzes about the subject to test your philatelic knowledge. Go on you know you want to…