Fish on Stamps is a popular theme and this 1977 set is an attractive one which was issued both as a set and a Minisheet.  It also has appeal for fishermen and could at a stretch even be included in a sporting thematic collection. The International Game Fish Association (IGFA) organises worldwide tournaments and fortunately, today catch and release is the norm.
Anyway, wherever this fits into a collection it is a relatively easy set to obtain and one worth adding.
Technical Details
The set was issued on 10th January 1977 and comprises four values. All are perf 14.5 and printed on unwatermarked paper. The denominations are as follows.
50c Nile Perch (Lates niloticus) Perca nilotica

The Nile Perch is one of the world's largest freshwater fish species reaching a maximum length of over six and a half feet and weighing 200kg. More typically they are around 4 1/2 feet but that is still pretty impressive. Locally they are known as Sangara or Sankara and they are native to both the Nile & The Congo. They were introduced into Lake Victoria in the 1950s probably to encourage game fishing. The Species is also identified as Lates niloticus just to confuse things.
1/- Nile Tilapia (Tilapia nilotica)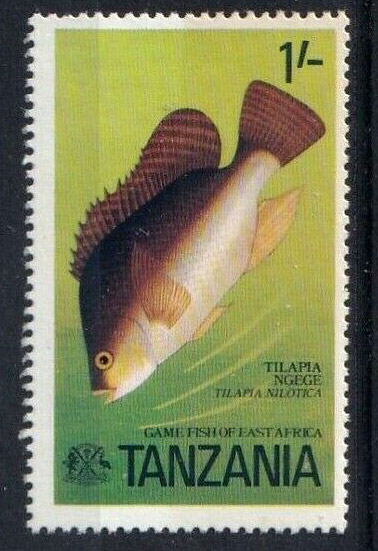 This species has numerous subspecies and is an important food fish throughout much of Africa and parts of Asia. It is much smaller than the Nile Perch typically growing to around 24 inches and weighing around 5kg. Not really a big game fish as such but one that does attract anglers.
Indo-Pacific Sailfish (Istiophorus platypterus)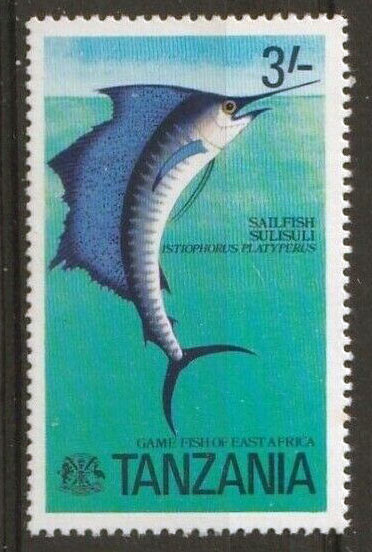 Sailfish are popular targets for big game anglers. Not as prestigious in this regard as the Marlin they are still hard-fighting fish and quite sizable reaching over 6 ft in length and as much as 100kg in weight. More typically they will be around70kg though. They are normally released after capture but are becoming less common due to being a byproduct catch of the Tuna industry. This is reflected in their IUCN status.
Black Marlin (Istiomax indica)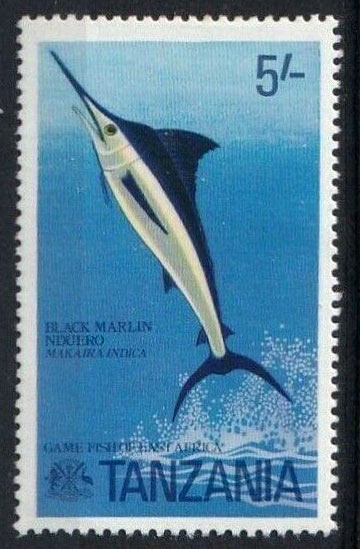 The Black Marlin is one of the most sought-after Big Game species. They can grow to over 1500lb and reach 15ft in length. They are also incredibly fast, although some of the reported speeds are maybe a bit exaggerated.  Fortunately, most are tagged and released nowadays after being caught unlike the specimen below.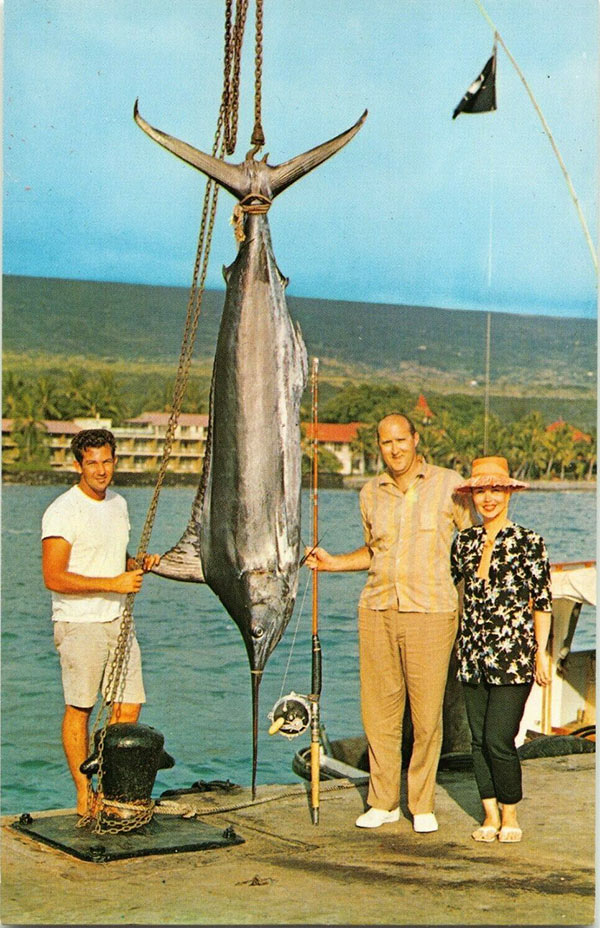 Mini Sheet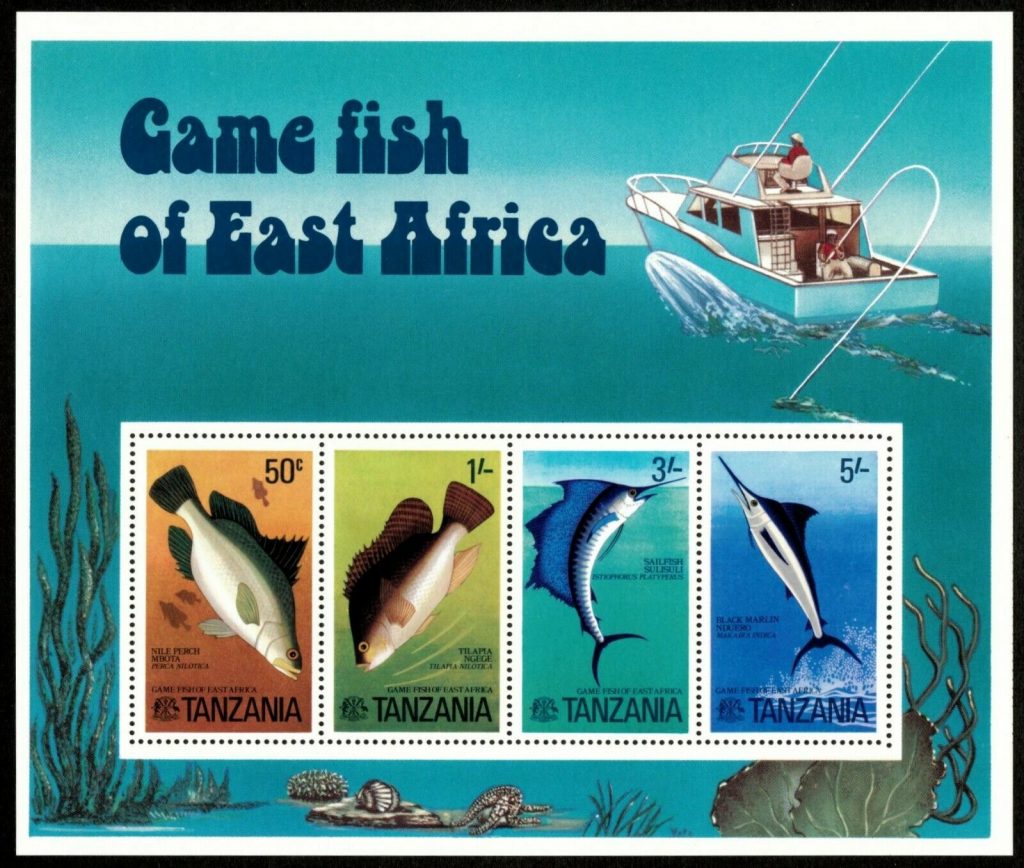 The set was also incorporated into a rather attractive mini-sheet. This contains all four stamps and makes a nice album page measuring 153mm x 128mm.
First Day Covers
An Official Illustrated First Day Cover (FDC) was issued although they don't seem to come up for sale very often. The one below from our collection is most unusual as the stamps were cancelled at the Kenya Stamp Bureau in Nairobi!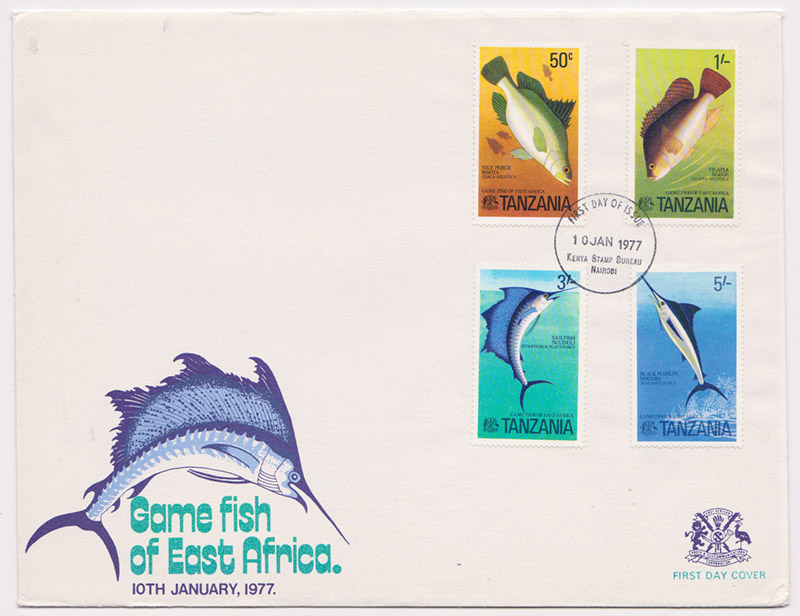 Commercial Usage.
Again there don't seem to be many commercial covers around bearing these stamps and most of the used examples we have seen seem to be CTO. If you have any please share your pictures with up.
Before you go why not check out some more of our other Thematic Stamp Articles and if you are not already a member join us. Its free and can be quite rewarding