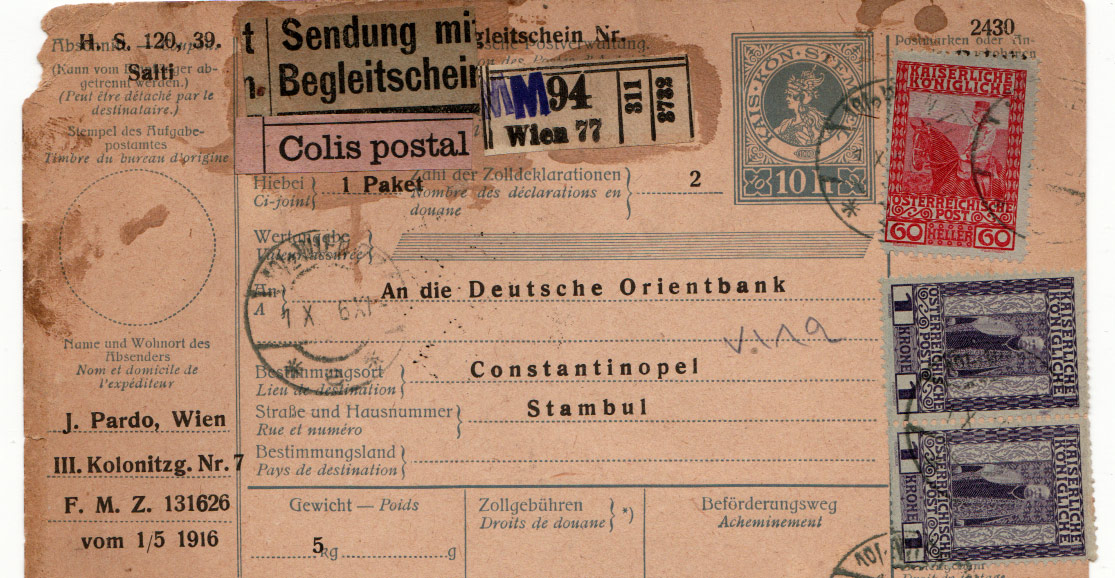 We continue our look at interesting and unusual postal history items this time looking a WWI period Austrian Parcel Post receipts. The two pictured below were sent to Constantinople which is of course now Istambul. Up until 1914, Austria had three post offices in the city and parcel cards can be found with Austrian Levant stamps affixed.
Although not common they do turn up and they make nice additions to either a postal history collection or either an Austria or Turkey collection.
1916 Vienna To Constantinople
The one below has as is the norm been upgraded with additional stamps. Here 3 values from 1908 The 60th Anniversary of the Reign of Emperor Franz Josef I have been added to make the 5kg rate. The stamps added are 1x 60h Carmine and a pair of the 1K Dark Violet. Both values are on blued paper and this is quite late usage, although millions were printed.
This one is again more interesting as it has an additional label "Sendung mit Begleitschein" which roughly translates to "consignment with accompanying document".  This must have been a big bundle and obviously not urgent, despite it being to a Bank. 
Date wise it is marked from (vom) 1/5 1916 but the posting datestamp is 1/10/1919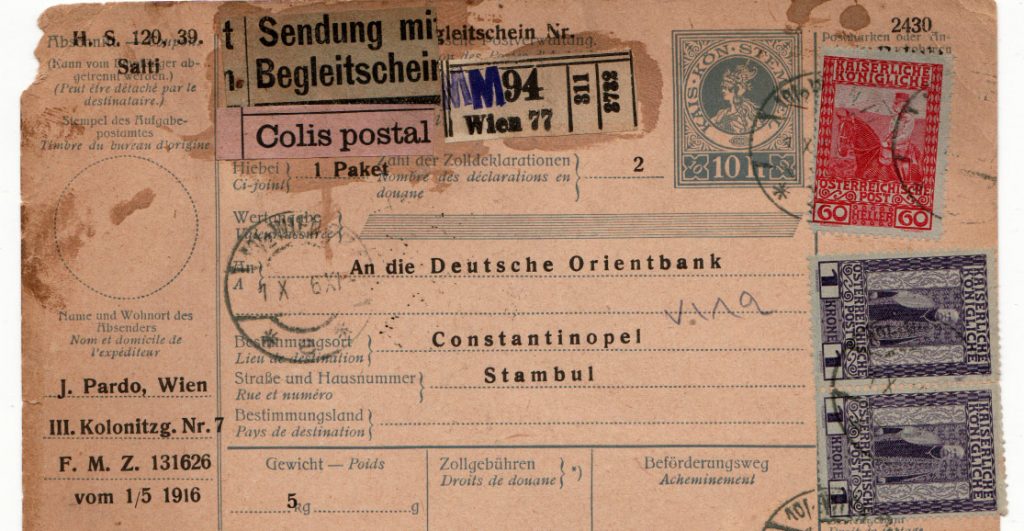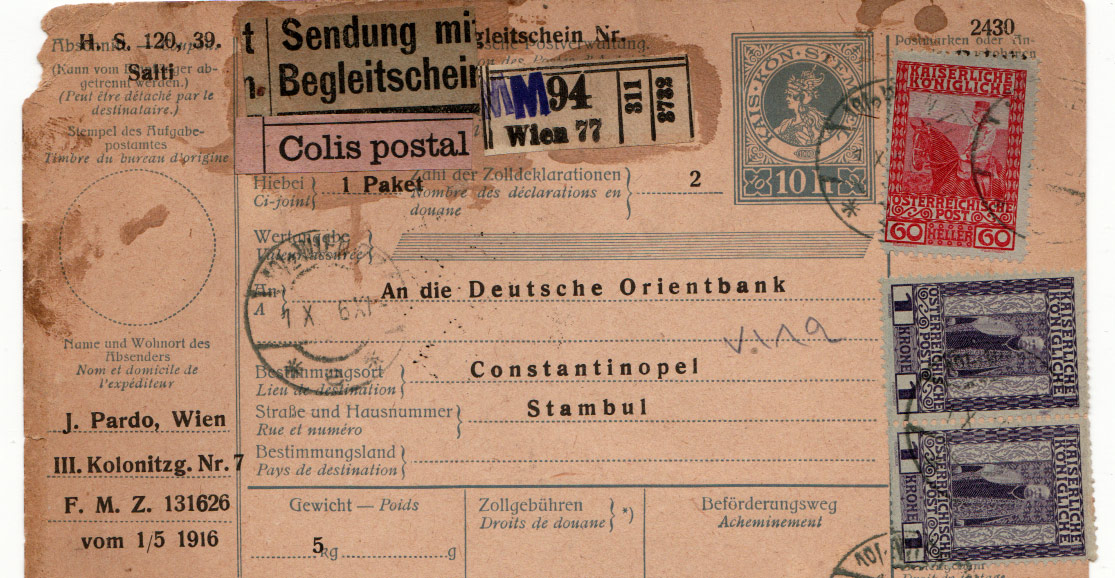 Reverse
This indicates that these cards were from the 1907 series and one of the two indistinct back stamps (looks like Joseph Abouaf) could be from the freight forwarder. What is a bit clearer though is the arrival date stamp which indicates it took 26 days to arrive! Well, it was wartime and turkey was quite turbulent at the time.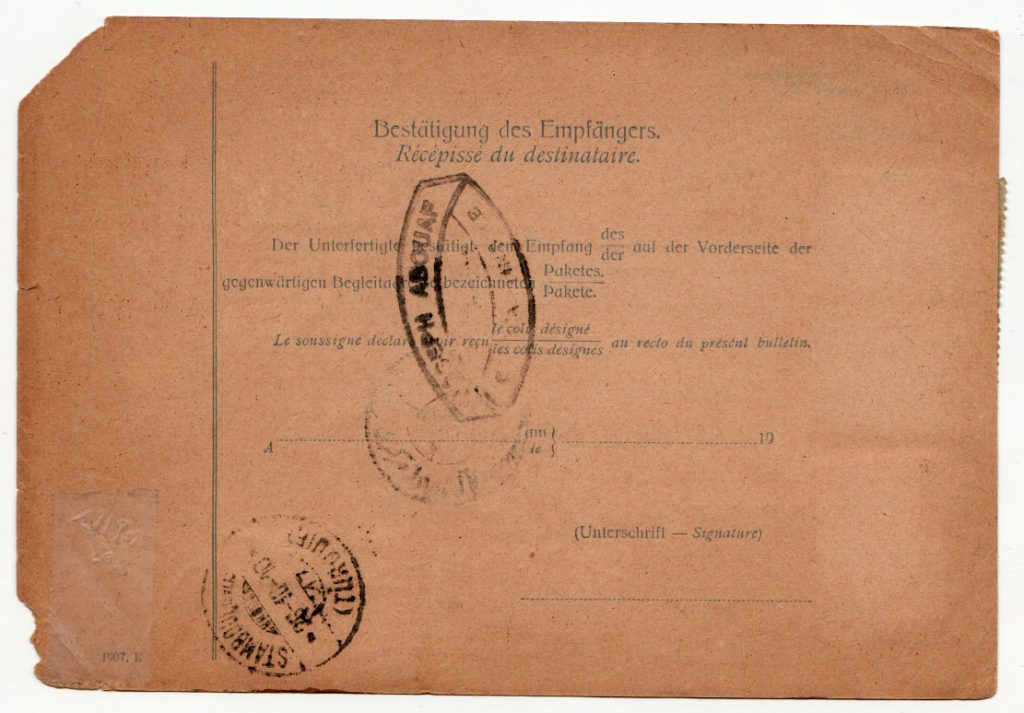 Rate Increase in 1917
The second one pictured below was also sent to Constantinople and again was uprated. The rate now was 2k – 95h for 3.8kg and three values from the 1916 Coat of Arms set were added. It was posted on 22-05-17.
Transit Marks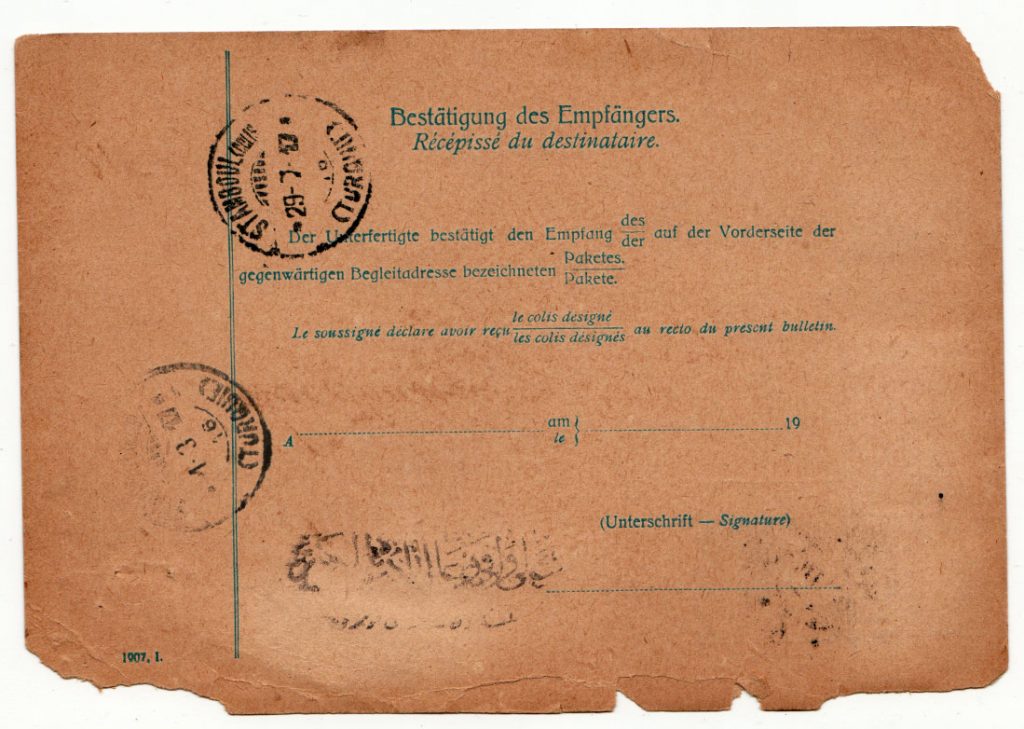 This one again seems to have taken its time in reaching its destination. The first date stamp is 29-7-17 and the latter 1-8-17.  Mind you this was some journey especially in 1917 when the Russian Revolution was kicking off. It is also well over 1000 miles and would have passed through Hungary, Serbia & Bulgaria making it a five-country journey. No wonder most remaining cards are a little worse for wear!
We hope you found this interesting and if you have any examples in your collection please send us a picture as we are trying to build up more details about them.
While you are here why not check out our other postal history articles.