People On Stamps Thematics
One of the side benefits of stamp collecting is that you get to expand your general knowledge and in this instance learn about someone you probably know very little about. In this instance the set below honours one of Brazil's most important individuals and one that is still venerated today.
Jose de Anchieta
Joseph of Anchieta was one of the most influential missionaries sent to Brazil in the 16th Century. He arrived in Brazil in 1553, surviving a shipwreck and going on to be part of the Mission that is credited with forming modern-day Sao Paolo. Despite having impaired health he would go on to be one of the era's great anthropologists and naturalists. He was also a prolific writer and an accomplished Physician. He is venerated to this day being a Saint of the Roman Catholic Church and there is a Shrine in Brazil located in the Town now named after him.
The Stamp Set
Brazil 1934 Jose de Anchieta Set
This set of four stamps was issued on 8th November 1934 to commemorate the 400th Anniversary of his birth. They all depict the same image and are printed on watermarked paper.  The perforation type varies being either perf 11-1/4 0r 12.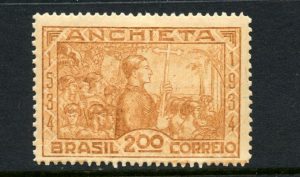 200R Yellowish Brown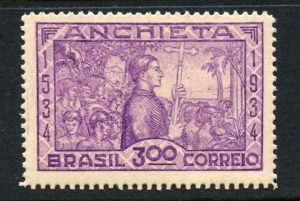 300R Violet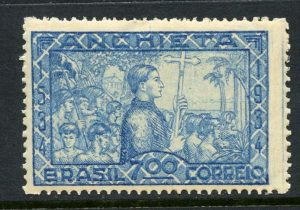 700R Blue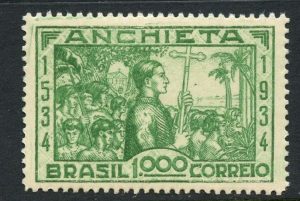 1000R Green
They have a classic design and are a set worthy of a place in any Famous People Thematic Collection. An odd value is also an interesting addition to any junior collection where some research into the person's history could be encouraged.
Covers
Finding postally used examples on cover is a bit of a challenge.  Further, although some must exist we have never seen a set on FDC. The example below is a Zeppelin Flown cover obviously philatelic in nature but still a lovely display piece.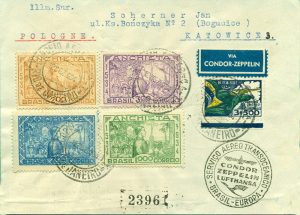 Thinking of buying a Set
The set is relatively affordable either mint or used, however, UM sets are quite hard to find. It is unlikely that they will ever be considered investment-worthy, however, covers such as the one above will always find a buyer.
If you collect Thematics then please check out some of our other articles or why not try some of our stamps-themed quizzes.