Although covers bearing stamps of the Third Reich are fairly common those used immediately after the end of WWII are not. This is for a variety of reasons including the partial suspension of postal services and that from the 8th of May 1945 all Reich-issued stamps became invalid. However, due to the absence of any alternative, they were still used in some of the Occupied Postal Districts (OPD).
These are now referred to as "Saxon Obliterations" and they are a stand-alone collecting area specialist area as well as being part of any German general collection.  The cover below is an interesting example and one of the latest dated we have seen. If you have one dated later please let us know.
Provisional Use of Invalid Stamps, "Saxon Obliterations" Background
These issues stems from the suspension of postal services following the allied occupation. Generally speaking, the OPD restarted services on May 23, 1945. However, in the Soviet-controlled districts, particularly the Chemnitz postal service was not interrupted. Here it was decreed that until new stamps could be issued, any German Reich stamps that were valid on May 8. 1945 could continue to be used.
The proviso to this was that the head of a certain individual and or any reference to the national socialist symbols depicted had to be rendered unrecognizable. The postage value had to remain legible. for the obvious reason but otherwise, the form of obliteration was not specified. Although most come from the Chemnitz postal area some were also issued in both Dresden & Leipzig despite the latter initially being occupied by the Americans.
According to the Michel Catalogue, only stamps postmarked on or after the 8th of May can be classified as such and thus they are mainly collected on paper or cover. This is because many such stamps could have come from mail that was held over. This refers to mail posted prior to the stamps becoming invalid which was delivered sometime later. Many such pieces of mail also had the offending images defaced, however, they were officially posted and thus not as rare. The exception to this is where there are identifiable special obliterations listed however these tended to be philatelic in nature.
Example Cover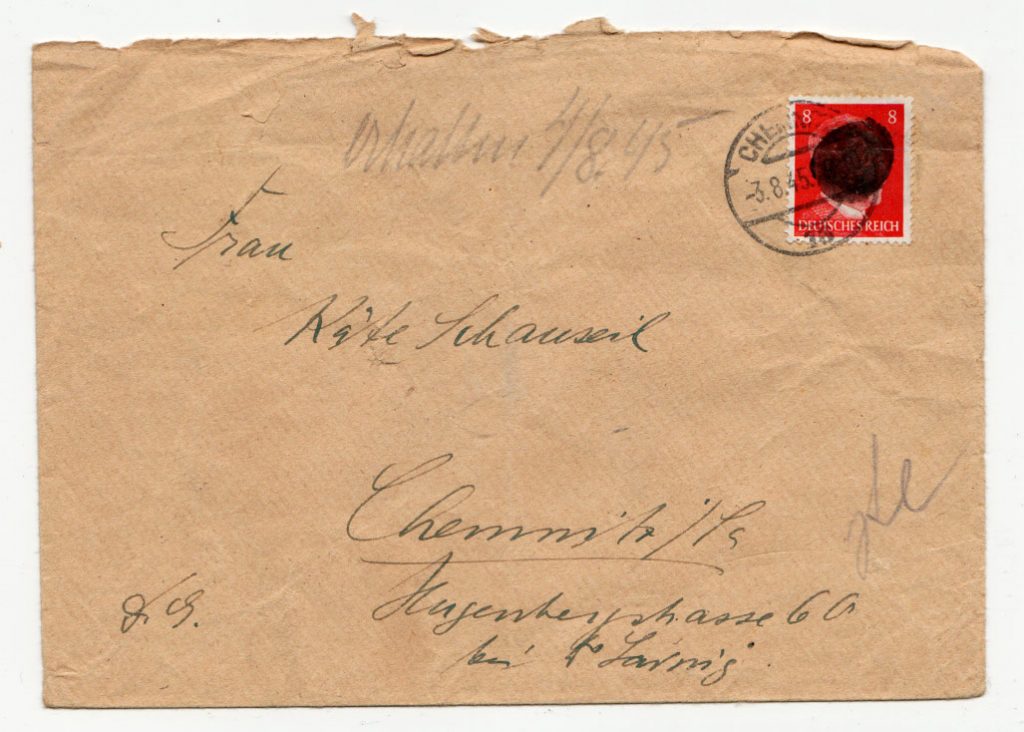 This example from our collection is almost certainly commercially used. It was posted on the 3rd August 1945 within Chemnitz itself, thus there are no transit marks. Although possibly not clear from the scan it appears it was obliterated by a fingerprint. The stamp attached is the 8pf Cinnabar from the Hitler – New Daily Stamps definitive issue, which was first issued in 1941. They were in circulation until 1945 so fell under the valid category.
It didn't take long for the RPD to start issuing its own stamps, all be it on a local level and thus finding ones dated into August is quite unusual.  The Stampboards forum has an interesting thread regarding these, which you can find here.
If this is your collecting field please check out our other postal history articles.