1966 BAT Churchill Omnibus Set – One to look out for.
The British Antarctic Territories (BAT) has always been a popular area with stamp collectors, due to their conservative issuing policy and generally interesting subject matter.  They first issued a Definitive set in 1963 and three years later for their second-ever stamp set, they issued this set.
It came out exactly 12 months after Churchill's death and followed the format of another 33 British Crown Colonies who collectively issued what is known as an Omnibus set.  This means that each country used the same design and colour scheme with the only difference being the country's name and the currency denomination.
This set along with that from Hong Kong is the most expensive and desirable of the set.
1966 BAT Set Details
The stamps came out on the 24th of January 1966 and they were printed on Crown over CA watermarked paper. All denominations are perf 14 and the face values are 1/2d, 1d, 1 shilling and 2 shillings.
The denominations all depict Sir Winston Churchill & and an image of St. Paul's Cathedral during the WWII Blitz and were as follows:
1/2d Blue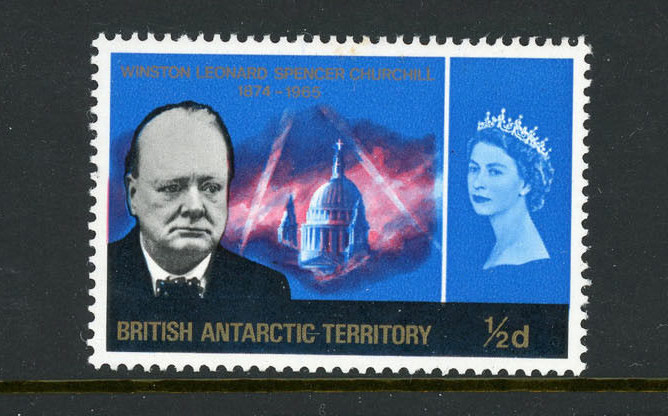 1d Green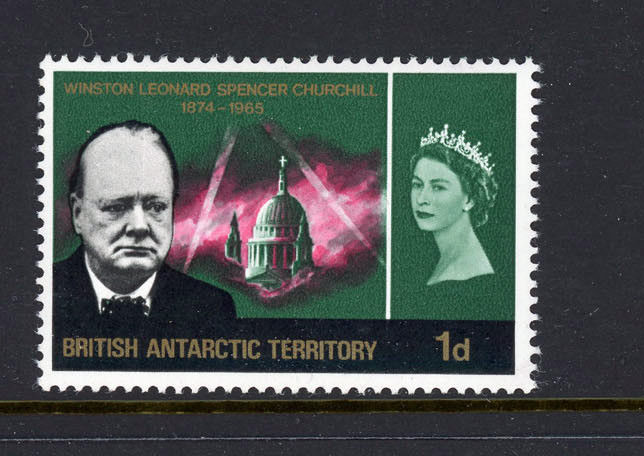 1 Shilling Brown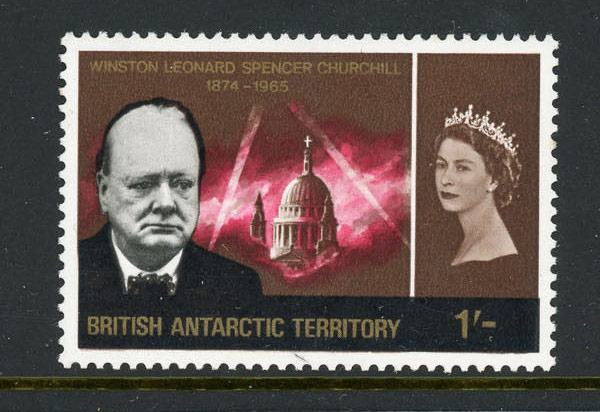 2 Shilling Purple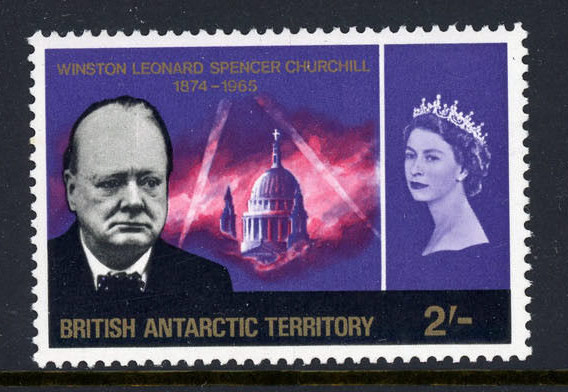 First Day Covers
A number of First Day Covers were issued and they are pretty much the only source of used examples. There are a number of different cancellations and these add another collecting area to this set. One which is nice to have given, genuine postally used examples are few and far between.  Some examples are below:
Signy Island South Orkneys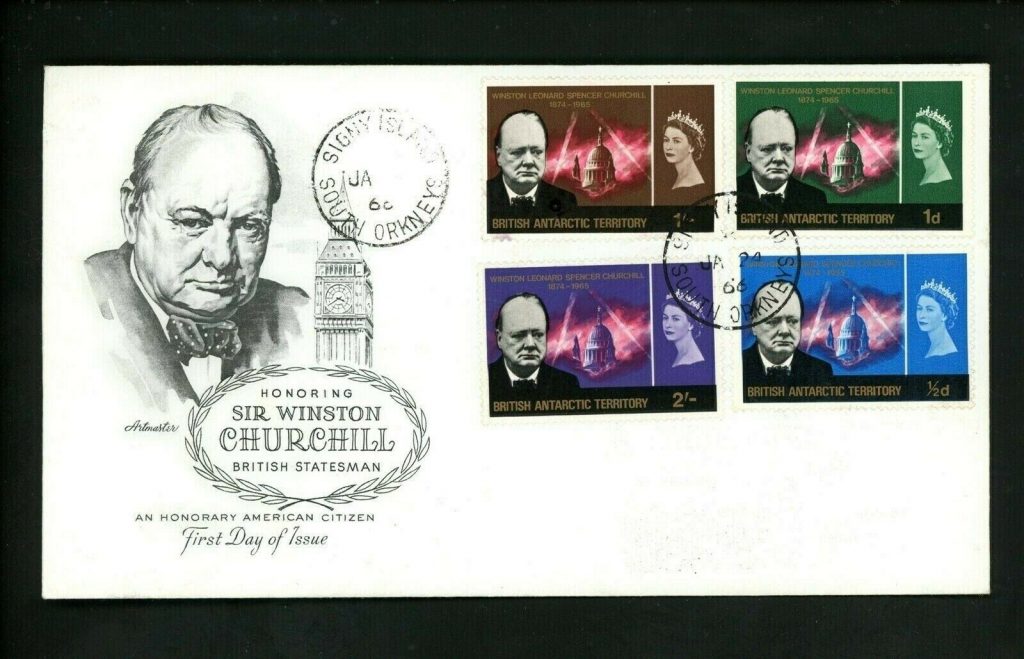 Deception Island South Shetlands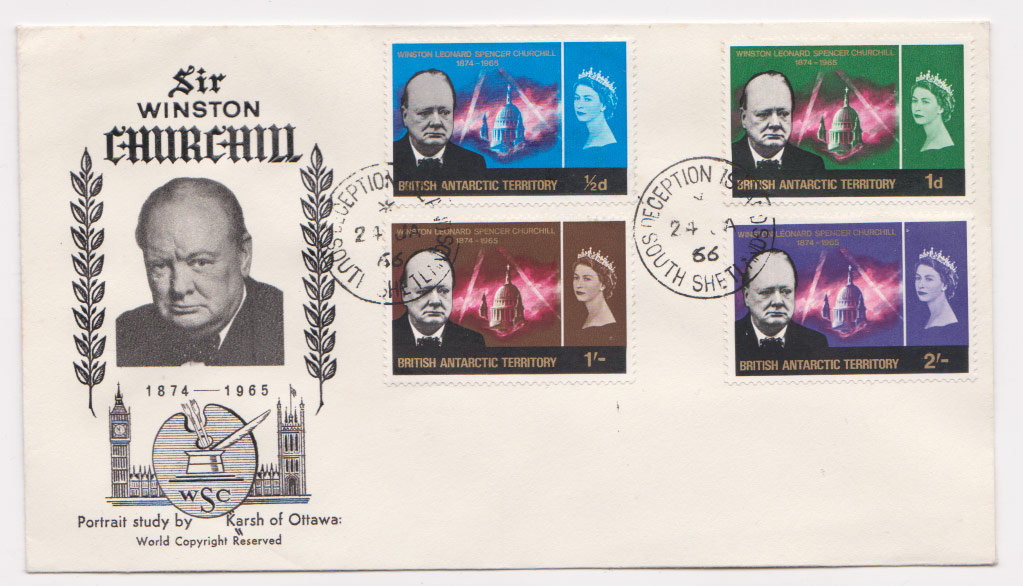 Postally used items
The cover below is undoubtedly Philatelic given the full set would not be needed to cover the postage cost even by airmail. However similar items on the odd occasion they turn up are again nice additions to an album page.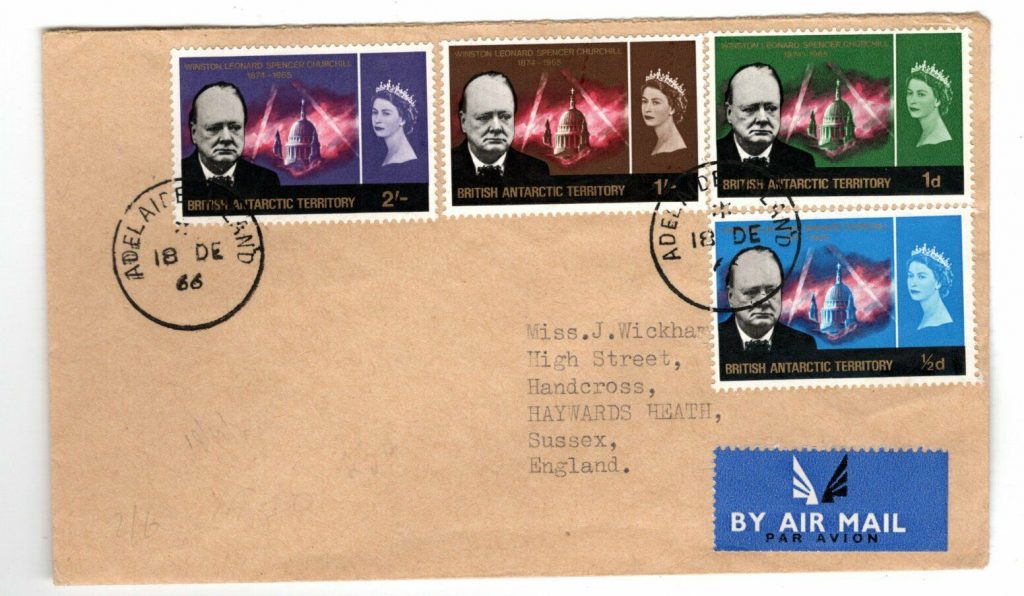 Thinking of Buying a Set?
Prices on this set seem to fluctuate widely and it is well worth shopping around. If you just want a set for display then mounted mint ones are reasonably priced and quite plentiful. Used ones are almost invariably CTO or soaked off of FDSs. They are still nice to have and are like mounted mint sets quite reasonably priced.
However, if you want something that might give you your investment back in the future go for a pristine MNH set.
If you collect Thematics then please check out some of our other articles or why not try some of our stamps themed quizzes.