Carlisle United are probably Cumbria's best-supported team and are widely known for their prowess in the Football League Trophy, a Final they have reached a record six times! They have been members of the football league pretty much continuously since joining in 1928 and enjoyed a staggering amount of success for a club of their stature in the mid-1960s to mid-1970s.  The pinnacle of these was on 24 August 1974 when they sat atop the First Division after winning their opening three games!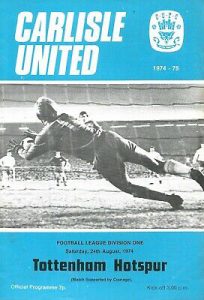 They also reached the FA Cup quarter Finals that year – losing narrowly to eventual beaten finalists Fulham 1-0 and they were league cup semi Finalists in 1969-70 season winning the 1st leg 1-0 before succumbing 4-1 in the second leg to WBA.
Carlisle United In the Football League Trophy
In recent years Carlisle United's success has mostly been in the Football League trophy where they have been winners in 1997 and 2011 and finalists in 1995, 2003, 2006 & 2010. That's four trips to Wembley and two to the Millenium Stadium in Cardiff in 17 years! Some consolation for their near-miss in 1970.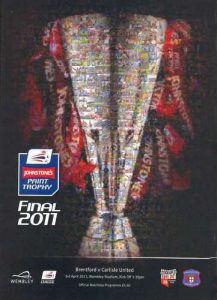 You can see some highlights from their 1994-95 appearance below:
More Recently
Carlisle has played in League Two since 2014-15 and reached the playoff semi-finals in 2016-17. They had a bit of a disappointing season last year but at the time of writing (2021) look like gaining promotion to League One under the inspired guidance of recently appointed manager Chris Beech.
List of Honours
Football League Second Division / Championship (second tier)
3rd place – Promoted: 1973–74
Football League Third Division / League One (third tier)
Champions: 1964–65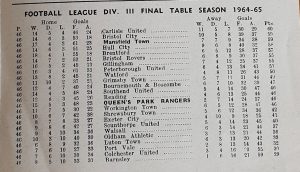 2nd place promotion: 1981–82
Football League Fourth Division / League Two (4th tier)
Champions: 1994–95, 2005–06
2nd place promotion: 1963–64
3rd place promotion: 1996–97
4th place promotion: 1961–62
Conference National (fifth tier)
Play-off winners: 2004–05
Football League Trophy
Winners: 1996–97, 2010–11
Runners-up: 1994–95, 2002–03, 2005–06, 2009–10
Lancashire Combination Division One
Runners-up: 1907–08
Lancashire Combination Division Two
Champions: 1906–07
North Eastern League
Champions: 1921–22
Runners-up: 1927–28
Club Details
Below is some information you will find useful if you are planning to watch a game or just want to keep abreast of their performances.
Carlisle United Football Club 1921 Ltd
Brunton Park
Warwick Road
Carlisle
CA1 1LL
Carlisle United On Social Media
So there you have it our quick guide to Carlisle United. If you want to see what else Cumbria has to offer check out our Your Cumbria home page here. Or for more information on the City, its self why not have a look at our Carlisle Guide.
Published in Carlisle, League Two, Team Pages
Recommend

0

recommendations