South West Africa (SWA) stamps have long been popular with collectors thanks to their varied history and conservative issuing policy. You can read a little more about what is modern-day Namibia here but in meantime, we are going to look at a classic set from the 1950s.
South-West Africa 1954 Definitive Set
This set of 12 stamps was issued on Nov. 15, 1954, and is one of only three sets that the country issued during the decade. It served as the main definitive set right up until February 1961 when the South African Rand was introduced. From a thematic perspective, it is slightly unusual as it covers a range of things, however, all are related to indigenous subjects.
The Low Values

The four low values pictured above feature rock paintings but most do have an animal theme to them too! The 2d one depicts the famous White Lady cave painting which was discovered back in 1918.
The Mid Values

The mid values start off with the attractive 4 1/2d blue which shows a young Karakul Sheep, while the other three values depict Women from the Ovambo & Herero people.
The Top Values

The top values particularly the three high denominations are very popular with thematic collectors. If you are looking to buy a set it's these top values that make up the bulk of the cost. They depict a lioness, a Cape oryx and an elephant, respectively and animal topicals collectors will often just want these three values. However, we think it's a great set to have complete whatever your collecting interest and even the cave paintings have some wildlife interest.
If buying the set in the hope of selling it someday then buy them in Unmounted Mint (UM) condition. Expect to pay a high proportion of catalogue value though and be prepared to hunt around as they are in demand as such.
Hinged mint sets currently (2021) seem to sell for about a third of the UM price while used stamps are fairly common. The exception is the 10/- Green which is sought after in any condition. Used lower values are often included in cheap starter stamp packets so getting a few examples is not hard.
South West Africa Stamps For The Specialist
The 1d Brown & 6d Green are found with a variation in the watermark (horns to the right). These are worth a significant multiple of the originals so worth looking for especially in packets of used ones. Commercially used covers are scarce- especially franked with the higher values.  Similarly, First Day Covers (FDC) rarely turn up.
If you do find an envelope or even a stamp used on paper with a nice postmark, resist the temptation to soak them off as they will be worth a multiple of the used value.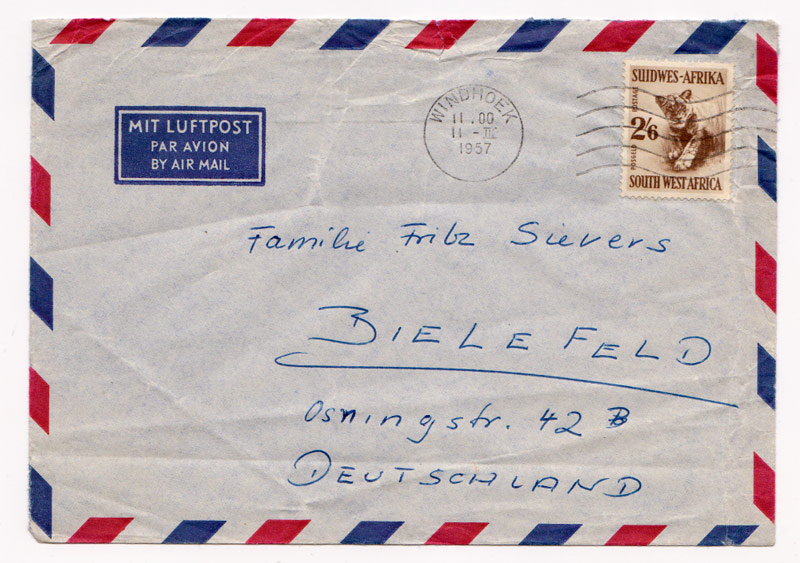 1960 South West Africa Reissues
The four low values were reissued in 1960 along with the 1/- 6d Purple.  These had a change of watermark but are otherwise identical down to the perforation. They are more of interest to the country collector or specialist. These later watermarks are more expensive than the early issue and it's always worth checking any set you have.
The 6d Myrtle Green is also listed in the Stanley Gibbons catalogue as 169a but it is not clear if it was officially issued. It is exceptionally rare and has a price tag to match.
We have more articles on thematic stamps and even some quizzes about the subject to test your philatelic knowledge if you fancy having a go.