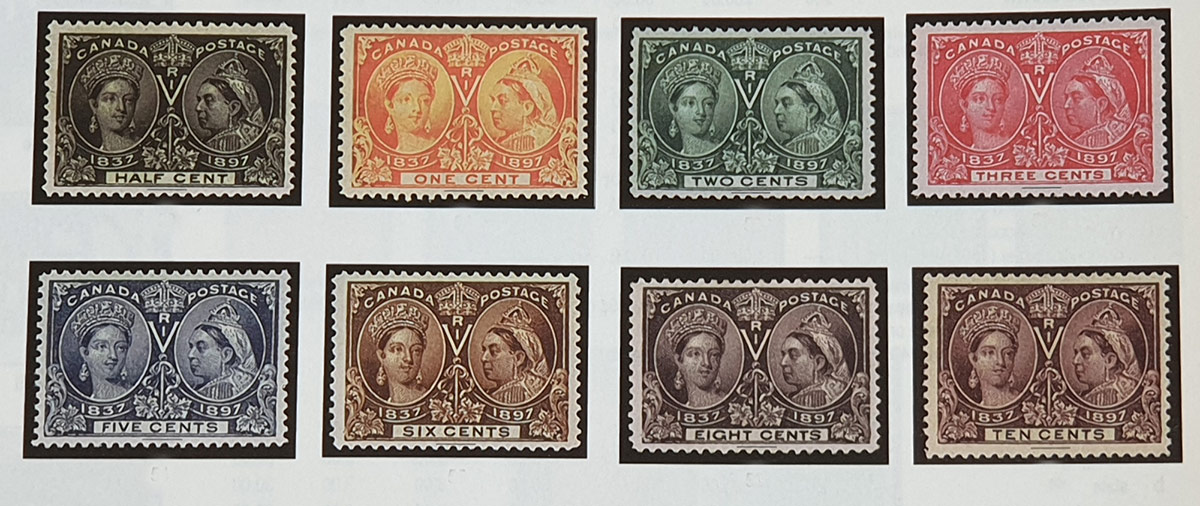 If you are looking for an iconic stamp set from the late nineteenth century then the 1897 Queen Victoria Diamond Jubilee Set is one to consider. They are pricy (especially mint or VFU) but their design is timeless.
The stamps were printed by the America Bank Note Company and the set was issued on 19th June 1897.  All stamps are perf 12 and the low values (1/2c -8c) were issued in panes of 100. The higher values were in panes of 50 and these values saw comparatively little postal usage.
The reason for this is obvious given the local postage rate at the time was 2c per ounce and 3c to the USA. Thus even the largest of letters would never weigh enough to require the $ values. However, these are found postally used with parcel cancels and on rare occasions with Newspaper mailing cancels.
The print runs reflect this with the issued numbers varying from as few as 13,500 to an eye-watering 20 Million. So at best only a few thousand sets exist today, however, adding some of the commoner examples to a general collection is easy enough.
Print Runs
The print runs on each value are as follows:
1/2c Black 150,000 
1c Orange 8,000,000
2c Green 2,500,000
3c Bright Rose 20,000,000
5c Deep Blue 750,000
6c Yellow Brown 75,000
8c Dark Violet 200,000
10c Violet Brown 150,000
15c Steel Blue 100,000
20c Vermillion 100,000 
50c Ultramarine 100,000
$1 Lake Red 24,900
$2 Dark Purple 25,000
$3 Yellow Bistre 13,500
$4 Purple 14,500
$5 Olive Green 16,500
The higher print runs on the 5c & 8c are accounted for by the Registered rate. This was 8c and would normally be made up of a 3c – 5c combination or the single 8c value. The 3c was also the domestic and USA rate at the time and thus had significant demand. This brings us to their postal use…
Postally Used Covers
Covers franked with the 3c value are comparatively common given their large print run and generally high usage rate. This as mentioned above covered the rate both domestic (non Local) and to the USA so it got plenty of use. There was a local 2c per oz rate too however this saw much less usage, and thus they don't seem to turn up very often.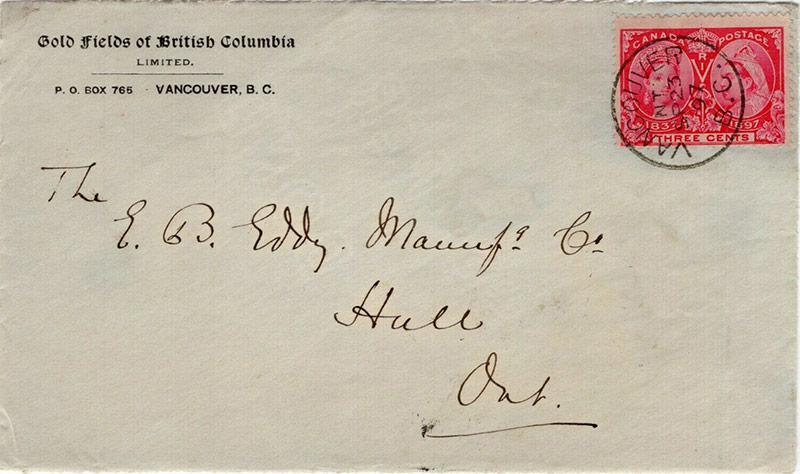 Other values or combinations are not easy to find, with the next most often encountered being the registered rate of 8c (5c extra for registration). This is typically a combination of the 5c & 3c, however, other frankings to make the rate do turn up. Another relatively frequently encountered is a strip of 1c Orange stamps used to make up the 3c rate.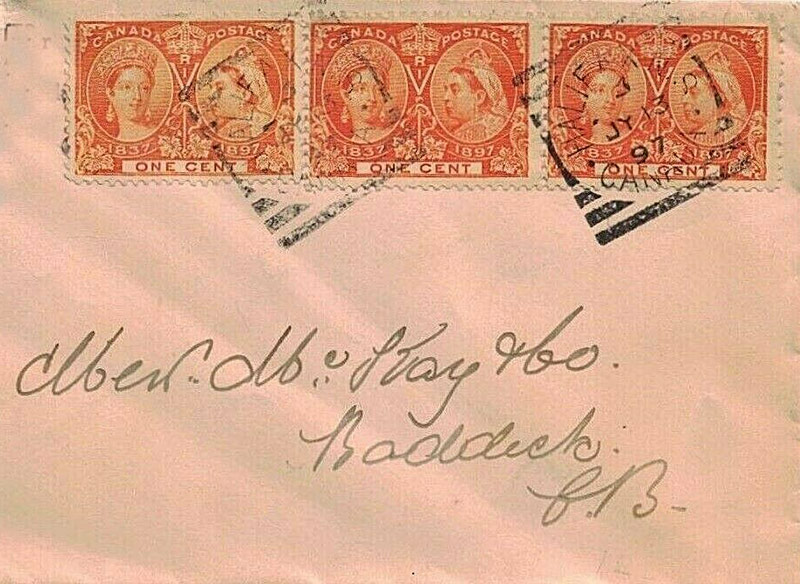 The 1/2c Black doesn't seem to have any use other than making up part of the set and is rarely found used never mind on a postal cover.
First Day Covers.
We have never seen one but must assume that some exist given that the hobby was popular then and some stamps will have been used commercially on the 19th of June. If anyone has one please send us a picture.
Other Additions To A Collection
If you are lucky enough to have completed the basic set (or you have had a lottery win) there are a few specialist items that you could add to what would be an Exhibition quality collection. You would need to be patient and observant to acquire them as they don't turn up often but just in case here we go…
Precancels.
These exist both on and off cover, and although it is possible that all values were issued as such we have only seen the following…
1c, 2c, 3c, 5c, 10c, 15c, 20c, 50c & $1 & $2.
They invariably have what is known as the Canadian Bar Precancel, and these occasionally turn up off paper in junior albums of the time. They often go unidentified by the non-specialist and given they are worth a premium (substantial on some values) they are worth searching out.
The example below is typical of what to look for…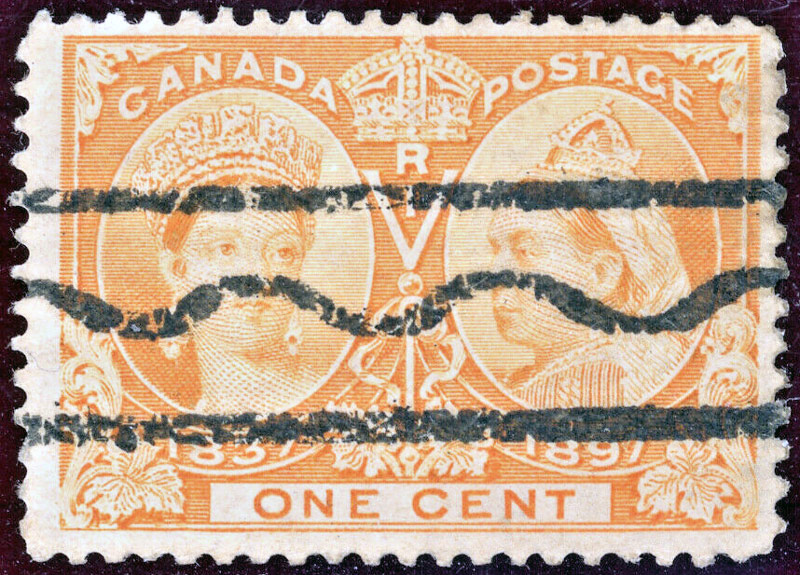 Plate Proofs
The set exists as imperf proofs and despite these having a low print run they are comparatively inexpensive compared to a mint set. The 3c value had the most printed at 3,000 while the lowest is the $1 with only 400. Odd values do turn up from time to time and the 5c value actually has three listed shades for the proof!
Blocks & Multiples
The low values are relatively easy to obtain as mint multiples but do come with a sizable price tag, especially those with an imprint or even sheet margins. A block of any low value does add a nice extra dimension to any album page though.
Specimen Overprints
The seven values from 20c – $5 all exist overprinted Specimen. These are quite scarce but in most cases are valued lower than the corresponding mint stamp.  Odd values again turn up from time to time however if you wanted a complete set then you would have to wait for one of the major auction houses to have a Canada Day.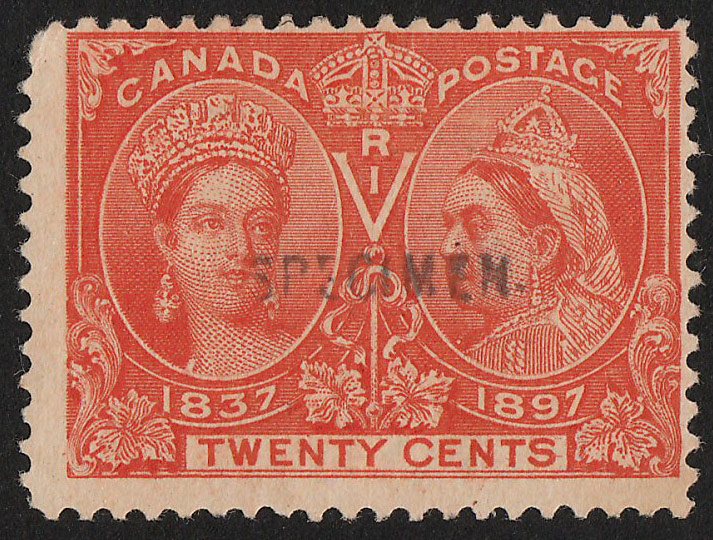 Errors
The only major error noted for this set is found on the 3c Bright Rose. Here two stamps are known to exist imperforate on the bottom margin. These probably came from a single sheet so there could be eight others still to be discovered. However, if you are seriously looking to add a little extra to a Canada Diamond Jubilee collection then there are a number of both major & minor plate re-entries noted. If that's something that interests you then getting the Canadian Unitrade specialized catalogue is the place to start.
Reproductions
The top values have been reprinted on a few occasions and command highish prices even as such. Some are pretty convincing too and make no reference to their status.  So if you are ever lucky enough to be in the market for a genuine example of the rarer values get one with an RPS Certificate or similar.
Looking for more
So ends our look at this iconic stamp set. It is definitely one to aspire to, but fortunately, some values are well within reach of even the junior collector. Plus of course, there are hidden gems like pre-cancels and re-entries waiting to be found. Before you go why not check out our other articles and we even some quizzes about the subject to test your philatelic knowledge. Go on you know you want to have a go…