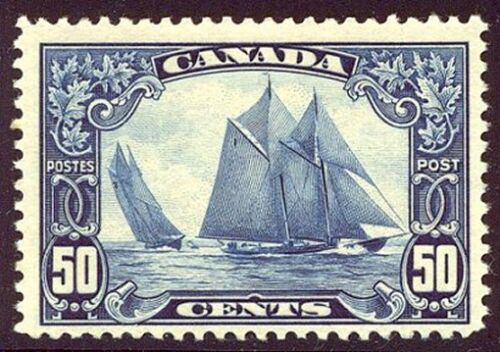 Over the years Canada has produced some attractive and sought after stamps, however, one stands out – The 50c Blue Nose. This was not a stand-alone issue but part of the then-new KGV Definitive set issued during late 1928 & early 1929. They were first put on sale on 8th January 1929 and surprisingly they failed to really catch the collecting public's attention. We have seen old dealers' price lists with mint copies available at face price well into the 1940s.
That is not the case nowadays and a UM well-centred example is today the pride of many a Canadian collection and a stamp which is sought by both thematic collectors and the generalists who just appreciate fine stamps.
Printing details:
The stamp was designed and engraved by the Canadian Bank Note Company and is printed on unwatermarked paper and is perf 12 all round. They were in sheets of 100 and overall 1,045,000 were printed which was a significant amount for a stamp with limited postal demand. The ink is of a deep blue shade and if you are offered one which is lighter then it is probably faded.
Used Stamps
Given their likely limited postal use, there is a surprising number available with neat corner cancelling date stamps (CDS). These invariably don't show the date and were almost certainly done by favour making them CTO. Thus any with a genuine postal cancel showing usage in the correct timeframe (up to around 1931) is worth a premium. These will most likely come from bulk mailing postage receipts so again it is questionable if they were genuinely postally used as in, put in a post box.
Examples with a heavy parcel roller cancel like the one below are relatively common but still sough-after given the iconic nature of this stamp.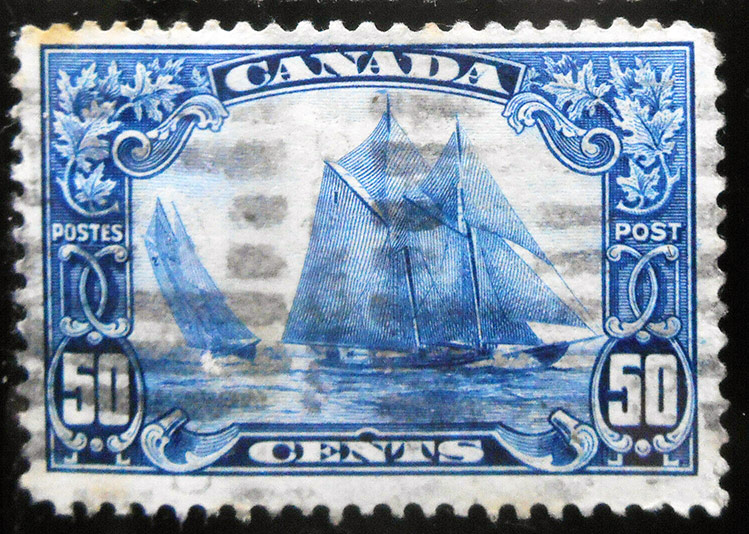 Blue Nose on Cover
Now there is a challenge and it would probably be fair to say that a genuinely commercially used example from the relevant time period is a cover of legend. Why well 50c is one of those values which although issued had very little postal relevance. The postage rate for up to 1oz for destinations outside of the British Commonwealth was 8c at the time plus 4c for each additional ounce so it would need a substantial letter to justify a 50c rate.
The registered letter fee at the time was 10c so it's possible but we have never seen or heard of one. If you are lucky enough to have such an item please send us a picture.
First Day Covers (FDC) do exist but rarely come onto the market and again we have never been lucky enough to see one. Expect fierce bidding should you see one at auction and a final hammer price well into four figures.
Other collectable items
If you are feeling flush then you could add a block of four to your album page. These do turn up from time to time but command a substantial premium over individual stamps. Still, as you can see below they look magnificent.
Imperf Sheets
There are reportedly two imperforate sheets of 100 in existence. One came to auction in 2018 and sold for $52,580 USD which seems reasonable given their rarity and the fact that it was the first such sale since 1970.
So ends our brief article on one of our favourite stamps. We will be covering more Iconic stamps in future articles so please have a look and we even have some quizzes about stamps to test your philatelic knowledge if you fancy having a go.